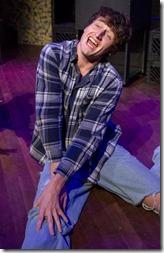 Charming but inconsistent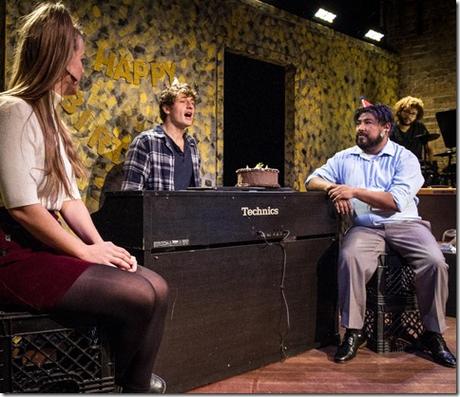 Review by Lauren Whalen
According to Anthony Rapp's memoir, Jonathan Larson once said, "I'm the future of musical theater." This turned out to be true: whatever you think of , then or now, Larson's magnum opus changed the face of musicals for a generation and had an influence that is felt to this day. Sadly, Larson's untimely death before Rent's opening prevented him from adding to that influence. His first musical, Tick, Tick...Boom! is a small autobiographical piece. Running 90 minutes with no intermission (long before that became the theatrical trend), the show is poignant but inconsistent, with a score that's lovely and touching but also frustrating and dreary. The Cuckoo's Theater Project takes on Larson's debut musical with great gusto, but with only one consistent performer out of three, doesn't get very far.
Tick, Tick...Boom 's protagonist and narrator is Jon (Nic Eastlund), a wannabe musical theater composer who works nights at a Manhattan diner. The musical's title refers to the sounds he hears in his mind as he approaches his thirtieth birthday with no real money or accomplishments. (As this is 1990, both money and accomplishments are viewed somewhat differently than they are today.) His best friend Michael (Marc James) has eschewed a promising acting career in favor of a lucrative job in market research, and the swank apartment and BMW the paycheck provides. Jon's girlfriend Susan (Molly LeCaptain), a dance teacher, dreams of a more peaceful life in New England. As the countdown begins to Jon's pivotal birthday and he gets ready for a musical workshop that could be his big break, all three characters question life, love and the pursuit of happiness.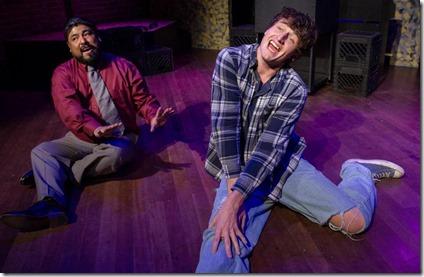 contains songs that are absolutely beautiful, and showcase Larson's brilliance as a composer. The eleven o'clock solo "Why?" is a lovely tribute to artistic passion, and the female solo "Come to Your Senses" calls for young people to turn away from screens and toward their hearts. However, for every moment of genius, there's a dud like "Sugar" (does anyone really need a tribute to Twinkies?) or the long-winded and whiny "Johnny Can't Decide." In the same vein, there are some moments where Jon's existential crisis is heartbreaking and relatable, and others where I just wanted to yell at him to make up his mind already.
Director Donald Kolakowskimakes earnest but odd choices: the staging is all over the place, and at times includes very large and unnecessary props. The play's humorous moments are rushed, and its choreography (also by Kolakowski) feels like show choir. The production also eliminates curtain call, and though that may very well be in the script, I'd urge any director to put it back in, as the audience is left without closure, unsure what to do after the lights come up again. As Michael, Cuckoo's artistic director James often stumbles over his lines, though he is a decent singer. Eastlund is the very picture of a Gen X-er and a solid actor, but his vocals are all over the place, and he constantly strains his high notes. Only LeCaptain (one of the few bright spots of last spring's at Greenhouse Theater) shows any sort of consistency. Her Susan is intelligent and funny, with a beautiful voice and a dwindling sense of patience with her wayward boyfriend.
At its core, Tick, Tick...Boom! isn't a great musical, and I wonder what the late Larson would say or think about it today. The show is only one act but oddly makes for a very long 90 minutes, and Cuckoo's production often feels like a high school musical. The musical itself, and its players, can and do delight, but more often than not, everything drags.
Tick, Tick...BOOM! continues through December 16th at Prop Thtr, 3502 N. Elston (map), with performances Fridays 8pm, Saturdays 3pm & 8pm, Sundays 3pm (with added performance Thursday, December 14th at 8pm). Tickets are $30, and are available by phone (312-882-8201) or online through their website (check for availability of ). More information at TheCuckoosTheaterProject.com. (Running time: 90 minutes, no intermission)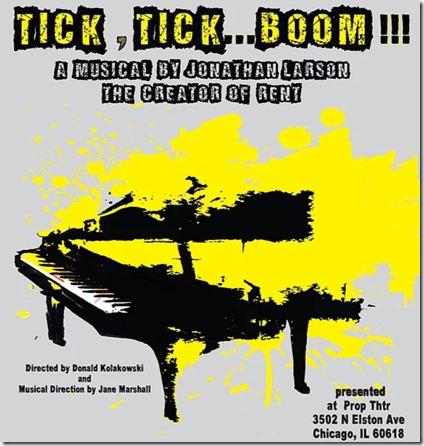 Photos by Candice Lee Conner
The Mouth Watering Marvels: Jane Marshall (keyboard), Eagan Frank (bass), Andrew Baldwin (drums), Fisher Parsons (guitar)
behind the scenes
Donald Kolakowski (director, choreographer), Jane Marshall (musical director), Oriana Dentici (stage manager, sound design), Francesca Atian (lighting design), Andrea Berting (costume design), Bart O'Toole (set design), Michael Joseph (lighting assistant), Ian Gonzales-Muentener , Sussie Piril (assistant stage managers), Candice Lee Conner (photos)
Tags: 17-1133, Andrea Berting, Andrew Baldwin, Anthony Rapp, Bart O'Toole, Candice Lee Conner, Chicago musical theater, Chicago Theater, Domenic Procaccini, Donald Kolakowski, Eagan Frank, Fisher Parsons, Francesca Atian, Ian Gonzales-Muentener, Jane Marshall, Jane Marshall. Oriana Dentici, Jonathan Larson, Lauren Whalen, Marc James, Michael Joseph, Molly LeCaptain, Nic Eastlund, Peter Ruger, post, Prop Thtr, Sonia Goldberg, Sussie Piril, The Cuckoo's Theater Project, The Mouth Watering Marvels
Category: 2017 Reviews, Cuckoo's Theater Project, Lauren Whalen, Musical, Prop Thtr