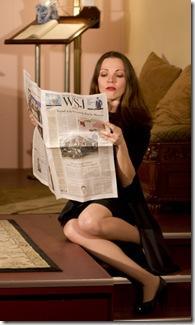 Three Viewings 
Written by Jeffrey Hatcher
Directed by Gretchen Sonstroem
Oil Lamp Theater, 1723 Glenview Road (map)
thru Feb 10  |  tickets: $30   |  more info
  
Check for half-price tickets 
  
  
   Read entire review
  
---
Three views not to miss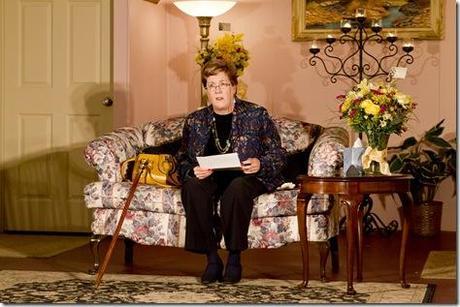 Oil Lamp Theater presents
Three Viewings
Review by Leah Zeldes 
Oil Lamp Theater's carefully crafted productions continue to impress. The intimate, 36-seat theater showcases some brilliant acting in its current production, Three Viewings, a trio of darkly comic connected monologues all set in the parlor of a funeral home in a small town outside Pittsburgh. This doesn't sound like a funny play, but it is. Three Viewings doesn't offer the laugh-out-loud hilarity of Dearly Departed or the macabre surrealness of Funeral Wedding: The Alvin Play; instead, the play presents a gently humorous look at what — mostly — seem like real people in — almost — real situations.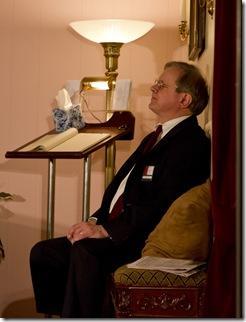 In the first segment, "Tell Tale,"
Joe Page
plays mortician Emil, who is desperately in love with a real-estate agent he hasn't been able to get up the nerve even to ask to lunch. He merely mouths "I love you" over and over to the back of her head as she works the crowd at funerals, passing out cards to the recently bereaved. Page works up a fine fervor as the passionate nebbish, the thumping of his heart almost audible as he tells Emil's story in a series of episodes that lead up to a surprise ending.
Next, in "The Thief of Tears," Jasmine Ryan creates the frenetic Mac, a young woman who makes a living attending viewings to steal jewelry from the corpses, who comes to grips with her unusual life while attending her own grandmother's funeral. As she tells her rather bizarre story — in one long rush— Ryan ably shows us a wide range of emotion, from saucy and self-satisfied to tearful despair.
Best and last, "Thirteen Things About Ed Carpolotti," presents June Entwisle Miller as Virginia, a grieving widow, who seems at first to be like any woman you'd find at a bridge table at the senior center. Virginia finds that her much beloved late husband, "a real wheeler-dealer," has left behind a real financial mess that may send her into bankruptcy. As each unhappy and threatening revelation unfolds, Miller shows us a beleaguered yet resilient woman, her expressive face registering each blow of fate and her resilience in facing an uncertain future. It's a heartening performance start to finish.
You might call Three Viewings an actors' play, but unlike many such plays, there's as much meat for the audience as there is for the performers. What's especially notable is the way each of the monologists creates a full picture all by him- or herself.
Put this one on your "don't miss list." Yes, it's worth schlepping out to Glenview from the city for. Go early to mingle in Oil Lamp's comfortable lobby-bar area, where Executive and Artistic Director Keith Gerth serves his homemade cookies, and patrons are welcome to enjoy their own wine.
Rating: ★★★½
Three Viewings continues through February 10th at Oil Lamp Theater, 1723 Glenview Road, Glenview (map), with performances 8 p.m. Thursdays through Saturdays and 3 p.m.  Tickets are $30 (includes cookies before the show and at intermission. BYOB), and are available by phone (847-834-0738) or through BrownPaperTickets.com (check for half-price tickets at Goldstar.com). More information at OilLampTheater.org.  (Running time: 1 hour 50 minutes, includes an intermission)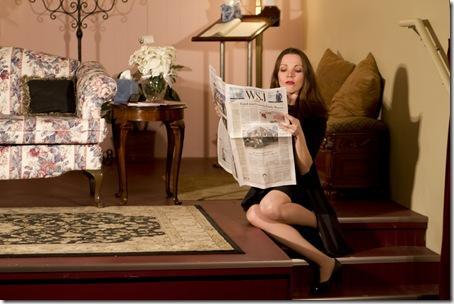 ---
artists
cast
Joe Page, Jasmine Ryan, June Entwisle Miller
behind the scenes
Gretchen Sonestroem (director), Megan Captaine (stage manager)
13-0115