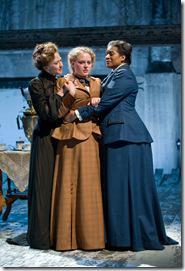 Three Sisters 
Written by Anton Chekhov 
Adapted by Tracy Letts 
Directed by Anna D. Shapiro  
at Steppenwolf Theatre, 1650 N. Halsted (map)
thru Aug 26  |  tickets: $20-$75   |  more info
  
Check for half-price tickets 
  
  
   Read entire review
  
---
Chekhov, Letts deliver Steppenwolf a stunning summer triumph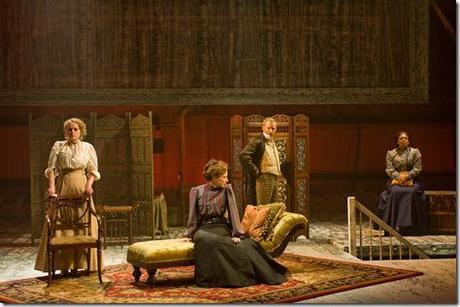 Steppenwolf Theatre presents
Three Sisters
Review by Lawrence Bommer
Trust this treasure trove from 1900 and every stage minute rewards you tenfold: Chekhov's "what might have been" outweighs most writer's "what has to be." Mired in a provincial half-life, the Prozorov sisters ache for love and work–and Moscow. But they travel far more than they know, reaching across more than a century to tell us who we are.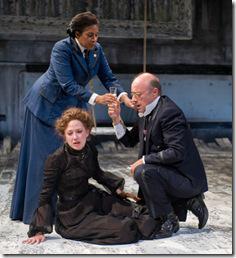 That's why theater after theater keeps trying to send Chekhov's siblings to Moscow. But a very recognizable witch's brew of psychological paralysis, moral inertia and bad luck keeps the Prozorov women in perpetual provincial exile 400 miles east of the Promised City. Stifled by denial, despair and the curse of living in the past or future but never in the moment, these very real survivors still deserve dignity. Any attempt to mock their miseries says far more about the director than the author.
There's no such worry in Anna D. Shapiro's kinetic revival. Its anguish is fueled by a no-nonsense script by Pulitzer and Tony Award-winning Tracy Letts that blends compassion with tough love. Delivering Steppenwolf a summer triumph, Shapiro has assembled an Olympic-class ensemble of Chicago's truest thespians: They believe as firmly in their characters as these creatures cannot in themselves.
Fueled by its unimprovable source, Letts' revision is a bit crude ("Fuck you!") and always direct (he changes Masha's slam at Natasha from "She walks like she started the fire" to the more accusatory "She started the fire!"). In another outcry Masha denounces her world as "Snow and talk!")
Repeatedly Letts delivers heartbreak on cue: These once-notable patricians in a small provincial town ache all the more for life to start as they feel it slip away. Trapped in miserable marriages, unrewarded passion, and family feuds, no two Chekhov characters can ever be happy or in love at the same time: They look for meaning in all the wrong places. Distractions—alcohol, gambling, duels—ensure paralysis wherever action is required.
As in The Cherry Orchard, where a peasant's energy overthrows an estate mired in entropy, feckless Andrey Prozorov's predatory wife Natasha (Alana Arenas, surging with evil banality) intimidates the sisters in their grand old home (suggested by set designer Todd Rosenthal's huge 3D depiction that alternates the edifice with impenetrable birch trees). Compared to the Prozorov clan, she's an action figure—but, perversely, always for the wrong reasons at the wrong time.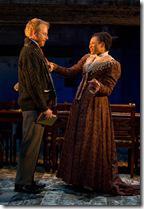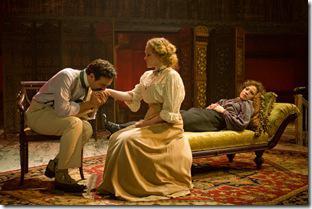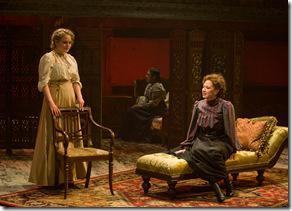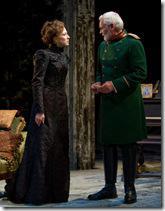 Chekhov's real care is for the title characters. For all the play's episodic impressionism and seeming shapelessness, Three Sisters focuses like a laser on these small-town dreamers with their O'Neill-like "pipedreams." As the resigned schoolmistress Olga, Ora Jones is powerfully protective of her weaker siblings—Carrie Coon's neurasthenic Masha and Caroline Neff's unbearably sensitive Irina. Both are recklessly in love with soldiers who leave them, one way or another–John Judd's obsessively optimistic Col. Vershinin and Derek Gaspar's gentle idealist Baron Tusenbach.
Fleshing out the frustrations that stalk this dead-end village are Scott Jaeck as the incompetent and alcoholic doctor who believes nothing is real, so he feels nothing; Yasen Peyankov as Masha's cluelessly upbeat, pedantically vacuous husband; Dan Waller as hapless brother Andrey, whose regrets for ruining his sisters' happiness sink into self-pity rather than trigger reforms. (Everyone here is in dire need of an intervention.)
Deft cameo work imbues Mary Ann Thebus' simple servant with salt-of-the-earth spontaneity; likewise Maury Cooper's equally aged and neglected groundskeeper. Finally, there's Solyony, the play's villain, who incarnates the destructive impulse to which he's surrendered what little soul he ever had: Usman Ally plays this dark outsider with a concentrated determination, his emotions as raw as the others' are sublimated.
I've seen over a dozen Three Sisters, but never has the final scene of the sisters' solidarity after all the blows we see them suffer registered so hard. It's the cumulative effect of 150 minutes of searing truth-telling—from Letts, who knows family dysfunction as only the author of August: Osage County can, and Chekhov, the good doctor who diagnoses all our weaknesses that are so strong.
Rating: ★★★★
Three Sisters continues through August 26th at Steppenwolf Theatre, 1650 N. Halsted (map), with performances Tuesdays-Fridays at 7:30pm, Saturdays at 3pm and 7:30pm, Sundays 3pm.  Tickets are $20-$75, and are available by phone (312-335-1650) or through their website (check for half-price tickets at Goldstar.com). More information at Steppenwolf.org.  (Running time: 2 hours 30 minutes, includes an intermission)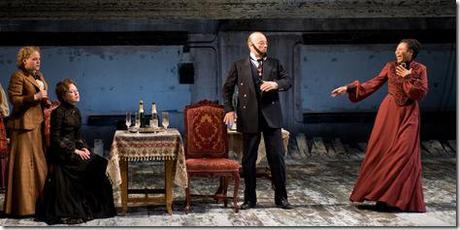 Photos by Michael Brosilow 
---