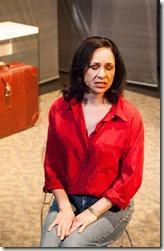 Three Hotels
Heartfelt, compelling story lacks consistency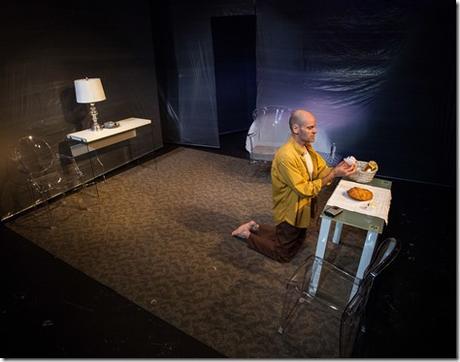 Review by Lauren Whalen
According to Three Hotels ' program, the play has enjoyed at least two successful, high-profile stagings - Jon Robin Baitz wrote and directed the play in 1991 for PBS' "American Playhouse," and Three Hotels was remounted at the Williamstown Theatre Festivalin 2011, directed by the Goodman's Robert Falls. It's easy to see why a director would be drawn to this material: Baitz was born in California to a Jewish family, the son of an executive at the Carnation Company. He grew up in Brazil and South Africa before returning to Los Angeles as a teenager. Three Hotels is based on Baitz's own parents and the controversy that once surrounded companies such as Carnation. With only two characters and three monologues, the script is simple and moving. Unfortunately, Bluebird Arts ' production contains sloppy direction, a poorly-conceived and executed set, and a lead actor who, on opening night, stumbled over her lines.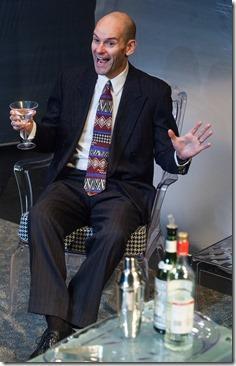 Set in the early 1990's,
Three Hotels
follows Kenneth (
Dave Belden
) and Barbara Hoyle (
Jaimelyn Gray
). The couple served in the Peace Corps early in their marriage, and Barbara worked as a studio photographer stateside before following her husband around the globe. Kenneth's job? Selling expired baby formula to third-world countries. It's just as messy as it sounds, and that's before a horrible tragedy befalls the couple. Alone in hotel rooms in three different countries, Ken and Barbara ruminate on faith, fidelity and just what led them to leave: first the United States, and then one another.
Writing from one's own life carries a unique set of challenges, but Baitz skillfully walks the fine line between personal and indulgent. Three Hotels is the story of a marriage, but more than that, it's about morals, ideals and loss of all sorts. The play's three monologues are stark and beautiful, rich in provocation. If only director Luda Lopatina Solomonhad directed with a bit more care. As it stands, the pacing drags and the blocking feels inorganic. Set designer Rick Frederickdoesn't do the actors any favors either, rigging large and clumsily-cut swaths of plastic sheeting on which to showcase completely unnecessary projects that proceed each monologue (and add a rather manipulative touch to the play's end). The clear plastic tables, chairs and telephone want to suggest the impersonal nature of international hotel rooms, but instead read as lazy and dull. And finally, two different sections of plastic sheeting have white beds behind them, beds that are never used or referenced by either character.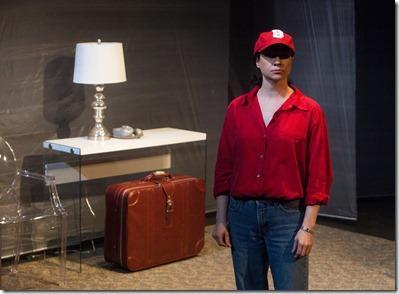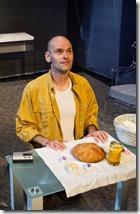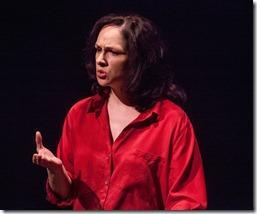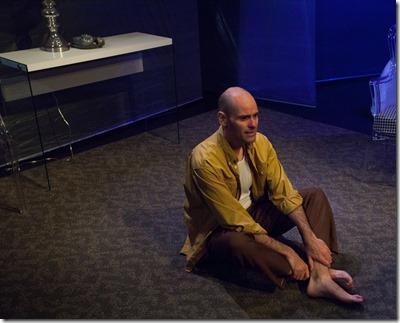 The actors do their best. Though perhaps miscast, Belden tries his best as the Jewish idealist turned executive family man, bringing a voice to a beleaguered husband and father, who knows exactly the wrong he is doing and occasionally, guiltily relishes his misdeeds. As Barbara, Gray is articulate and empathetic, the heart of the piece. If only Gray had better learned her dialogue: she frequently stumbled over words and lost her place, thoroughly taking the audience out of the moment.
I'd love to see a strong production of Three Hotels . It's a lovely morality play, a family tragedy with occasional gallows humor that's written with both heart and bite. Bluebird Arts' Three Hotels is unfortunately not a strong production. The audience roots for it -the story, the characters, the plastic set - only to exit 80 minutes later, pursued by disappointment.
Three Hotels continues through September 17th at Athenaeum Theatre, 2936 N. Southport (map), with performances Thursdays-Saturdays at 8pm, Sundays 2pm. Tickets are $25 (students & seniors $14), and are available by phone (773-935-6875) or online through OvationTix.com (check for half-price tickets at Goldstar.com ). More information at BluebirdArts.org. (Running time: 80 minutes, no intermission.)
NOTE: A Russian-language production of Three Hotels will be staged October 15-16 at a location to be announced.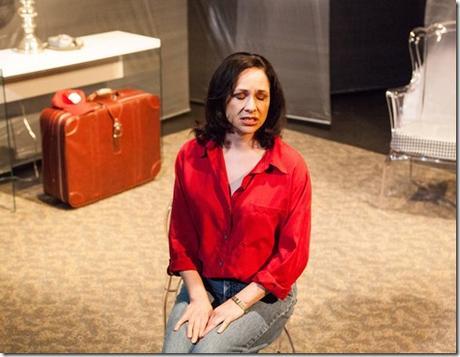 behind the scenes
Luda Lopatina Solomon (director), Ioana Manuela Rentea (assistant director), Carl Ulaszek (lighting design, technical direction), Brandon Reed (sound design), Bisa Peyankov (costume design), Meghan Principe (hair and makeup), Rick Frederick (set design), Karly Hanna (stage management), La Penna Photography (photos)
Tags: 16-0812, Anthony La Penna, Athenaeum Theatre, Bisa Peyankov, Bluebird Arts, Brandon Reed, Carl Ulaszek, Chicago Theater, Dave Belden, Ioana Manuela Rentea, Jaimelyn Gray, Jon Robin Baitz, Karly Hanna, La Penna Photography, Lauren Whalen, Luda Lopatina Solomon, Meghan Principe, post, Rick Frederick, Robert Falls, Williamstown Theatre Festival
Category: 2016 Reviews, Athenauem, Bluebird Arts, Lauren Whalen