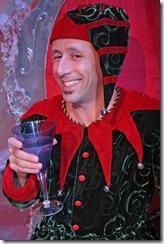 This Way Outta Santaland
Mitchell Fain finally puts his (pointy-toed) foot down!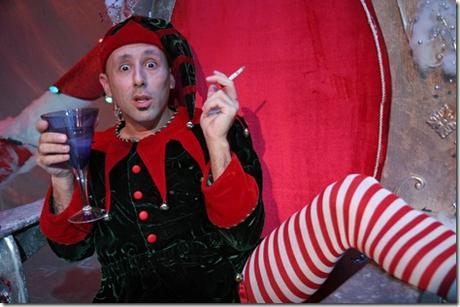 Review by Catey Sullivan
For 249 performances over the course of eight years, Mitchell Fain has been regaling audiences every December with his sardonic, irreverent and rib-bruisingly funny delivery of David Serdaris ' beloved holiday classic . That's been both good and bad news for theater goers looking for a Yuletide tradition that skips the Hallmark platitudes and dares to dive deep into the dark side of the season.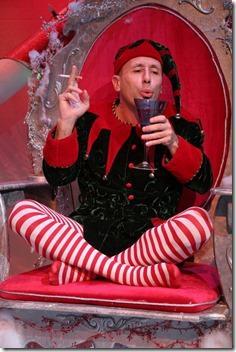 As Crumpet the Elf, Fain told tales from the holiday trenches, recounting Serdaris' autobiographical stories of serving as Santa's helper in a Manhattan Macy's. The good news: When it comes to
Santaland Diaries
, Fain has been every bit as acutely entertaining as Sedaris himself. The bad news: As good as it was,
Santaland Diaries
never really allowed Fain to unleash his own, singular, wildly entertaining personality.
This year, Fain is putting his pointy-toed, jingle-belled foot down. Instead of yet another foray into Sedarisland, Fain is offering up his own take on Christmas. This Way Outta Santaland marks the advent of a brand new, indispensable tradition, as Fain digs into his life experiences and offers up 75 minutes of stories from his own Christmases past.
Directed by Jeremy Wechsler, the show feels like an intimate party. In a cozy living room we find an overstuffed couch, a nicely stocked bar and a Christmas tree that can go full disco if required, This Way Outta Santaland offers the kind of intimate Christmas gathering many pine but that few actually experience. If you've got a daunting array of mandatory family dinners on your holiday dance card and the odds are high that they'll turn into a bloodsport, you'll want to fortify yourself with This Way Outta Santaland . When and if things go south with your kinfolk, you can simply close your eyes, click your heels together three times and murmur "There's no place like Santaland."
Fain's deceptively informal show has both humor and heart in abundance. His stories are at once hilarious, tragic, moving and profane. They are also surprisingly informative. Who knew, for example, that Fain's native Rhode Island is the costume jewelry capital of the world? Or that "Stuart Little" could be every bit a important as the Torah to a tiny, gay Jewish boy coming of age in the 1970s?
As Fain unleashes the sublime, absurd, mettle-making episodes from his past, he gets immeasurable help from his roommate of nearly a decade, the divine Meghan Murphy. A bombshell who happens to be a good head and shoulders taller than Fain, the two have an easy rapport and a bone-deep affection that's apparent throughout. That they have exactly the same sized feet is a bonus.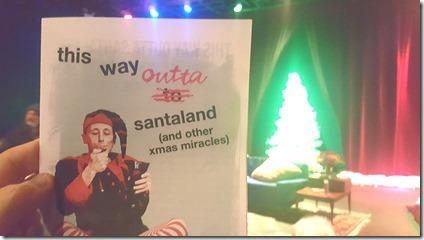 When it comes to vocals, Murphy is pretty much unstoppable. She can do Merman-worthy belt as well as Mariah-esque acrobatics. She can also bring all the feels: Her timbre is instilled with a pure, clear emotion strong enough to make a Scrooge well up. Murphy is accompanied throughout by Second City alum Julie B. Nichols, a wizard on the keyboards who makes the most intricate piano passages look effortless.
Fain's stories aren't the escapades of a globe-trotting adventurer. They don't need to be. When he talks about the fourth grade bullies who tried to break him or the sibling dynamics that helped define him, he's recalling the experiences of hundreds of thousands rather than a heroic few. He doesn't need outsized events - in every anecdote he recalls, there is a world of emotion. Whether or not you grew up as a small, gay, outsider in the costume jewelry capital of the world, you'll relate. There is an everyman quality to the specifics Fain gets into, and it goes to the bone.
Arguably the high point of the show comes as Fain discusses one of the two times he missed a performance of Santaland Diaries. It was the year his mother died, and Fain flew to Phoenix after a 7 p.m. show to say his farewells. The events that ensued as Fain and his siblings stood watch, made arrangements and memorialized their mother could have been an Emmy-winning episode of "Six Feet Under." They are all but unbelievable, truly terrifying and unbelievably hilarious. If nothing else, you will leave This Way Outta Santaland as a firm believer in the wisdom of planning your own post-death arrangements while you are still above ground and have some modicum of control over the situation.
For all the death and the trauma in This Way Outta Santaland , Fain never gets maudlin or loses his sense of humor. He also has some genuinely wise words for those who complain that they "have to go home" for the holidays. Fain's show-closing duet with Murphy - punctuated by a series of special guests - will leave you fervently hoping with all your being that he creates an entire show around the number.
This time of year, the world is saturated with Nutcrackers, Christmas Carols, Christmas Schooners and the like. Fain's departure from the norm is worthy of becoming a tradition. And at a brisk 75-minutes long, you'll have plenty of time to hit the egg nog post-show! w
This Way Outta Santaland continues through December 23rd at Theater Wit, 1229 W. Belmont (map), with performances Thursdays-Saturdays at 7:30pm. Tickets are $25-$29, and are available by phone (773-975-8150) or online through their website (check for half-price tickets at Goldstar.com ). More information at TheaterWit.org. (Running time: 1 hour 1 5 minutes, no intermission)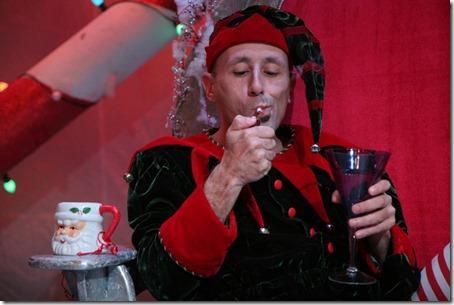 Photos by Johnny Knight
behind the scenes
Mitchell Fain (show creator), Jeremy Wechsler (director), Julie B. Nichols (music director), (production design), Majel Cuza (production manager), Angi Adams (stage manager), Johnny Knight (photos)
Tags: 16-1214, Angi Adams, Catey Sullivan, Chicago holiday theater, Chicago Theater, David Serdaris, holiday show, Jeremy Wechsler, Johnny Knight, Julie B. Nichols, Julie B. Nichols. Mike Durst, Majel Cuza, Meghan Murphy, Mitchell Fain, post, Theater Wit
Category: 2016 Reviews, Catey Sullivan, Holiday Show, New Work, Theater Wit, World Premier