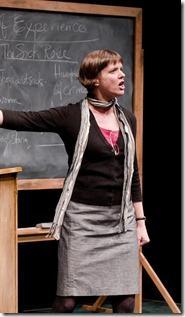 There Is a Happiness
   That Morning Is 
Written by Mickle Maher
Victory Gardens Biograph, 2433 N. Lincoln (map)
thru March 10  |  tickets: $15   |  more info
  
Check for half-price tickets 
  
  
   Read entire review
  
---
Seeing such good theater will make you happy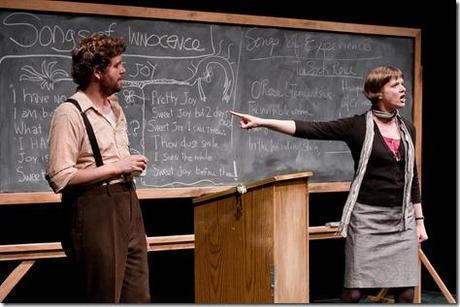 Theater Oobleck presents
There Is a Happiness That Morning Is
Review by Joy Campbell
When two professors at a small private college have sex on the campus lawn in full view of their students, their walks of shame turn out to be the lectures they give to their classes the following day. In these lectures they must apologize for or defend their actions in order to keep their jobs. The man, Bernard (Colm O'Reilly), has the morning class; his partner, Ellen (Diana Slickman), the afternoon. The class, of course, is us.
While a play based on two academics lecturing their classes may not sound like much fodder for enjoyment let alone a comedy, make no mistake: this remarkable work is profoundly, astonishingly entertaining. The characters are genuine, highly moving, and funny. In hearing each lecture, we are drawn into the raw honesty of their feelings as they bare their souls in a highly engaging fashion; the trust that they place in us creates a powerful connection between actor and audience that has us thoroughly invested. Moreover, Maher's script, with its gorgeous language, creates such clarity and nuance of detail that we easily envision the events related to us.
Despite the circumstances, we quickly understand that while there may be some blushing chagrin, there is really no shame. As professors of the Romantic Age poet William Blake, Bernard and Ellen each takes a contrasting poem of Blake's and parses it according to their interpretation of the scandalous event and personal aftermath to hilarious and moving effect. Bernard, arriving in the morning unkempt and with grass and twigs in his hair, gives a rapturous lecture on the poem "Infant Joy," describing how his 20 years of bliss with Ellen reached an unprecedented connection with a poetry reading in the woods that led to their transcendent expression of love on the grass. O'Reilly has the kind of expressive face every actor dreams of, and his delivery is pure delight. Maher's incredible script is written in rhyming verse; O'Reilly fully captures the natural feel of it, and coupled with his own brilliant delivery gives us a beautiful, gripping, and hilarious monologue. So well is it done that at first I thought he was seamlessly quoting from Blake before I realized it was the actual script.
Ellen, in contrast to slovenly, childlike, wide-eyed Bernard, is a prim-looking neatly dressed woman with a very academic style. This makes her raging, obscenity-laced lecture all the more entertaining. Using Blake's "The Sick Rose," Ellen describes the religious experience of connecting with Bernard, but also rails against the actions of the college president, James (Kirk Anderson), who ran to cover them with a mat when he saw what was happening. Ellen blames this for her ensuing emotional crisis, and adding to this a tragic personal revelation, shows us a despairing woman stripped of her beliefs. As with O'Reilly, Slickman does an excellent job of delivering Maher's exquisite script.
When Bernard comes to Ellen's lecture and hears her cynicism, an argument ensues. The fight is broken up by the president, who in turn confesses some startling revelations of his own. It is here that the script falters a bit, losing its previously sharp focus and becoming rather scattered. Anderson gives an admirable performance as James, but is more heavy-handed and one-dimensional than the other two characters. This is not an unforgivable flaw, however, and the play regroups quickly enough to bring us to a wholly satisfying conclusion.
"Happiness" is one of those shows that makes us grateful to playwrights like Maher for gifting us their creativity, and to casts like this for their labor of love. See this show and you will find yourself saying along with poet Blake: "I happy am!"
Rating: ★★★½
There Is A Happiness That Morning Is continues through March 10th at the Richard Christiansen Theater, 2433 N. Lincoln (map), with performances Thursdays-Saturdays at 8pm, Sundays 3pm.  Tickets are a suggested donation of $15, and are available by phone (773.871.3000) or online through VictoryGardens.org (check for half-price tickets at Goldstar.com). More information at TheaterOobleck.com.  (Running time: play length, includes an intermission)
---
artists
cast
Colm O'Reilly (Bernard), Diana Slickman (Ellen), Kirk Anderson (James)
behind the scenes
Melinda Evans (production and stage management); Martha Bayne (lighting design); Chris Schoen, Mickle Maher (sound design, playwright); Colm Reilly (graphic design); John Sisson (photos)
13-0157