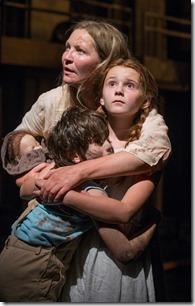 The Wheel
Written by Zinnie Harris
Directed by Tina Landau
Steppenwolf Theatre, 1650 N. Halsted (map)
thru Nov 10   |  tickets: $20-$82   |  more info
  
Check for half-price tickets 
  
  
   Read review
  
---
A mess of inconsistency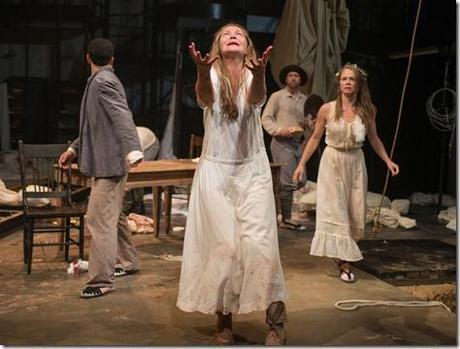 Steppenwolf Theatre presents
The Wheel
Review by Lauren Whalen 
The only consistent thing about Steppenwolf in the past year has been its inconsistency. Last season's opener Good People was one of the best plays I've ever seen, and I enjoyed The Motherf*cker With the Hat. However, The Birthday Party was an overlong snooze and Head of Passes messy and confusing. Even the best theater company has the occasional misstep, but Steppenwolf's misses have become as frequent as its hits. Unfortunately, The Wheel is a miss. Despite a stellar performance from Joan Allen (in her first appearance with Steppenwolf since 1991), tight production values and excellent imagery, Tina Landau's rendition of Zinnie Harris' wartime epic is in dire need of both clarity and an intermission.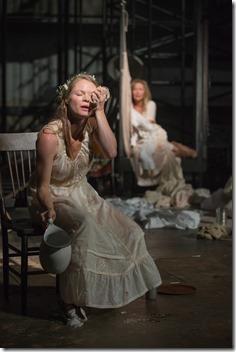 It's an ordinary day in a peaceful village in Northern Spain, during an indeterminate time period in the first half of the 20th-century. Salt of the earth Beatriz (
Allen
) is preparing her younger sister Rosa (
Chaon Cross
) for Rosa's wedding day – until a band of farmers-turned-soldiers, including Rosa's weak-willed fiancé Tomas (
Demetrios Troy
), invade the home and set up camp. Beatriz is able to save Rosa and herself with some quick thinking, but a sudden turn of events leads her to a journey through war-torn Europe with a mute little girl (
Emma Gordon
) in tow. Beatriz encounters carnage, peace, prosperity, violence and magic, only to find herself questioning what is real and what is otherworldly.
The Wheel's issues begin and end with Harris' script. At almost two hours, its intensity has no end – and no break. The nastiness (and there is plenty) drags on, and the audience scarcely has time to breathe and process. I've always thought less than 90 minutes is fine for an intermission-less play, and anything more than 100 is pushing it. The Wheel, at nearly 2 hours, only strengthens this opinion. Being put through the wringer isn't a bad thing, but after a time the audience may start to disconnect, just to preserve their own sanity, as I found myself doing during The Wheel – feeling extremely compelled during certain scenes and barely paying attention in others. The imagery of birds and eyes is strong and disturbing, but the plot is muddled more often than not. It's as if Harris became so invested on painting a picture, she forgot to tell a story.
Harris' visuals are gorgeously brought to life by The Wheel's design team, in particular Blythe R.D. Quinlan's stark set pieces and Scott Zielinski's spare but moody lighting. And it's always refreshing to see The House Theatre's Dennis Watkins on deck as a magic consultant. He's simply the best. Kevin O'Donnell provides a cinematic soundtrack, and many of the actors have a deft hand with instruments and vocals.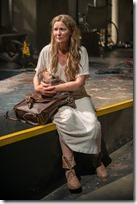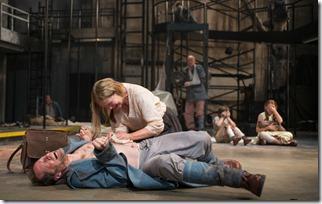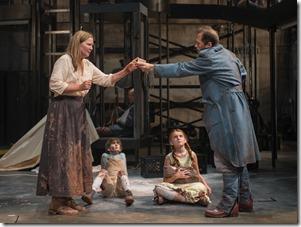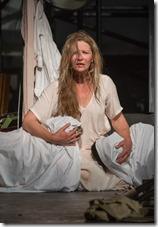 As with all Steppenwolf productions, the actors are a bright spot. Landau guides a shining ensemble, many of whom play a range of roles, from snobby mummies to perverse military. Gordon does a lovely job as The Girl, eschewing precociousness for an ethereal wisdom. As for Allen, she brings everything to Beatriz. It's easy to see why Allen has had such a prolific career – her determination is utterly dynamic. She relishes language, attacks blocking, and holds each moment with fierceness.
I go into each Steppenwolf show with high hopes for another Good People or Clybourne Park (the latter has stayed with me in the two years since its premiere). Sometimes I'm rewarded; other times I'm disappointed. I've been fascinated by Steppenwolf ever since seeing Terry Kinney's A Streetcar Named Desire as a theater-obsessed teenager, and I always expect their shows to be great. After The Wheel, I come to the sad conclusion that I need to expect less.
Rating: ★★½
The Wheel continues through November 10th at Steppenwolf Theatre, 1650 N. Halsted (map), with performances Tuesdays at 7:30pm, Wednesdays 2pm and 7:30pm, Thursdays/Fridays 7:30pm, Saturdays/Sundays at 3pm and 7:30pm.  Tickets are $20-$82, and are available by phone (312-335-1650) or through their website (check for half-price tickets at Goldstar.com). More info at Steppenwolf.org.  (Running time: 1 hour 50 minutes, NO intermission)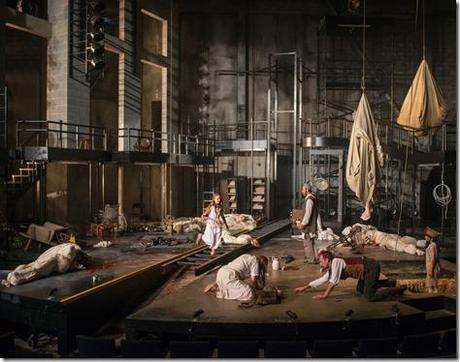 Photos by Michael Brosilow 
---
artists
cast
Joan Allen (Beatriz), Kareem Bandealy (Moreno, Farshad), La Shawn Banks (Pedro, Hancock), Robert Breuler (Clement), Chaon Cross (Rosa), Emma Gordon (The Girl), Tim Hopper (Juan, Jaques, Glennister), Ora Jones (Madame, Hanna), Mark L. Montgomery (Rossignol), Stephenie Park (Thi, Blandine), Daniel Pass (The Boy), Yasen Peyankov (Sargento, Jozka), Scott Stangland (Colline, Pierre), Demetrios Troy (Tomas, Xuan), Erin Oeschel, Edgar Miguel Sanchez, Matthew Yee (ensemble)
Understudies: LaNisa Frederick, Brian Grey, Maya Hlava, Kate LoConti, Edgar Miguel Sanchez, H.B. Ward, Matthew Yee, Josh Zagoren
behind the scenes
Tina Landau (director), Blythe R.D. Quinlan (scenic design), Ana Kuzmanic (costume design), Scott Zielinski (lighting design), Kevin O'Donnell (sound design and music direction), Stephen Mazurek (projection design), Dennis Watkins (magic consultant), Erica Daniels (casting director), Matt Hawkins (fight choreography), Deb Styer (stage manager), Kathleen E. Petroziello (asst. stage Manager, Sept. 12-20), Cassie Wolgamott (asst. stage manager, Sept. 17-November 10), Michael Brosilow (photos)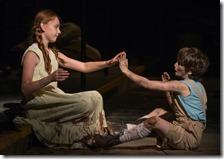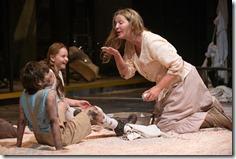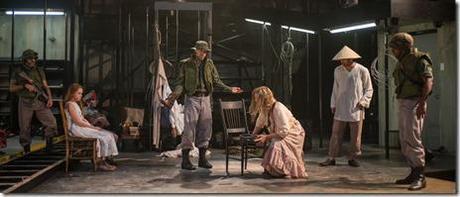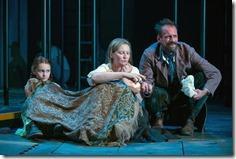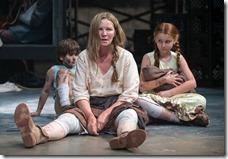 13-0942