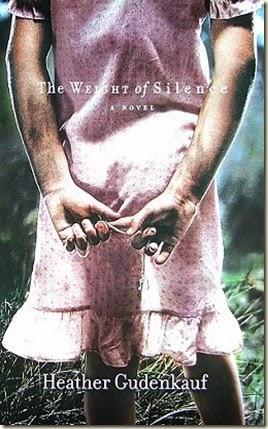 The Weight of Silence

 by Heather Gudenkauf
Summary: It happens quietly one August morning. As dawn's shimmering light drenches the humid Iowa air, two families awaken to find their little girls have gone missing in the night.
Seven-year-old Calli Clark is sweet, gentle, a dreamer who suffers from selective mutism brought on by tragedy that pulled her deep into silence as a toddler.
Calli's mother, Antonia, tried to be the best mother she could within the confines of marriage to a mostly absent, often angry husband. Now, though she denies that her husband could be involved in the possible abductions, she fears her decision to stay in her marriage has cost her more than her daughter's voice.
Petra Gregory is Calli's best friend, her soul mate and her voice. But neither Petra nor Calli has been heard from since their disappearance was discovered. Desperate to find his child, Martin Gregory is forced to confront a side of himself he did not know existed beneath his intellectual, professorial demeanor.
Now these families are tied by the question of what happened to their children. And the answer is trapped in the silence of unspoken family secrets.
Source: I purchased a paperback from a used book store.
 Add to Goodreads  

Review:  

The Weight of Silence was an interesting book. It was about two young girls who went missing one morning. Their disappearance, the backstory, and the search for them essentially unraveled a ton of secrets and connections between the families and townspeople involved.  
I was captivated by the characters and I kept turning the pages, eager to see what secrets would appear next. Not all was what it appeared to be. Calli was mute, but no one could figure out why. Petra was her best friend. Calli's father was an alcoholic, her mother had some sort of past connection to another person in town and it was just a big giant mess from there. I loved it!  
I love books that take small town characters and pretenses and blow holes in the sweet and perfect exterior that the town and the people living in them hide behind. The Weight of Silence did a good job at exposing some of the characters and showing how seemingly unrelated events mattered in the grand scheme of things.  

The Weight of Silence was a quick read for me and I loved the way it all ended. It was enjoyable and I definitely recommend it to fans of contemporary fiction. It wasn't quite as hard hitting or shocking as I initially expected, but I found that I enjoyed reading it, went through it pretty quickly, and liked it overall, so I would recommend it.