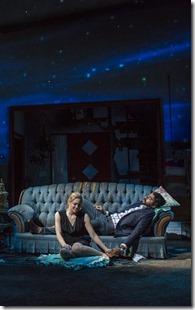 The Way West
Written by Mona Mansour 
Directed by Amy Morton
Steppenwolf Theatre, 1650 N. Halsted (map)
thru June 8  |  tickets: $20-$78   |  more info
  
Check for half-price tickets 
  
  
   Read review
  
---
Darkly funny, offbeat look at where America may be heading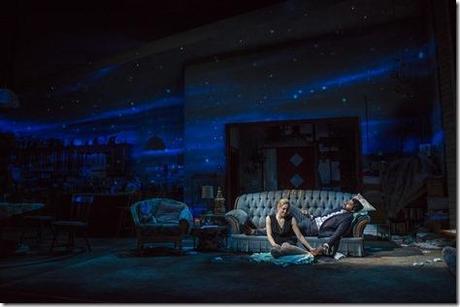 Steppenwolf Theatre Company presents
The Way West
Review by John Olson
California has long been seen as America's "promised land" – a progressive region of opportunity and wealth, sunshine and glamour. So what happens when that promise dissolves? The central figure of this play – a 60-ish woman simply called "Mom," sees herself as the last of the pioneers – finding parallels between any setback she might face and the struggles of the pioneers who travelled west in covered wagons some 150 years ago. If they could overcome problems like getting lost in the wilderness where they were attacked by wild dogs, she can survive the financial setbacks she's facing. But as we soon learn, there's optimism and then there's denial – and denial is what Mom and her daughters Meesh and Manda are suffering from.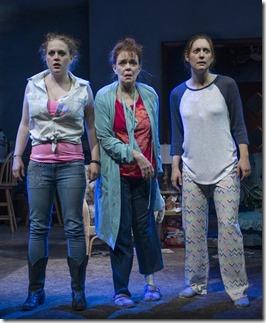 We don't learn exactly the cause of Mom's financial difficulties, but she's simply avoided them by not paying her debts – not her mortgage, nor her credit card bills or much of anything else. Bills stack up in a pile. Added to this, she has no compunction about lending an initially unspecified sum of money to her friend Tress to finance a business selling water with magical weight loss properties. Her younger daughter Meesh seems to pursue various schemes rather than work at a regular job – and doesn't see that's there's anything wrong with using one of Mom's credit cards to spend $3,500 for merchandise on e-Bay that she intends to resell, since Mom isn't going to pay the bill anyway. The "sensible" daughter Manda has flown in from Chicago to help sort things out, but we soon see that Manda is cut from the same cloth as Mom and Meesh. A grant-writer for a non-profit, Manda has also been living beyond her means thanks to credit cards.
This all unfolds in a series of short scenes that could be a running sketch on "Saturday Night Live" as we see piece by piece just how far in denial these three are living. Mom's problems are revealed to be worse and worse – involving health problems as well as finances. Meesh seems to understand some of the dysfunction but feels powerless to do anything about it, plus she has her own schemes to cope with. And Manda, who's shocked at Mom's careless attitudes toward her debt, is equally in denial concerning her own situation – mired in a trap of making exorbitant minimum monthly payments on her maxed-out credit cards – a situation which she believes everybody shares. Manda believes she has the potential to earn much more in the future and that things will all sort themselves out.
What really happens, though, is that these three, who have been living on the edge financially, are slowly pushed over it. And just like the proverbial frog that won't jump out of the boiling water, they come to accept each new calamity as the new normal. Playwright Mona Mansour comes up with wickedly funny lines to demonstrate their denial, spoken in director Amy Morton's trademark deadpan style in the smartly comic performances by Dierdre O'Connell as Mom, Caroline Neff as Meesh and Zoe Perry as M\anda. Steppenwolf Artistic Director Martha Lavey has a great cameo as the entrepreneurial friend Tress, a sweet and well-meaning but naïve woman with hopes of making it rich from the magic water. Morton's direction is a bit static and presentational in the early scenes, though livens things up in the second act.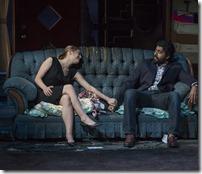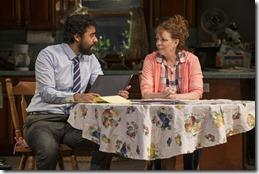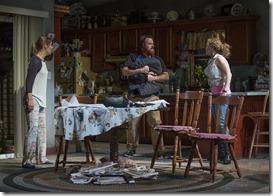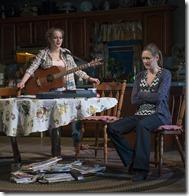 Mansour's script is alternately real and surreal. The realistic scenes are interrupted with sections in which Mom fantasizes about the pioneers, with Mike Tutaj's projections of wagon trains and the like appearing on the walls of Kevin Depinet's set recreating a suburban or small town tract home. These fantasies are accompanied by Mom and the daughters picking up instruments and singing country-western folk songs as if they were The Judds or some such group. The device is a little off-putting at first, but Mansour seems to be including them to show the depths of Mom's denial and fantasy life, as well as a way to show how the ideal of the American West as promised land has been portrayed in song and folk culture.
The reality of California, as is true for most of the U.S., is that it has experienced serious financial problems – state government budget shortfalls, industries in decline – and a shrinking middle class. This family may be more clueless than most, but is it possible that many if not most Americans are in denial about the decline of the middle class? That we struggle to maintain our standard of living in the face of declining income and rising expenses, and cling to a belief somehow things will get better? This off-beat but very funny play asks what happens when the pot of gold at the end of the rainbow is empty, and it has much to say about the changing financial fortunes of so many Americans. Despite a few missteps – like a subplot involving Manda's ex-boyfriend (Gabriel Ruiz) that goes nowhere – but it's a darkly funny and nightmarish look at where America may be heading.
Rating: ★★★
The Way West continues through June 8th at Steppenwolf Theatre, 1650 N. Halsted (map), with performances Tuesdays at 7:30pm, Wednesdays 3pm and 7:30pm, Thursdays and Fridays at 7:30pm, Saturdays and Sundays 3pm and 7:30pm.  Tickets are $20-$78, and are available by phone (312-335-1650) or online at their website (check for half-price tickets at Goldstar.com). More information at Steppenwolf.org.  (Running time: 1 hour 50 minutes, includes an intermission)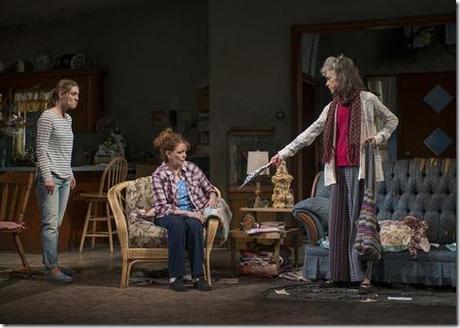 Photos by Michael Brosilow 
---
artists
cast
Dierdre O'Connell (Mom), Zoe Perry (Manda), Caroline Neff (Meesh), Martha Lavey (Tress), Gabriel Ruiz (Manny), Ira Amyx (Pizza Delivery Guy), Delia Baseman, Judy Blue, J. Salomé Martinez Jr and Tim Musachio (understudies)
behind the scenes
Amy Morton (director), Sarah Illiatovich-Goldman (assistant director), Kevin Depinet (scenic design), Nan Cibula-Jenkins (costume design), David Weiner (lighting design), Rob Milburn and Michael Bodeen (sound design, original music and arrangements), Mike Tutaj (projection design), Malcolm Ruhl (musical director), Erica Daniels (casting), Deb Styer (stage manager), Michelle Medvin (assistant stage manager), Michael Brosilow (photos).
14-0427