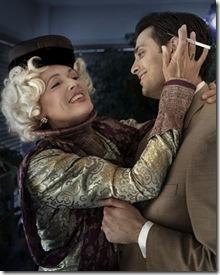 The Vortex 
Written by Noel Coward  
Directed by Jim Schneider
Greenhouse Thtr, 2257 N. Lincoln (map)
thru Aug 26  |  tickets: $30   |  more info
  
Check for half-price tickets 
  
  
   Read entire review
  
---
An evening of divinely decadent entertainment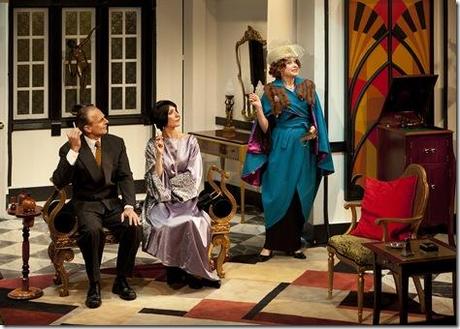 Dead Writers Theatre Collective presents
The Vortex
Review by Katy Walsh 
Every once in awhile, I run into someone I haven't seen in years.  Inside, I'm momentarily transfixed by their agedness.  Outwardly, I try to compose a polite nicety.  I say to them, 'you look fabulous!'  I think to myself, 'you got old… really old!' I like to pretend I didn't.  I color my hair, flirt with twenty-somethings, and flub my way through pop references.  But the truth is I've reached that tender age where you have to own it or look ridiculous trying to deny it.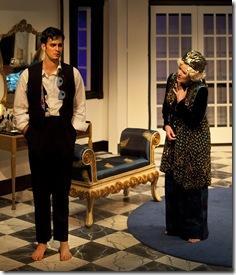 Dead Writers Theatre Collective presents their inaugural production
The Vortex
.
Florence is old, rich and married.  She thinks she's young, beautiful and single.  Her illusion is supported with the cash to rent the adoration of young men.  Her son use to be one of her biggest admirers, but something has changed.  He has returned home newly engaged and slightly deranged.  What's mom going to do?  Or does she even notice?  The Vortex is sharply witty, exquisitely pretty and uncomfortably gritty.  
Playwright Noel Coward is legendary for droll banter.  His characters spar with vicious sophistication.  Under the skillful reigns of Director Jim Schneider, the rapid-fire dialogue in Act 1 is a hilarious chatter whirlwind.  The talented cast are absurdly funny in their English accented, snarky elegance.  Act 1 zips past with an amusing introduction to the characters.  Act 2 and 3 dig below the surface as Coward shifts the madcap comedy to a poignant drama.  The story of a son blaming his mother's frivolity for his own adult struggles is timeless and heart-wrenching.  Bonnie Hilton (Florence) and Kaelan Strouse (Nicky) are the mother-son duo.  Hilton ages decades before our eyes.  She goes from glamourous party girl to helpless, desperate mother.  A devastated Hilton literally shakes with vulnerability.  Strouse endears as the boyishly charming son.  Later, he frighteningly uncorks years of bottled-up rage and sorrow. The final scene between Hilton and Strouse is powerfully volatile. Other standouts in the ensemble are Teri Schnaubelt (Helen) and Skye Shrum (Bunty) delivering honesty with comedic panache.
The show has two intermissions for elaborate scenery changes.  The third act has a peacock bedroom monstrosity that must be seen to be believed.  Scenic Designer Edward Matthew Walter showcases the Art Deco era with the ever-changing gorgeous set.  Costume Designer Elizabeth Wislar fills his rooms with 1920's finery.  The luxurious look sets the tone for the self-indulgent, wealthy class.  Walter and Wislar go completely ostentatious and I loved every pillow and feather of it.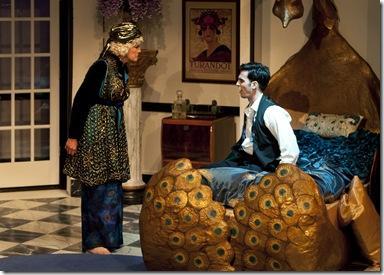 In 1926, Playwright/Actor Noel Coward (the original Nicky) presented his scandalous- but critically acclaimed play, The Vortex, to Chicago audiences.  The response was lackluster, and the six week run was cut to two weeks.  Since the Chicago opening, 86 year ago, this show has only been revived one other time.  So, The Vortex is the perfect inaugural show for a new company dedicated to 'honoring the integrity of the writers' original vision while promoting the timeliness and universality of their stories and themes.'  
Dead Writers Theatre Collective debuts with a dazzling spectacle. The Vortex is a must see…. for it's spiraling humor, honesty and swank.  
Rating: ★★★★
The Vortex continues through August 26th at Greenhouse Theater, 2257 N. Lincoln (map), with performances Thursdays-Saturdays at 7:30pm, Sundays 2:30pm.  Tickets are $30, and are available by phone (773-404-7336) or online through Tix.com (check for half-price tickets at Goldstar.com). More information at DeadWriters.net.  (Running time: 2 hours, includes two intermissions)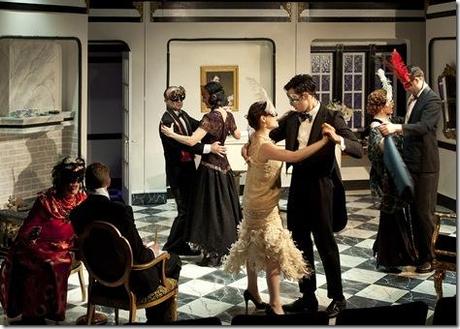 Photos by Peter Bosy
---
artists
cast
Kaelan Strouse (Nicky Lancaster); Bonnie Hilton (Florence Lancaster); Rob Cramer (Pauncefort Quentin); Teri Schnaubelt (Helen Saville); Danny Pancrantz (Tom Veryan); Skye Shrum (Bunty Wainwaring); Bradford Lund (Bruce Fairlight); Noah Sullivan ( David Lancaster); Betsy Pennington (Clara Hibbert); Hillary Sigale (Preston); Joanna Riopelle, Peter Esposito, Catherine Dildilian, Ben Muller (understudies)
behind the scenes
Jim Schneider (director); Charlie McGrath (asst. director); Brenda Killanski (dramaturg);  Elizabeth Wislar (costumes); Edward Matthew Walter (set); Linda Bugielski (lighting); Jessica McCluskey (makeup); Kris Kontour (tech director); Bob Douglas (floral design); Kari Wakefield (stage manager); Matthew Bonaccorso (asst. stage manager); Peter Bosy (photos)
12-0732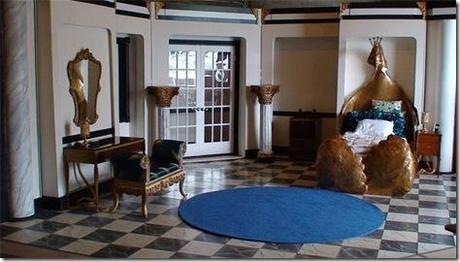 3Words: Discovering a surprising connection to the cast,
Rick describes it with 'divinely decadent despair.'