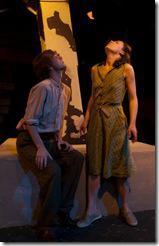 The Trestle of Pope Lick Creek
Written by Naomi Wallace
Directed by Jonathan Berry
Greenhouse Theater, 2257 N. Lincoln (map)
thru Sept 4  | tickets: $23-$28  |  more info
Check for half-price tickets
  
   Read entire review
---
A Depression-era Slice of Death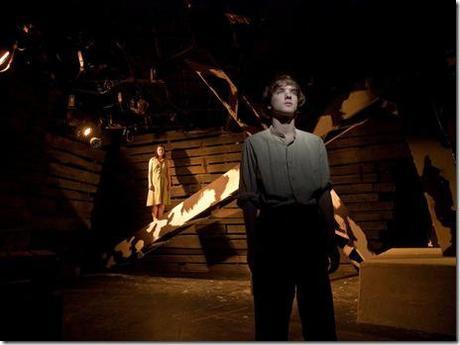 Eclipse Theatre presents
The Trestle at Pope Lick Creek
Review by Lawrence Bommer
Naomi Wallace's The Trestle at Pope Lick Creek is sheer atmosphere. It makes no arguments–it just uses stark poetry and burning imagery to present an action portrait of dead-end despair. The subject: Depression-era survivors, drifters in stasis. It's 1936 and an unnamed small town has lost hope along with jobs. The WPA can't make up for the forced redundancy of thousands of hard luck folks. There's talk of strike against the local glass factory, where the women workers have ended up with permanently blue hands from chemical contamination. Even the local creek has run dry.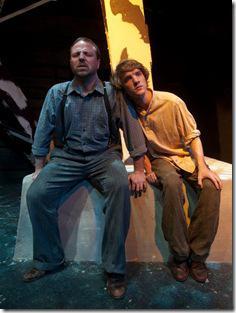 Meanwhile, bored and useless, two teenagers with no future beyond a suffocating present meet up at a railroad trestle. Pace is a tomboy with a fascination with trains (at least they have purpose and power). She's already triggered a tragedy trying to outrun one. (A local boy hesitated on the tracks and was killed.) Now she wants Dalton, a quiet and impressionable local lad, to join her in the kind of adventure that makes her feel alive–risk-taking as self-definition. Can they win a race against a thousand-ton locomotive?
Their love/hate affair creates its own complicated confusion. Dalton carries his own curses—parents who, hardly able to fend for themselves, make him feel like a burden, and a protective shyness that turns his feelings for Pace into a kind of self-mutilation. Toying with him as she has with trains, Pace (the irony of her name!) has dangerously underestimated both.
These are Romeo and Juliet without the romance, just the rebellion, and it's not enough. (It's without the sex too: Pace teaches Dalton how to touch and kiss her in mysterious ways that manage to defy touch but seem twice as intimate.)
Wallace tells this town tragedy from all sides. We see how hard times have ground down Dalton's ineffectual parents. We meet the dead boy's father, a jail guard who describes how the prisoners have morphed into animals to deal with captivity.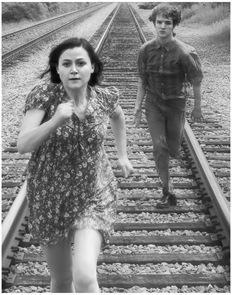 Told in fragments in psychological rather than chronological order, the action unspools like a folk song, where the stanzas are as different as the singers. No more brittle than the characters, a plate and a glass break: The metaphor matters.
As she proved in the recently produced "One Flea Spare" and "Slaughter City," Wallace has a gift for turning sympathy for life's underdogs into testaments of survival. In Jonathan Berry's staging, the second offering in Eclipse's season-long exploration of Wallace plays, hope and hardship hold equal sway. Wounded but hungry for life, Matt Farabee's Dalton is protective and private where Marissa Cowsill's Pace is ready for anything and afraid of nothing. As his parents, Cindy Marker and Kevin Scott resemble premature ghosts haunted by happier times. Sean Bolger is another father who wants a second chance after having beaten his last son so much that the boy started hitting himself out of habit.
The tragedy on this trestle seems small when set against the national nightmare of 1936. But, presented just a few feet away from us, it takes on a terrible inevitability–lost lives in hard times.
Rating: ★★★★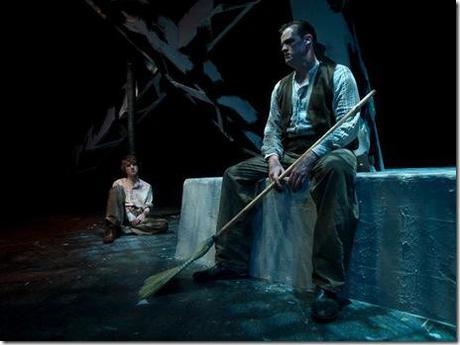 Eclipse Theatre's The Trestle of Pope Lick Creek continues through September 4th at the Greenhouse Theater Center, 2257 N. Lincoln (map), with performances Thursdays-Saturdays at 7:30 and Sundays at 2:30pm. Tickets are $23-$28, and can be purchased by phone (773-404-7336) or online at EclipseTheatre.Tix.com. More information at EclipseTheatre.com.
All photos by Scott Cooper
---
artists
cast
Kevin Scott (Dray), Sean Bolger (Chas), Marissa Cowsill (Pace), Matt Farabee (Dalton), Cindy Marker (Gin)
behind the scenes
Jonathan Berry (director), Rebecca Prescott (asst. director), Kevin Scott and Nathaniel Swift (producers). Kathleen Dickinson (stage manager), Sarah Moeller (dramaturg), Josh Horvath (sound), Lee Keenan (lighting), Rachel Lambert (costumes), Kat Reiser (asst. stage manager), Joe Schermoly (sets), Scott Cooper (photos)