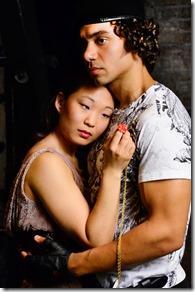 The Three Musketeers 
Book by Alexandre Dumas
Adapted by Robert Kauzlaric
Directed by Amanda Delheimer Dimond
at Lifeline Theatre, 6912 N. Glenwood (map)
thru July 21  |  tickets: $40   |  more info
  
Check for half-price tickets 
  
  
   Read entire review
  
---
Thrilling feats of physicality tempered by stilted dialogue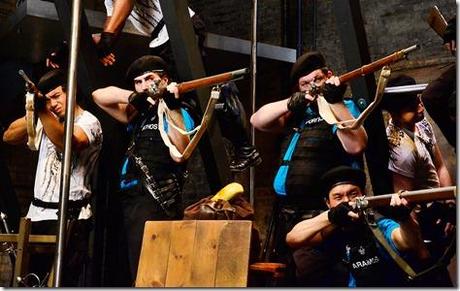 Lifeline Theatre presents
The Three Musketeers
Review by Katy Walsh 
When Lifeline announced their 2012/2013 season last year, I was immediately excited.  Having seen the talented ensemble in multiple productions, I immediately pre-cast Chris Hainsworth (Athos) and Christopher M. Walsh – no relation (Porthos).  And I eagerly awaited to see the spectacular adventure created by Lifeline.  And even though I was right about casting Hainsworth and Walsh in my head, the rest of the production didn't fare as well as I had imagined it would.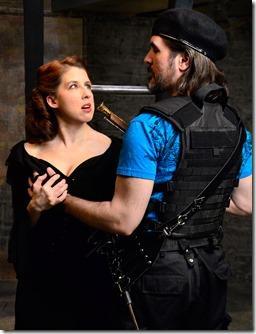 Adapter
Robert Kauzlaric
penned this legendary story from a more sinister perspective.  Instead of Hollywood valiant heroes, Kauzlaric characterizes his musketeers as 'working guys.' They have a job, not a destiny.  They fight for pride, not justice.  Kauzlaric exposes war and honor for their illusions of grandeur.  These guys aren't Disney material. They are the underbelly.  Kauzlaric's dialogue seems to be riddled with dark humor.  It wasn't always actualized.  Hainsworth nails all his funny opportunities with his noteworthy sophisticated sarcasm.  And Walsh and
Mildred Marie Langford
have a hysterical exchange in church.  Yet, most of the comedy remains hidden in the dark.
From lights up, the pacing is slightly off.  The conversation between Langford and Glenn Stanton (D'Artagnan) feels stilted, especially for a mother and son sendoff.  The tavern scene continues the unnatural conversing.  I can't decide if it's too many short scenes or too many people in a scene without purpose. It just feels clunky. A lot of the banter is stilted. I never was completely engrossed in what was being said – only what they were doing.  When the chat ceases, the action engages.  Director Amanda Delheimer Dimond, who has directed shows at Adventure Stage Chicago, has her best moments in facilitating thrilling feats of physicality.  She has an impressive Stanton treat Alan Donahue's set like a personal gym.  His gymnastic abilities are outstanding (as is the removal of his shirt at one point).
Fight choreographer Matt Hawkins brings his own swashbuckling expertise.  Hawkins orchestrates big, bold skirmishes.  The swordplay is made even more imposing on the modest Lifeline stage and using up to eight men.   Although The Three Musketeers is obviously about action, it should also captivate with drama and comedy too.  It's disconcerting when a pacifist like myself eagerly awaits fighting to interrupt the talking. 
Rating: ★★½
The Three Musketeers continues through July 21st at Lifeline Theatre, 6912 N. Glenwood (map), with performances Thursdays and Fridays at 7:30pm, Fridays 4pm and 8pm, Sundays 4pm.  Tickets are $40, and are available by phone (773-761-4477) or online through PrintTixUSA.com (Half-price tickets at Goldstar.com). More information at LifelineTheatre.com.  (Running time: 2 hours 30 minutes, includes an intermission)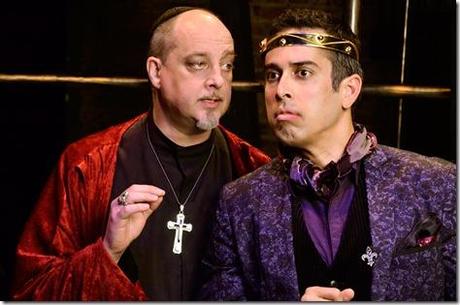 Photos by Suzanne Plunkett
---
artists
cast
Adrian Byrd (Treville), Carlos Rogelio Diaz (Boncieux, Laporte, ensemble), Chris Hainsworth (Athos), Mildred Marie Langford (Queen Anne, Madame Coquenard, Ensemble), Dan Lin (Felton, ensemble), Katie McLean Hainsworth (Milady), Deanna Myers (Constance, ensemble), Miguel Nunez (King Louis XIII, Buckingham), Mike Ooi (Rochefort, Lord de Winter), Sean Sinitski (Cardinal Richelieu), Dwight Sora (Aramis), Glenn Stanton (D'Artagnan), Kyle Vincent Terry (Murderer, ensemble), Christopher M. Walsh (Porthos), Bryan Bosque, Lindsey Dorcus, Nathan Pease, Jason Peregoy, Jessica Kadish (understudies)
band
Justin Amolsch (horn), Greg Hirte (violin), Kelsee Vandervall (cello), Mike Przygoda (remainder)
behind the scenes
Amanda Delheimer Dimond (director), Robert Kauzlaric (adaptor), Katie Messmore (stage manager), Aly Renee Amidei (costume design), Claire Chrzan (asst. lighting design), Benjamin W. Dawson (production manager), Alan Donahue (scenic, props design), Heather Gilbert (lighting design), Matt Hawkins (fight choreography), Jessica Kadish (asst. director, dramaturg), Mike Przygoda (original music, sound design), Phil Timberlake (vocal coach), Joe Schermoly (tech director), Suzanne Plunkett (photos).
13-0618