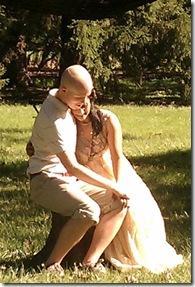 The Tempest 
Written by William Shakespeare  
Adapted and Directed by Thrisa Hodits
at Morton Arboretum, Lisle, IL  (map)
thru Sept 30  |  tickets: $13-$19   |  more info
  
Check for half-price tickets 
  
  
   Read entire review
  
---
Enchantment in a beautiful outdoor setting

Theatre-Hikes presents
The Tempest
Review by Joy Campbell
I'm always impressed when something that's been done before – and done a lot—finds new ways to entertain. Such is the case with Theatre-Hikes' production of Shakespeare's The Tempest, set outdoors in the Morton Arboretum.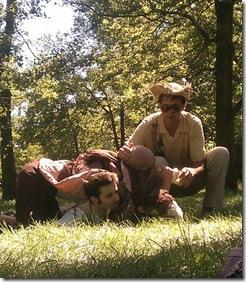 If you're new to the Theatre-Hikes model, it goes like this: A leader takes the audience members to a spot, they sit, and a portion of the play is performed right before them. As the play continues, the audience hikes to various other predetermined locations until the play's conclusion. While it's not uncommon for Shakespeare to be performed outdoors in one location, in this production, scene changes become literal changes of scenery, with the audience moving from place to place along with the play.
This, along with the directness with which the cast engages the audience, makes one feel that they're helping to create the show. This proves to be a clever device for a play where magic refers to not only the sorcery wielded by Prospero, but also to the magic of creating a world out of nothing (i.e., performing a play). With effective but minimal props, and Yonit Olshan's eye-catching costumes (not to mention the splendid backdrop of the Morton Arboretum), a grassy swale and a stand of trees become for us a magical island containing Miranda's brave new world. Actors use musical and percussive instruments as well as singing throughout the show, infusing the atmosphere with a bewitching otherworldliness; as the audience migrates from site to site, actors follow along, singing and playing instruments, sustaining the atmosphere of the show. The overall effect is wonderful.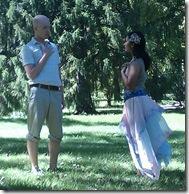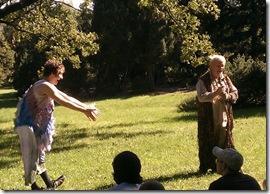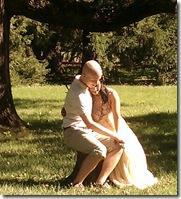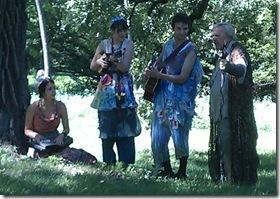 A strong cast brings to life the assortment of knaves, plotters, drunkards, and noble folk who find themselves thrown together. Among them, Matt Gieschen is impressive as both the love-struck Prince Ferdinand and depraved monster Caliban, and Mike Mazzocca's Ariel is endlessly entertaining with his infectious energy and humor, and versatile musical skill. The show is good fun and good theater. The children in attendance seemed engrossed, so this might be a good opportunity to introduce The Bard to a child in your life. Especially since they get to blow bubbles!
Rating: ★★★
The Tempest continues through September 30th at The Morton Arboretum, 4100 Illinois Route 53, Lisle (map), with performances Saturday and Sunday at 1pm.  Tickets are $13-$19 (which includes parking and admission to Arboretum), and are available by phone (630-725-2066) or online through MortonArb.com (check for half-price tickets at Goldstar.com). More information at Theatre-Hikes.org.  (Running time: 2 hours, no intermission)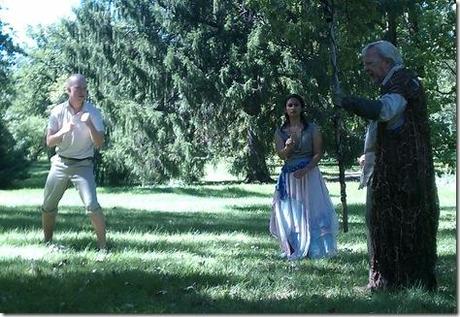 ---
artists
cast
Anu Bhatt (Miranda); Matt Gieschen (Ferdinand, Caliban); Kelly Lynn Hogan (Queen Alonsa); Carl Lindberg (Stephano, Sebastian); Naomi Lindh (Ceres); Mike Mazzocca (Ariel); Rachel Tietz (Iris); Pat Tinsley (Gonzalo); Paul Tinsley (Propsero); David Wilhelm (Trinculo, Antonio)
behind the scenes
Thrisa Hodits (director); Bradley Baker (props); Sophie Blumberg (stage manager); David Kornfeld (music director); Mike Mazzocca (additional music); Matthew Powell (props); Yonit Olshan (costumes); Amanda Stanton (dramaturgy)
12-0922