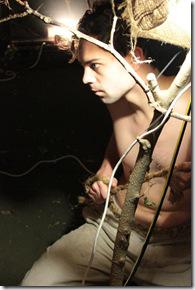 The Tempest
Written by William Shakespeare 
Directed by Scott McKinsey  
at The Rotunda, Evanston (map)
thru Nov 19  |  tickets: $15-$30  |  more info
Check for half-price tickets 
  
  
   Read entire review
  
---
An enthusiastic, innovative take on Shakespeare's fantastical 'Tempest'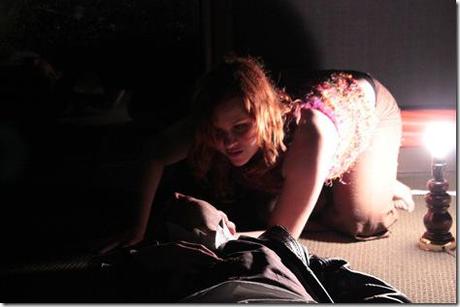 DreamLogic Theatreworks presents
The Tempest
Review by Danielle Stack
In the past couple years, William Shakespeare's The Tempest has become more produced and than any other Shakespeare play. There have been numerous productions that experiment with the different themes of the bard's last play, even going so far as to have women play the role of Prospero (or should I say Prospera?). There is no right answer to which concept portrays the story best, since Shakespeare's plays are perfect for exploration of different time periods and stagings. For instance, a British theater company is taking the theater scene in New York by storm with it's interactive Macbeth. This type of staging, which has been used more recently, immerses the audience into the world of the play, making one feel as if they too are players in the story, making the playwright much more accessible. This is what Dreamlogic has done with their production of The Tempest.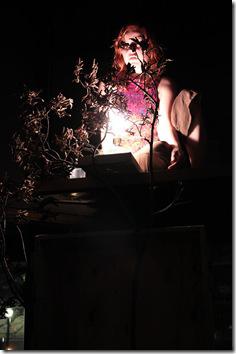 The Tempest's performance space, The Rotunda in downtown Evanston, a round metal structure with floor-to-ceiling windows (the space used to be a bank lobby), is definitely a unique, but smart, choice. It makes the evening seem even more magical, like an island surrounded by twinkling lights and nature. The interior set design itself is charming and simplistic; the space well-utilized and smartly employed. Furthering this ambience, the actors' fluid movements also abet the aura of the room.
Rachel Bonacquisti as Ariel and Lane Flores as Caliban are definite Tempest standouts, with their fearless approaches to two of Shakespeare's most fantastical creatures. Their performances show raw human emotion throughout. The same can be said for Lauren Ramsey as Prospero's only daughter, Miranda. Ramsey conveys the innocence of Miranda without making herself a damsel in distress, a hard balance to accomplish.
As for the male ensemble, Quinn Gasaway (Sebastian), John Highberger (Alonso), Colin Jackson (Antonio) and Jack Sharkey (Gonzalo) are the most entertaining, holding a (mostly consistent) mastery in Shakespearean diction. Charles Askenaizer, as Ferdinand, gives a pleasant performance as Miranda's love interest (though, in the end, we're not as excited for their union as we should be).
Paul Chakrin, portraying Prospero, has the most challenging character – he must find the balance between protective father of his only child while not seeming too cruel and unjust in his choices. There are times, especially the opening scene with Miranda, where Chakrin succeeds. But there are large sections where his patriarchal motivations are replaced with a Prospero that is driven by raw cruelty which shows no evidence of furthering of his family role.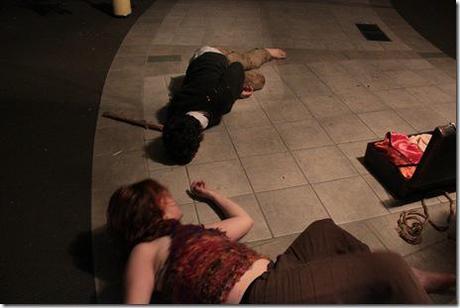 J. Preddie Predmore and Tyler Pistorius, as drunkards Stephano and Trinculo, are delightful as the play's comic relief; a nice respite from the work's romantic and conspiratorial motifs. Pistorius' Trinculot is dry and sarcastic, which balances nicely with Predmore's robust and jolly Stephano.
Finally, Rachel Bonacquisti does a nice turn lending her vocals during the show's transitions – one of my favorite design aspects for the show.
Overall this production is best for those seeking new concepts of a traditional Bard presentation. Director Scott McKinsey has made some bold choices that, for the most part, contribute to the overall production. But not everything works. Even with captivating performances by Bonacquisti, Flores and Ramsey, Dreamlogic Theatreworks' production still falters in consistently capturing the fantastical world of the bard's last play. Nonetheless, I greatly appreciate Dreamlogic Theatreworks' enthusiastic and innovative take on one of Shakespeare's most celebrated works.
Rating: ★★★
The Tempest continues through November 19th at The Rotunda, 1603 Orrington Ave, Evanston, IL (map), with performances Fridays and Saturdays at 8pm. Tickets are $30 for adults and $15 for Students. More information at DreamLogic's website. (Running time: one hour and 45 minutes with no intermission)
---
artists
cast
Charles Askenaizer (Ferdinand), Rachel Bonacquisti (Ariel), Paul Chakrin (Prospero), Lane Flores (Caliban), Quinn Gasaway (Sebastian), John Highberger (Alonso), Colin Jackson (Antonio), Tyler Pistorius (Trinculo), J. Preddie Predmore (Stephano), Lauren Ramsey (Miranda), Jack Sharkey (Gonzalo)