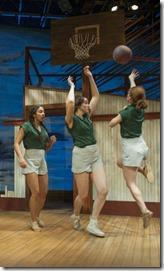 Lots of potential in Meg Miroshnik's Deptression-era drama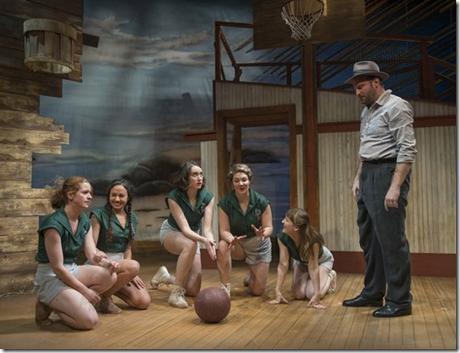 Review by Catey Sullivan
If you look hard enough, there are glimmers of potential buried in Meg Miroshnik's Depression-era drama of teenage girls trying to escape an oppressive world by teaming up to play basketball. But the sparks are few, and often only serve to illustrate what The Tall Girls might have been.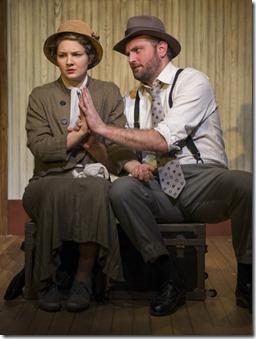 Directed by
Louis Contey
, Shattered Globe's staging of
The Tall Girls
is founded on a fantastic idea: The revolutionary power of team sports, and their ability to help girls rise above the strictures of poverty, gender roles and personal crises.
The piece is punctuated by moments that briefly flare as they illuminate the double-punch impact of sexism and hardship endured by the young women of Poor Prairie, a tiny town leveled by the Great Depression. But Miroshnik's power-play moments are few. Like a struggling basketball team, The Tall Girls sputters and halts. The occasional scores aren't enough to create a winning production.
The dialogue begins on a problematic note. The first girl we meet is Jean (Angie Shriner). She's 15-and-a-half, and has been been sent to Poor Prairie to take care of Almeda (Tracey Green), her wild, younger cousin. So far, so good.
But before the barefoot and aggressively dusty Almeda stomps onto the stage, Jean encounters a truly creepy fellow carrying a burlap sack. Haunt Johnny (Joseph Wiens) starts by making skeevy comments about Jean's height and her bulging leg muscles, observations that are all the more invasive because Jean is seated and wearing a calf-length dress. Most women - be they 15-year-olds in 1930 or the 50somethings in the 2017 - would at least shy away from a strange, older man who felt the need to offer commentary on her body. But Jean keeps talking to Johnny, and Johnny keeps talking about Jean's physique, undeterred when she tells him she's 15.
When Jean learns Johnny's sack holds a brand new basketball, his appeal increases exponentially. It's as if he told her he had a sack full of gold, and was going to make all the local girls rich. Even given the desperate straits of the Depression, the reaction to Johnny's basketball seems bizarrely over-enthused, especially given his penchant for telling 15-year-old girls that they have great muscles.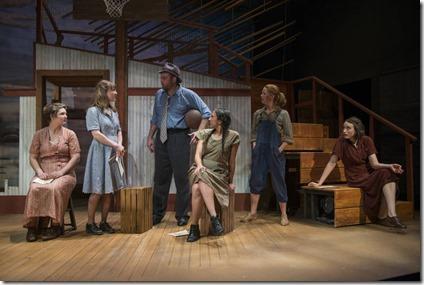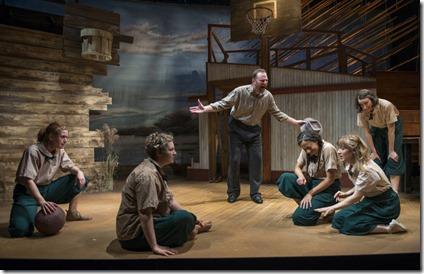 Still, the prospect of a new ball bewitches the girls in town, especially Jean's cousin, the feral, dirt-smudged Almeda. Like the other young women in The Tall Girls , Almeda ultimately sees the game as an escape from a world where many girls are pregnant and/or married off as teenagers.
The other high schoolers who make up the team are also seeking ways to escape: Inez (Tina Munoz-Pandya) is burdened by her role as her family's caretaker and the knowledge that her father is barely a step away from losing the family farm. Puppy (Abbey Smith) lives under the iron hand of her moralizing mother, who seems to view every source of joy as a path to hell. Jean and Lurlene (Christina Gorman) also have reasons for hitting the court, and Miroshnik's plot is centered on the secrets and hopes each girl holds, and on the impact of basketball on them.
The personal obstacles each girl faces are compounded by the First Lady's "Committee on Play," which has reports that playing basketball puts girls at risk of infertility among other irreversibly cataclysmic effects on their womanhood.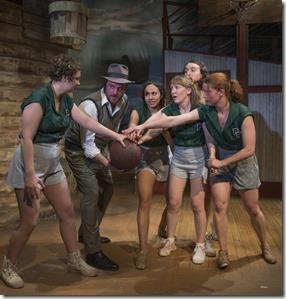 As the girls' off-the-court aspirations are conflated with their on-court play, the prospect of the team going "downstate" to the championships looms like a gleaming prize in the distance. Still, just how winning the championship will change life for the girls isn't clear - how the players think it will change their lives isn't clear either. The big game is touted as an end-of-the-rainbow event, but Miroshnik doesn't deliver when it comes to explaining how a championship could change the future of Poor Prairie's teen girls.
The dialogue is stilted, and Contey's direction doesn't bring out the best in his six-member ensemble. The performances veer from wooden to slightly over the top. There's virtually no truth gleaming from the core of the dialogue. During the all-important play sequences, there seems little joy. Nor does the ensemble depict the exquisite tension that comes from playing a fiercely competitive game where it seems your very soul is at stake.
Most strikingly, Haunt Johnny continually comes across more like someone's creepy old uncle than an inspirational force for good. It's impossible to believe this guy could unify a team of teenage girls, except in protest against his employment at the high school. A new basketball might well have been a treasure worth coveting in Poor Prairie, circa 1930, but it's hard to believe that smart, opinionated young women such as Jean, Almeda, Inez, Puppy and Lurlene would unquestioningly put themselves in the hands of someone like Haunt Johnny to get their hands on it.
Finally, there's Miroshnik's ending. The Tall Girls closes on a memorable image, but it's also an unsatisfying one. The story ends abruptly, as if Miroshnik simply ran out of ideas. Instead of scoring at the final buzzer, these walk off the court.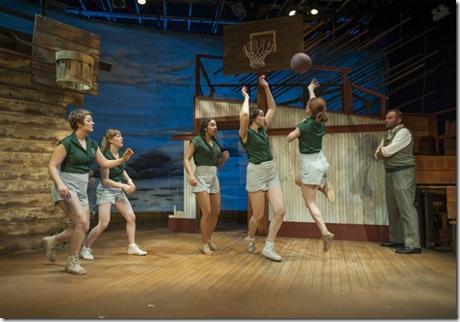 The Tall Girls continues through February 25th at Theater Wit, 1229 W. Belmont (map), with performances Thursdays-Saturdays at 8pm, Sundays 3pm. Tickets are $15-$35, and are available by phone (773-975-8150) or online through TheaterWit.org (check for half-price tickets at Goldstar.com ). More information at SGTheatre.org. (Running time: 1 hour 45 minutes, includes an intermission)
Photos by Michael Brosilow
behind the scenes
Louis Contey (director), Amanda Rozmiarek (set design), Sara Jo White (costume design), Charles Cooper (lighting design), Christopher Kriz (original music and sound design), Jamie Karas (prop design), Denis Savas (stage manager), Sandy Shinner (producing artistic director), Doug McDade (managing director), Kelsey Melvin (marketing director), Amanda Rozmiarek (techinical director), Drew Schad (asst. director), Devonte Washington (asst. stage manager), David Abramov (asst. set design), Morgan Lake (asst. sound design), Michael Trudeau (master electrician), Jane Nix (scenic charge), David Abramov ^, Colin David, Andy Kauff, Andy Kloubec, Christine Kneisel, Rachel Lake, Kyle Pingel, Sean Tait, Jonah White (build and light crew), Kelsey Melvin (graphic designer), Alex Barone (basketball coach), Joe Martinez, Kevin Viol (brochure and posster photography), Starbelly Studios Photography (videography), Michael Brosilow (photographer)
Tags: 17-0119, Abbey Smith, Alex Barone, Amanda Rozmiarek, Andy Kauff, Andy Kloubec, Angie Shriner, Catey Sullivan, Charles Cooper, Chicago Theater, Christina Gorman, Christine Kneisel, Christopher Kriz, Colin David, David Abramov, Denis Savas, Devonte Washington, Doug McDade, Drew Schad, Elsa Gay, Genevieve Lerner, Jamie Karas, Jane Nix, Joe Martinez, Jonah White, Joseph Wiens, Kelsey Melvin, Kevin Viol, Kyle Pingel, Louis Contey, Meg Miroshnik, Michael Brosilow, Michael Trudeau, Morgan Lake, post, Rachel Lake, Sandy Shinner, Sara Jo White, Sean Tait, Shattered Globe Theatre, Starbelly Studios Photography, Theater Wit, Tina Munoz Pandya, Tracey Green
Category: 2017 Reviews, Catey Sullivan, Shattered Globe, Theater Wit