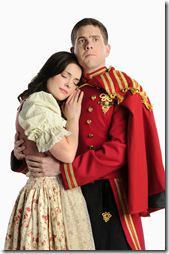 The Student Prince
Book/Lyrics by Dorothy Donnelly
Music by Sigmund Romber
Adapted by Hugh Wheeler  
Directed/Choreographed by Rudy Hogenmiller 
Cahn Auditorium, 600 Emerson, Evanston (map)
thru Aug 28  |  tickets: $32-$92  |  more info
Check for half-price tickets
   Read entire review
---
Co-Eds go wild in spirited operetta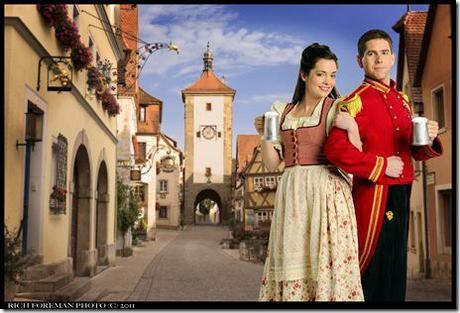 Light Opera Works presents
The Student Prince
Review by Keith Ecker 
You wouldn't think Animal House: The Opera would be much of a success. But in 1924, when The Student Prince premiered on Broadway, that's pretty much what happened. The comedic operetta is about a young prince who shirks off his regal duties to become a provincial student and live in what amounts to a raucous frat house full of beer-drinking party animals. And yet, the clash of highbrow opera and hofbrau shenanigans works to create a beautifully scored and entertaining production.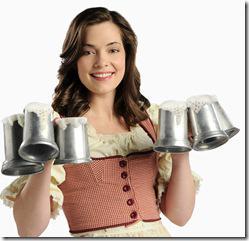 At the beginning of the musical, we meet Prince Karl Franz (
William Bennett
), a young royal who bemoans the stifled castle life. He longs to experience true adventure of the most common variety, and so he leaves his stately position to become a student at the University of Heidelberg.
On his leave, he is accompanied by his closest confidant Doctor Engel (Bill Stone) and his bumbling, effeminate and uptight chauffer Lutz (milked dry for comedic effect by Dale Benson). Once in Heidelberg, the prince takes up residence at the Inn of the Three Golden Apples, a modest establishment that houses the Saxon Corps., a band of jovial beer-chugging men who have a penchant for singing in three-part harmony.
In addition to reveling in the commoner lifestyle with the Saxon Corps., Prince Franz becomes smitten with a young lass named Kathie (Danielle M. Knox). The affection is requited, but there is a problem. Prince Franz is already betrothed to Princess Margaret. Comedy and tragedy ensues as the love triangle begins to close in on Prince Franz, who is truly torn between the two enchanting women.
Perhaps it has to do with the presence of royalty and peasantry, but I found that this operetta fits more closely with a work like Les Miserables than, say, Carmen or The Barber of Seville. There are no enchanting arias, and there is little time allocated for vocal gymnastics. Instead, there is a heavy reliance on ensemble pieces, most memorably the tune "Drink! Drink! Drink!" (which, if this were updated for a modern audience, should be called "Chug! Chug! Chug!"). And these ensemble pieces (choreographed by director Rudy Hogenmiller) are delightfully entertaining.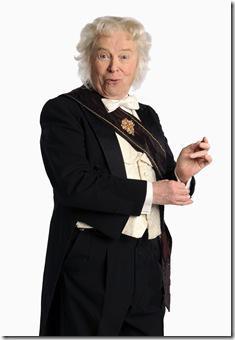 The work overall has a very nostalgic and wistful aesthetic. There are no heavy topics being dealt with here. This isn't a piece about war or death. It's about young love and the difficult choices those standing on the cusp of adulthood often have to face. And there's plenty of comedy to further lighten the mood, particularly from Benson, whose wildly flamboyant portrayal of Lutz is a crowd pleaser.
The score of The Student Prince is very waltz heavy. And what isn't a waltz is often a march. It's a little repetitive after a while. (I still can't get the perky strings of "Drink! Drink! Drink!" out of my mind!)  But the 26-piece orchestra, led by Roger L. Bingaman, does an outstanding job, and the acoustics of Cahn Auditorium provide audio clarity.
There may not be any show-stopping performances in the Light Opera Works' The Student Prince, and the pacing could stand to be adjusted (the first act goes on forever, while the second act ends in the blink of an eye.). But with its peppy score, its adept cast and its spirited storyline, The Student Prince is a fun outing.
Rating: ★★★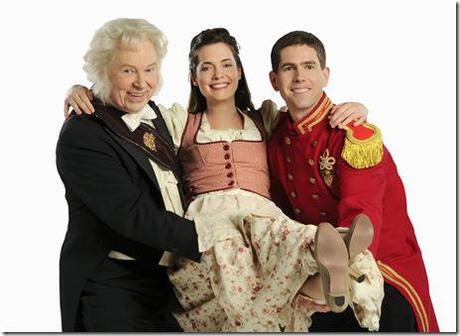 Light Opera Works' The Student Prince continues through August 28th at Cahn Auditorium, 600 Emerson, Evanston (map), with performances Wednesdays and Sundays at 2pm, and Fridays and Saturdays at 8pm (no Thursday performance). Tickets are $32-$92 (age 21 and younger are half-price), and can be purchased by phone (847-869-6300) or online at light-opera-works.org/tickets. More information at Light-Opera-Works.org.
All photos by Rich Foreman 
---
artists
cast
Leads: William Bennett (Karl Franz), Danielle Knox (Kathie), Bill Stone (Dr. Engel), and Dale Benson (Lutz)