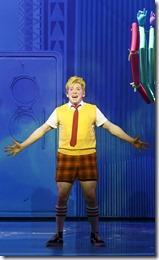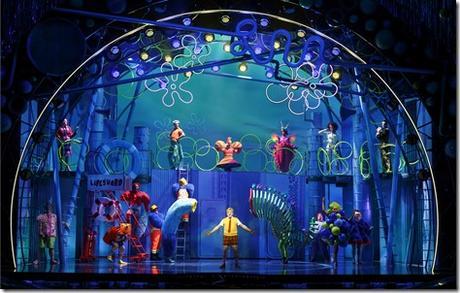 A volcano is set to erupt that will destroy life as we know it, and it is coming at the end of the day tomorrow! This is the challenge facing SpongeBob SquarePants and friends in the new Broadway-bound show, The SpongeBob Musical . Brought to us by Nickelodeon, with book by Kyle Jarrow, the show features original songs by a treasure trove of talent that looks like it came right off the Billboard Top 100 instead of a typical Broadway composers list, with talent like David Bowie, Steven Tyler and Joe Perry of Aerosmith, Sara Bareilles, The Flaming Lips, John Legend, Cyndi Lauper, and many more. The result is a colorful, uplifting experience that will have theatergoers of all ages reveling in their cheers and admiration.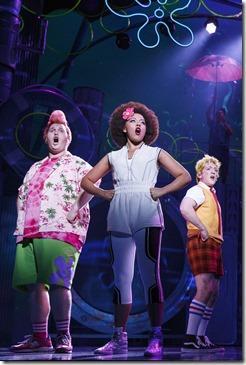 The moment we walk into the theater, the set places us in the underwater world of SpongeBob's home, Bikini Bottom. Combining complex mechanics like two giant
Rube Goldberg machines
that stand the height of the theater ceiling, colorful décor made from simple household items like pool noodles and repurposed boom boxes, to high-tech A/V projections, the bursts of color have us on a fun and welcome sensory overload in a stunning visual animated world. This sort of vibrant image is a requirement when keeping a room full of children engaged for two hours in a closed room, and it is done as well as you would expect from Nickelodeon, a company that has been entertaining children for nearly 40 years. However,
David Zinn
's vibrant set design is not the only aspect that deftly brings animation to life.
Ethan Slater, who makes his Chicago debut as the titular character, not only sounds like the endearing underwater personality, but he has taken on a role that is physically demanding. Slater performs a trifecta as a legitimate actor, a singer with a professionally bold and consistent voice - and an athlete. Both he and Lilli Cooper, playing SpongeBob's squirrel friend Sandy, perform stellar climbing choreography on moving ladders and boxes that clearly requires precise, steady movements and core strength as they make their way to the top of the volcano to (hopefully) save the day.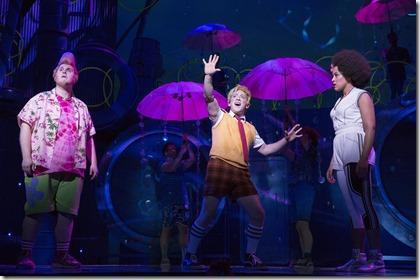 Additionally, the perennial Debbie Downer, Squidward Tentacles, played by Broadway's Gavin Lee, redeems himself in the 2nd act with a transformative dream sequence performance of "I'm Not a Loser"-a song by They Might Be Giants-that shows off his tap dancing chops along with a chorus of dancing sea anemones. All of these things come together, along with the diverse and appealing music, to make us feel as if we have actually entered an animated world that just happens to be populated by live-action people.
"We very specifically chose music that we wanted to sound like the artist who was writing it but for a very particular reason in that part of the story," says co-creator and director, Steppenwolf's Tina Landau. Indeed, this is not your typical musical score, as is evidenced by the diverse group of artists chosen to write the original songs. And their ability to appeal to younger audiences in such a cohesive way moves the story forward as if we have the luxury of one writer/composer with a hundred voices. Music supervisor, Tom Kitt, says that, "We are drawing on the biggest pop stars in music today," and goes on to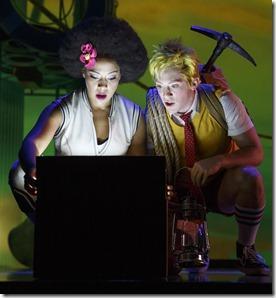 say that every one of the artists "has brought their A game."
Wayne Coyne
of the Flaming Lips, who delighted fans on the yellow carpet at the premiere event, says that their song 'Tomorrow Is' "could possibly be our greatest song that we've written yet." The music is appealing and uplifting, just as the Nickelodeon series always has been.
The SpongeBob Musical really stays true to the spirit of the series. The themes and lessons that children are meant to learn are not heavy-handed at all; they are subtle, funny and entertaining, which is the perfect combination for reaching children. Children will gain a respect and interest in science, teamwork, friendship, and the rewards of having a positive attitude. Children who are on the precipice of adolescence have even more complex issues, such as identity crises to handle, which SpongeBob teaches by cathartically learning what strengths he brings to his team, both in climbing the volcano and in his job at the Krusty Krab. He also teaches kids to not give in to irrational fears.
The team of talented people behind The SpongeBob Musical set out to create an entertaining Broadway show specifically for children, parents in tow, and they nailed it. While entertaining for adults, they stayed focused on their target audience and, in places where they could have inserted some covert adult humor, they chose not to. Parents will find that this approach is legitimate as long as they, too, can enjoy the show. And they certainly will. Adults in the audience cheered as genuinely as their younger counterparts. Even the stuffed shirt brigade showed up in splashes of yellow to indicate they were there to have a good time. So, get your tickets because a volcano is set to erupt that will destroy life as we know it...
...And it's the best day ever!
The SpongeBob Musical continues through July 10th at Oriental Theatre, 24 W. Randolph ), with performances Tuesdays at 7:30pm, Wednesdays 2pm & 7:30pm, Thursdays and Fridays at 7:30pm, Saturdays 2pm & 8pm, Sundays 2pm. Tickets are $33-$100, and are available by phone (800-775-2000) or online through Ticketmaster.com (check for half-price tickets at Goldstar.com ). More information at TheSpongebobMusical.com. (Running time: 2 hours 20 minutes, includes an intermission)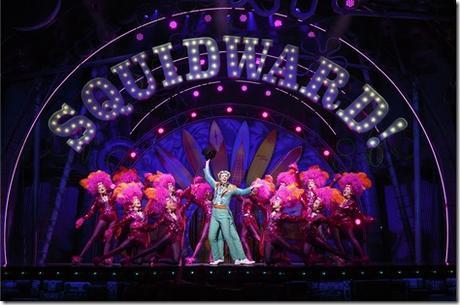 Ethan Slater (SpongeBob SquarePants), (Squidward Tentacles), Nick Blaemire (Sheldon Plankton), Lilli Cooper (Sandy Cheeks), Carlos Lopez (Mr. Krabs), Danny Skinner (Patrick), Gaelen Gilliland (Mayor), Curtis Holbrook (Fred the Fish, Electric Skates), Stephanie Hsu (Karen the Computer), L'ogan J'ones (Electric Skates), Emmy Raver-Lampman (Pearl Krabs), Mark Ledbetter (Old Man Jenkins, French Narrator), Kelvin Moon Loh (Perch Perkins), Lauralyn McClelland (Maxine Sardine), Vasthy Mompoint (Security Guard), JC Schuster (Electric Skates, Security Guard), Abby C. Smith (Mrs. Puff), Jason Michael Snow (Patchy the Pirate), Allan K. Washington (Larry the Lobster), Juliane Godfrey, Jesse JP Johnson , Allysa Shorte, Jacob L. Smith (swings)
song-writers and lyricists
David Bowie, Cyndi Lauper, Yolanda Adams , Steven Tyler and Joe Perry of AEROSMITH, Sara Bareilles , Jonathan Coulton, Alex Ebert of Edward Sharpe & The Magnetic Zeros, The Flaming Lips, John Legend, Lady Antebellum, Panic! At the Disco, Plain White T's, T.I., They Might Be Giants
Julie McBride (conductor, keyboard), Matt Gallagher (asst. conductor, keyboard), Michael Dobson (Foley percussion), Damien Bassman (drums), Carey Deadman (trumpet), Jim Gailloreto, Sean McNeely (reeds), Katherine Hughes (violin), Chuck Bontrager (viola), Jocelyn Davis-Beck (cello), Steve Roberts, Tom Logan (guitars), Chris Sargent (guitar 3, keyboard), Tom Mendel (bass)
behind the scenes
Tina Landau (director), Kyle Jarrow (book), (orchestrations, arrangements, music supervision), Julie McBride (music director, conductor), (scenic design, costume design), Christopher Gattellli (choreographer), Kevin Adams (lighting design), Peter Nigrini (projection design), Walter Trarbach (sound design), Charles LaPointe (hair & wig design), Kenneth Ferrone (asst. director), Lou Castro (asst. choreography), Mike Dobson (Foley design), Joe Dulude (makeup design), Buist Bickley (properties supervisor), Julia P. Joes (production stage manager), Kenneth J. McGee (stage manager), Telsey + Company , Patrick Goodwin (casting), Juliane Godfrey (dance captain), Matt Gallagher (asst. conductor), Michael Keller, Michael Aarons (music coordinators), Randy Cohen (keyboard programmer), Emily Grishman (music copying), Tim Burke (local music coordinator), Nickelodeon, Sony Music Masterworks, The Araca Group, Kelp On The Road (producers), Susan Vargo (executive producer), Joan Marcus (photos)
Tags: 16-0617, Abby C. Smith, Alex Ebert of Edward Sharpe & The Magnetic Zeros, Allan K. Washington, Allysa Shorte, Buist Bickley, Carey Deadman, Carlos Lopez, Charles LaPointe, Chicago musical theater, Chris Sargent, Christopher Gattellli, Chuck Bontrager, Corey Taylor, Curtis Holbrook, Cyndi Lauper, Damien Bassman, Danny Skinner, David Bowie, David Zinn, Emily Grishman, Emmy Raver-Lampman, Ethan Slater, Gaelen Gilliland, Gavin Lee, Jacob L. Smith, Jason Michael Snow, JC Schuster, Jesse JP Johnson, Jim Gailloreto, Joan Marcus, Jocelyn Davis-Beck, Joe Dulude, Joe Perry, John Legend, Jonathan Coulton, Julia P. Joes, Juliane Godfrey, Julie McBride, Katherine Hughes, Kelp On The Road, Kelvin Moon Loh, Kenneth Ferrone, Kenneth J. McGee, Kevin Adams, Kyle Jarrow, Lady Antebellum, Lauralyn McClelland, Lilli Cooper, Logan Jones, Lou Castro, Mark Ledbetter, Matt Gallagher, Matt Gallagher (asst. conductor), Michael Aarons, Michael Dobson, Michael Keller, Mike Dobson, Nick Blaemire, Nickelodeon, Oriental Theatre, Panic! at the Disco, Patrick Goodwin, Peter Nigrini, Plain White T's, post, Randy Cohen, Sara Bareilles, Sean McNeely, Sony Music Masterworks, Stephanie Hsu, Steve Roberts, Steven Tyler, Susan Vargo, T.I., Telsey + Company, The Araca Group, The Flaming Lips, They Might Be Giants, Tim Burke, Tina Landau, Tom Kitt, Tom Logan, Tom Mendel, Vasthy Mompoint, Walter Trarbach, Wayne Coyne, Yolanda Adams
Category: Broadway in Chicago, Corey Taylor, Musical, New Work, Oriental Theatre (Ford), World Premier