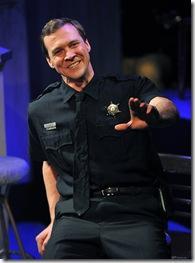 The Spitfire Grill 
Written by James Valcq (music, book)
   and Fred Alley (lyrics, book)  
Directed by Anna Hammond
at Heartland Studio, 7016 N. Glenwood (map)
thru Oct 14   |  tickets: $18-$22   |  more info
  
Check for half-price tickets 
  
  
   Read entire review
  
---
Boho introduces some new rising stars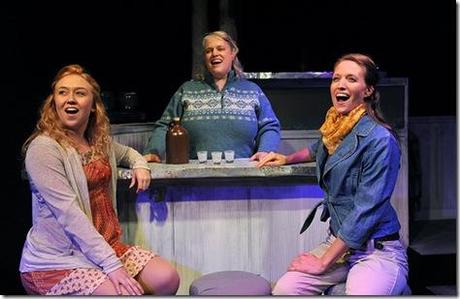 Bohemian Theatre Ensemble presents
The Spitfire Grill
Review by John Olson 
When we think of a small town diner, comfort food like meat loaf and mashed potatoes comes to mind and this musical, based on the 1996 feature film of the same name and set in a small town diner is comfort food for musical theater fans. Winner of the 2001 Richard Rodgers Award, given by a panel chaired by no less than Stephen Sondheim, the musical enjoyed a two-week run off-Broadway in 2001, just months after Alley's death from a heart attack at age 38 and the musical has become popular in regional theaters since. Wisconsin natives James Valcq and Fred Alley moved the action from the film's Maine setting to southwestern Wisconsin. Percy, (Laura Savage), a recent parolee from prison, comes by bus to the fictional town of Gilead to make her new home. Her choice for new hometown is based on a magazine photo that showed the place to be pretty in fall, but when she arrives in early winter, the town Sheriff (Matt Keffer) tells her that Gilead is a place to leave, not a place to come to. Nonetheless, he finds her work and a place to live with Hannah (Nancy Kolton), owner of the only restaurant in town. Hannah's a gruff old widow, but Percy's had a tough life herself and is able to stand up to the widow and win her over. When Percy learns that Hannah's been trying to sell the diner for ten years, she comes up with a way for Hannah to unload it: conduct a public raffle to win the restaurant – with an entry fee of $100. Percy's skill at writing copy for the ad announcing the raffle is the first step in convincing herself and all the residents of the little town that Gilead is not such a bad place. The entries are required to include an essay as to why the entrant wants to win the diner, and as the letters arrive, Percy, Hannah and the others see how their desolate little town is viewed as a possible balm for the many woes and ills of folks in the rest of the country. If you see where this is going – and it's not hard to guess any of the plot twists or lyric rhymes well before they arrive – you'll be right in concluding that the main message of the musical is "there's no place like home."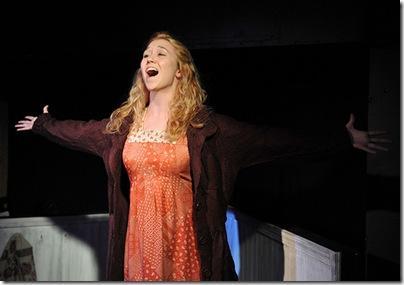 Lest you detect some cynicism in my tone, let me assure you that the piece mostly works due to its absolute sincerity and its avoidance of easy stereotypes or oversimplification of the issues. With honesty and a light touch, the people in this dying, economically depressed town are shown to have real pain and isolation. Shelby (Laura Lindahl) is married to the controlling Caleb (Jeremy Trager) – Hannah's nephew who has been struggling to make a decent living since the town quarry closed. Caleb wants to keep Shelby at home, but she takes a job at the diner to help Percy after Hannah breaks a leg and is unable to work. Her growing friendship with Percy as the two of them work together is enough to break that isolation and allow her to alleviate her loneliness. It's a simple, but plausible solution. Similarly for the others, the contact with the outside world that the raffle entries bring seems to bring them new appreciation of their town and their neighbors. Even the town snoop – the postmistress Effy (a delightfully self-absorbed Caron Buinis) is shown to have real empathy, suggesting her nosiness might have been borne of a need for some human connection.
Valcq's score is a distinctive variation on bluegrass and folk traditions, and in the 30-seat Heartland Studio, Alley's simple but pointed lyrics are delivered with perfect clarity. The songs are delivered with uniformly superb vocals by the six singing members of the seven-person cast. While noise from the Red Line el trains running across the street sometimes bleeds in to the theater, I wouldn't be surprised to learn that passengers on those trains might have been unable to hear their own conversations due to the power of those voices while passing the theater. Apart from the charms of the material, the skill of these performers – most of whom are relatively new to Chicago stages or have not had such significant parts before – is reason enough to see The Spitfire Grill. Trager, of course, is well known for his voice and overall musical theater chops from his work down Glenwood Avenue for Theo Ubique, but the others are all real finds.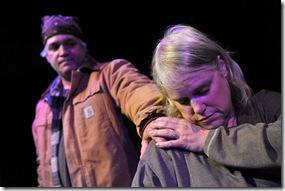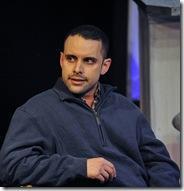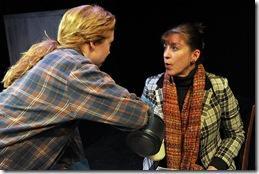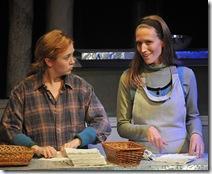 Laura Savage has a mellow yet strong and expressive voice, selling her numbers in a pop-inflected yet controlled manner. As an actress she amazingly covers all of Percy's bases – from hard and guarded to vulnerable and pained, and ultimately to joyous and caring. Nancy Kolton has a big, booming voice that can go quiet when called for, and Laura Lindahl's gorgeous soprano is perfect for the initially meek but ultimately empowered Shelby. Matt Keffer makes the most of his first big chance to show his pipes and he puts his impressive baritone and leading man looks to good use as the sweet but awkward sheriff, Joe. Buinis shows a similarly solid delivery of Effy's mostly comic numbers. Trager, as should be expected, sings the role of the troubled husband Caleb with skill and confidence. Over the years, BoHo has been a training ground of sorts for some of the area's top budding talents, with many of them having later worked their way into Equity ranks. The same good fortune ought to await this cast. The vocals are backed by piano and an occasional cello, under the musical direction of Tom Vendafreddo.
Director Anna Hammonds makes great use of the tiny stage, adorned by Diane Fairchild's detailed-enough diner set. Fairchild also designs the lighting to take us out of the diner when the script calls for it. The writing does feel longer than it needs to be, given that the piece unabashedly wears its considerable heart on its sleeve. We know early on that, as the spiritual tells us, "there is a balm in Gilead, to make the wounded whole" and that the psychically wounded residents of Gilead, Wisconsin will find that balm before the figurative curtain falls. Still, the story is told with such honesty and compassion that we stick with it and finish every last bite of our mashed potatoes and gravy.
Rating: ★★★
The Spitfire Grill continues through October 14th at Heartland Studio, 7016 N. Glenwood (map), with performances Thursdays-Saturdays at 8pm, Sundays 2pm.  Tickets are $18-$22, and are available by phone (866-811-4111) or online through OvationTix.com (check for half-price tickets at Goldstar.com). More information at BohoTheatre.com.  (Running time: 2 hours 15 minutes, includes an intermission)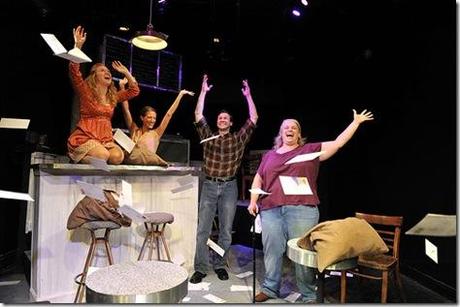 Photos by Peter Coombs 
---
artists
cast
Laura Savage (Percy), Nancy Kolton (Hannah), Laura Lindahl (Shelby), Matt Keffer (Joe), Jeremy Trager (Caleb), Caron Buinis (Effy), Daniel Houle (The Stranger)
behind the scenes
Anna Hammonds (director); Tom Vendafreddo (musical director); Diane D. Fairchild (set, lighting); Megan Turnquist (asst. lighting); Peter Robel (sound design); Theresa Ham (costumes); Cassy Schillo (props); Raphael Schwartzman (tech director); Meg Love (stage manager); Arielle Augustyn (production manager); Kaela Altman (producer); Peter Coombs (photos)
12-0938