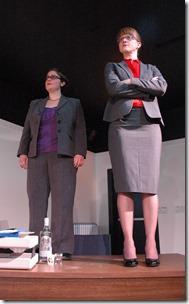 The Sovereign Statement 
Written by Bilal Dardai
Directed by Brandon Ray
The Neo-Futurarium, 5153 N. Ashland (map)
thru Nov 23  |  tickets: $10-$20   |  more info
  
Check for half-price tickets 
  
  
   Read review
  
---
Get your passport now for this innovative world premiere

The Neo-Futurists presents
The Sovereign Statement
Review by Keith Glab
How to describe The Sovereign Statement? How about, "An Orwellian choose-your-own adventure filled with meta-theater and political intrigue?" That doesn't even fully convey how uniquely interactive this theatrical experience is, and requires expounding regardless.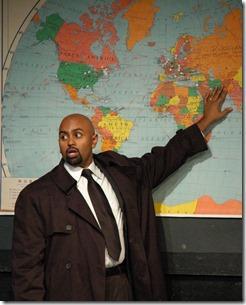 In typical Neo-Futurist fashion, the experience begins before you even enter the theater space. You enter a bureaucratic queue to get issued a passport (program), identification card (playing card), and five voting cards. The voting cards can be used to vote on various issues and events throughout the evening that will alter the course of the narrative, or they can be squirreled away to give you and your friends discounts to future performances. In true Chicago style, there's nothing preventing you from voting multiple times on some issues while abstaining from other votes.
Once the performance officially begins, actor/playwright Bilal Dardai tells actor Phil Ridarelli of his idea to establish the theater as an independent state (called Neovakia opening night, as voted on by the audience/citizens). He tabs Ridarelli to be his protagonist, the chairman of Neovakia. The audience joins in singing a national anthem and policies for this new micro-nation get discussed. One audience member becomes The Secretary of the Back Row to help create a motto.
The real innovation begins when the chairman expels one of the actors and one-fourth of the audience backstage. The backstage group begins to form the rival micro-nation of South Neovakia. What follows is a complicated web of power struggle and political intrigue as the rival nations and their leaders try to subvert each other.
This exceptional cast is even more impressive when you consider that several of them have to learn entirely different sets of lines and blocking depending upon the outcome of audience votes. They also need strong improvisational skills for all the audience interaction and for instances in which the scripted events in one room proceed more quickly than in the other. Several comedic gimmicks work really well, particularly the ones that underscore the stark meta-theatricality of the piece. Dardai incorporates some thought-provoking wordplay into his clever script, comparing a nation to both a narrative and a competitive sport. Amidst all of the laughter and innovation, the show conveys a poignant message about the illusion of choice.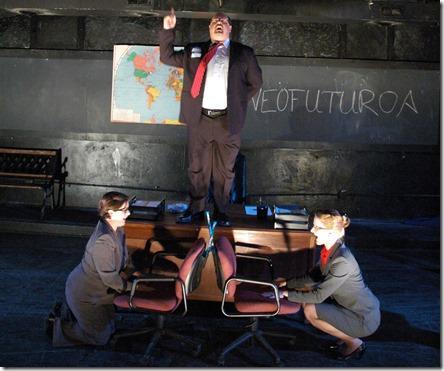 Only a handful of minor faults prevent me from giving this experience a four-star review. The cast alternates between referring to each other by their first and last names, which makes it difficult to follow who is being spoken about at times. The show runs nearly two hours without an intermission. At least in the backstage portion, there's a bit of downtime where the audience just sits around or looks at overhead projections. Fulcher does a good job of elevating the material from interesting to entertaining, but this portion of the show can't help but stagnate a bit following all of the other innovative action surrounding it.
Rarely does an entire audience get to feel like they are vital participants of a scripted play, and I don't ever recall a scripted play that could be such a different experience upon multiple viewings. Too Much Light Makes the Baby Go Blind, the Neo-Futurists' signature show that has been running for 25 years, almost seems static and conventional by comparison. Get your passport stamped and become a citizen of The Sovereign Statement for an experience like no other.
Rating: ★★★½
The Sovereign Statement continues through November 23rd at The Neo-Futurarium, 5153 N. Ashland (map), with performances Thursdays-Saturdays at 7:30pm.  Tickets are $10-$20, and are available by phone (773-878-4557) or online through their website (check for half-price tickets at Goldstar.com). More information at NeoFuturists.org.  (Running time: 1 hour 50 minutes, NO intermission)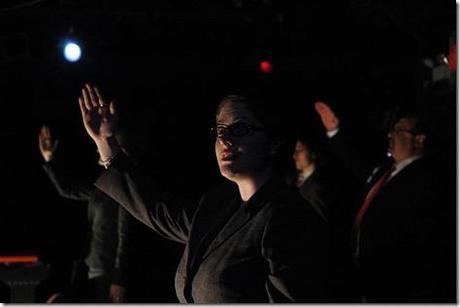 Photos by Maggie Fullilove-Nugent
---
artists
cast
Bilal Dardai, Jen Ellison, Clifton Frei, Gwynn V. Fulcher, Mike Manship, Phil Ridarelli
behind the scenes
Brandon Ray (director), Maggie Fullilove-Nugent (production manager, photography), Amanda Frechette (stage manager), Dan Broberg (set design), Mike Durst (lighting), Nick Keenan (sound design), John Szymanski (composer), Laura Moore (props), Evan Hanover (dramaturg), Victoria R. Golden (asst. production manager), JD Cannady (asst. director), Beth Ashworth (asst. sound design)
13-1049