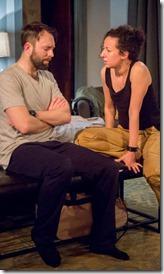 Timely and suspenseful world premiere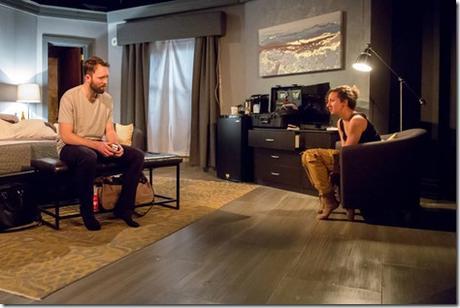 We live in an increasingly paranoid society. As I write this, Donald Trump has accused former President Barack Obama of wiretapping. Tinfoil hats and those who wear them may seem funny but are in fact very real and, armed with the wrong information, very threatening. is almost too topical: a disturbing, fascinating look at journalism, storytelling and the screen-obsessed society we now all inhabit. A mystery of international intrigue, Gabe McKinley's world premiere is a solid, haunting production from beginning to end.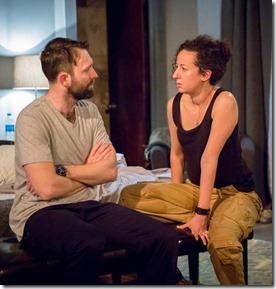 The Source takes place in a hotel room in a large, unnamed foreign city. First to enter is Vernon (Cody Proctor), a straitlaced newspaper reporter from St. Louis who follows every instruction by the book. His roommate is Oona (Kristina Valada-Viars), a well-traveled and award-winning documentarian who doesn't trust words or screens, and only went digital when real film became too cumbersome. Prior to their hotel stay, Oona and Vernon have never met. They've been individually summoned by a leaker of hacked documents and information on the United States government, known only as The Source. They've been promised the story of a lifetime, but only if they abide by The Source's rules: don't leave the room, throw your phones in the freezer, and wait for a knock on the door.
McKinley's script is fresh and witty, and would easily be at home on FX or HBO. The playwright doesn't downplay the importance of humor, often knowing exactly when the audience needs a joke (no matter how dark) to break up 85 minutes of pure intensity. Director Jason Gerace excels at the essential trifecta of staging, actor coaching and pacing, balancing banter and suspense with utmost care and respect. Thanks to playwright and director, we see Vernon and Oona not as caricatures but real people, with complex histories and motivations for their chosen careers and mediums. As their relationship evolves, the audience's investment grows - this isn't just a contemporary mystery but a character study of two driven but broken human beings.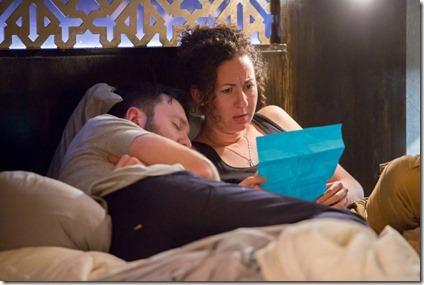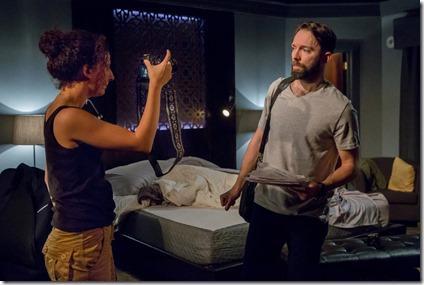 The production also excels in its creative design: Christopher Kriz designs a score worthy of an Academy Award-winning film, and Jack Magaw's set flawlessly recreates a stark, elegant hotel room that could be literally anywhere in the world, that grows increasingly cluttered as the characters become more and more frantic.
The Source is the type of play where brilliant acting is essential: there are only two characters, who alternately drift apart and come together in fascinating ways. Proctor's Vernon is textbook ambitious print journalist, or so he seems at first, and the actor expertly navigates Vernon's numerous ups and downs throughout the course of the play. Valada-Viars is a willing foil, in sloppy cargo pants that contrast Vernon's sharp creases. Her Oona is a perfect, relatable mix of cynicism and heart. She doesn't trust, and yet she does, even though the latter has gotten her into trouble many times. Valada-Viars' expressive physicality and mesmerizing voice underlie Oona's complicated emotional reasoning in a truly memorable performance.
Over the course of 85 minutes, I found myself with Oona and Vernon in every sense of the word. When they jumped, I jumped. I gasped when a knock on the door signaled a turning point in their collective fate. The Source is well-written, smartly directed and features two fantastic Chicago actors - a can't-miss exploration of the world we now inhabit and the consequences it brings.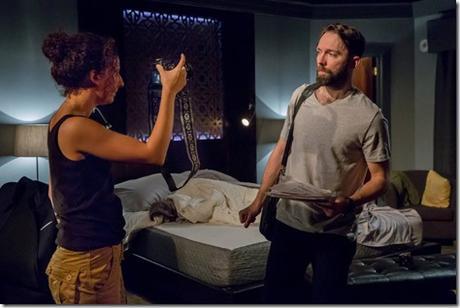 The Source continues through April 2nd at The Den Theatre, 1333 N. Milwaukee Ave., (map), with performances Thursdays and Fridays at 7:30 pm, Saturdays at 3 and 7:30 pm, and Sundays at 3 pm. Tickets are $35 adults, $20 students, and are available online at BrownPaperTickets.com (check for half-price tickets at Goldstar.com). More information at Route66Theatre.org. (Running time: 85 mins with no intermission)
behind the scenes
Jason Gerace (director), (scenic design), Claire Margaret Chrzan (lighting design), Christopher Kriz (sound design), Mark Comiskey (projection design), Rachel Sypniewski (costume design), Pauline Oleksy (props design), Catherine Allen (production manager), Brian Sprague (technical director), Nancy Staiger (stage manager), Matthew Bonaccorso (assistant stage manager), (photos)
Tags: 17-0311, Alyssa Thordarson, Brian Sprague, Catherine Allen, Chicago Theater, Christopher Kriz, Claire Margaret Chrzan, Cody Proctor, Den Theatre, Gabe McKinley, Jack McGaw, Jason Gerace, Kristina Valada-Viars, Lauren Whalen, Mark Comiskey, Matt Miles, Matthew Bonaccorso, Nancy Staiger, Pauline Oleksy, post, Rachel Sypniewski, Rob Zalas, Route 66 Theatre
Category: 2017 Reviews, Den Theatre, Lauren Whalen, Route 66, World Premier