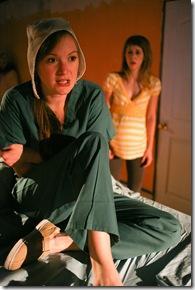 The Skriker 
Written by Caryl Churchill
Directed by Eric Hoff
at Red Tape Theatre, 621 W. Belmont (map)
thru Oct 20  |  tickets: $15-$25   |  more info
  
Check for half-price tickets 
  
  
   Read entire review
  
---
A gorgeous and carnal nightmare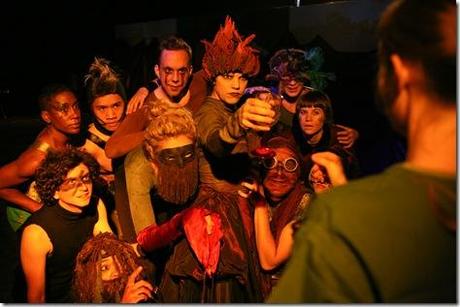 Red Tape Theatre presents
The Skriker
Review by K.D. Hopkins
When I was a kid, fairy tales scared the heck out of me and yet I kept reading them with rapt fascination. There is something about them that is frighteningly real and they are meant as morality tales. Caryl Churchill's The Skriker is more than a tale of right and wrong. The story explores greed, ecology, and courage to fight even after all is hopeless. The time of this tale is concurrent planes of existence. The Skriker (Sadie Rogers) appears in the mental ward of a hospital to Josie (Amanda Drinkall) and Lily (Carrie Drapac). Josie had a baby, but it is now dead, and possibly at her own hand due to a breakdown of some sort. Lily is pregnant and visits her friend Josie to try and sort out what happened. At first, only Josie can see The Skriker and knows that she is stalking Lily and the child that she carries.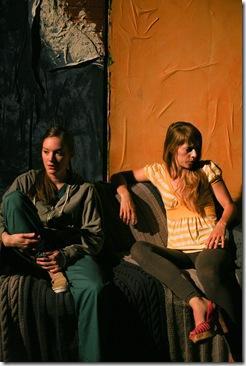 Rogers is absolutely brilliant as The Skriker. The character is a shape shifter type of fairy. According to Celtic lore they are known for their malevolence and hypnotic double speak. Rogers is mellifluent, coarse, terrifying, and darkly funny. She has a charismatic presence and wends her way through the audience and ensemble with eerie grace in this promenade style show.
Drinkall projects a palpable fear of not knowing what is real. She alternates between knowing that her life is being manipulated and then falling under the spell of The Skriker. She and Drapac share a great chemistry. The character of Lily is more of a naïve party girl, while Josie is the voice of reason that teeters between belief and scorn.
The Skriker takes the audience on a wild ride through shifting walls and surreal characters. The promenade style is very effective, with the space changing as much as the shape shifting Skriker. The tremendous set alternates between claustrophobia and agoraphobia. Suddenly there is Black Dog (Nico Ager) literally sniffing at you in a tiny space or a doctor licking his bloody gloves and scaling the wall over your head. The cast is superb, with millisecond synchronous movement. The play opens with all of them in a heaving blob from which Rogers emerges and the spell is cast.
There are hissing fairies (Carmen Molina and Shariba Rivers), an amputee beggar, and other forms of fairy such as Brownie (Shawn Escarciga) and Kelpie (Bryan Bosque) slipping in and out of the altered consciousness that is this gorgeous and carnal nightmare. The bar scene is an outrageous freak show of karaoke barflies belting out Foreigner (off key) and Lily being asked to explain television to Skriker. The tone of the scene is my favorite example of the morality tale. Lily gets what she wishes while attempting to explain the immediacy of media. It's funny and sad because it is the media that has consumed her individuality as much as The Skriker.
Churchill's play perfectly illustrates consumer culture on overload. Characters walk through the layers of light and sound and appear out of nowhere. Eric Hoff's direction is perfectly controlled chaos culminating in a stunning night of edgy theater. It is chilling to hear Rogers intoning the current events of war, drought, disease that is incurable and a spring where nothing grows. The costumes, sets, lighting and sound all contribute beautifully to the visceral madhouse that is The Skriker. Go see it. This is great theater that will provoke conversation, arguments, and recognition. Also, the audience is part of the show. I got a charge out of looking at some of the faces in shock or frightened.
Rating: ★★★
The Skriker continues through October 20th at Red Tape Theatre, 621 W. Belmont (map), with performances Thursdays-Sundays at 8pm.  Tickets are $15-$25, and are available online through Tix.com (check for half-price tickets at Goldstar.com). More information at RedTapeTheatre.org.  (Running time: 1 hour 40 minutes, no intermission)
Photos by Austin D. Oie 
---
artists
cast
Nico Ager (Black Dog), Carmen Molina (Woman with Kelpie, Fair Fairy, Black Annis), Derek Van Barham (Johnny Squarefoot), Shariba Rivers (Green Lady, Dark Fairy, Hag, Great Grandmother), Bryan Bosque (Kelpie), Sadie Rogers (The Skriker), Cynthia Castiglione (Spriggin, Nelly LongArms),  Myah Shein (Passerby), Carrie Drapac (Lily), Mike Steele (Man with Cloth and Bucket, RawHeadandBloodyBones), Amanda Drinkall (Josie), Johnard Washington (Yallery Brown), Shawn Escarciga (Brownie), Havalah Grace (Girl)
behind the scenes
Eric Hoff (director); Lindsay Bartlett (dialect coach); Stephen Ptacek (sound design); Majel Cuza (production manager); Ellen Ranney (props); Markie Gray (asst. stage manager); Jessica Reese (dramaturg); Emily Guthrie (set); Myah Shein (choreography); Izumi Inaba (costumes); Allison Shoemaker (asst. director); Jamie Link (stage manager); Karen M. Thompson (lighting); Mike Mroch (scenic charge); Austin D Oie (photos)
12-0944