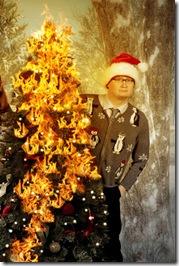 The Second City's 
  Nut-Cracking Holiday Review 
Written by The Second City 
Directed by Ryan Bernier
at UP Comedy Club, 230 W. North (map)
thru Dec 31  |  tickets: $25   |  more info
  
Check for half-price tickets 
  
  
      
  
---
High-energy sketch, improv, and song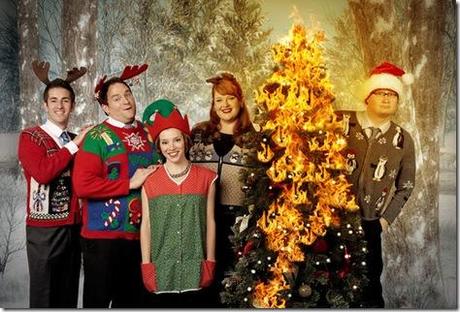 Second City presents
The Second City's Nut-Cracking Holiday Review
Review by Keith Glab
First of all, let's clear up some possible misconceptions about the title. The Second City's Nut-Cracking Holiday Revue has nothing to do with the Nutcracker ballet or cheap slapstick humor to the crotch. It's a revue in the sense that it marries a few different genre types into one production, not in the sense that it parodies current events.
As Eddie Mujica explains near the top of the show, this is an evening that combines some of The Second City's more popular comedy sketches with their world-famous improvisation and even a bit of song. Many of the skits are holiday-themed, and prompts for audience suggestions during the improv segments are often holiday-related.
The evening begins shakily, with the five actors portraying office workers participating in a Secret Santa gift exchange. Before establishing their characters, the cast proceeds to do flashback cutaways in the style of Second City Alum Tina Fey's "30 Rock". Here, it feels choppy, forced, and awkward, especially with pantomime dancing in between the flashbacks.
Things go a little smoother following Mujica's introduction, but some of the scenes are just too short, with a drumroll and blackout before the quick punchline even has time to land. The show certainly caters to an audience with a short attention span, which does make some sense with the UP Comedy Club's expansive cabaret-style venue with a full-service kitchen possibly diverting attention from the performers.
Still, the longer sketches tend to work better. Most memorable among them are Mary and Joseph seeking guidance from a marriage counselor, a group of friends playing a game of two truths and one lie, and a cute song about winter in Chicago that culminates in Cate Freedman exclaiming something every Chicagoan has thought during a cold spell: "Why do I live here?!" Even a sketch with no dialog in which Mujica seduces a blow-up doll (played exceptionally well by Chelsea Devantez) succeeds in part because the actors take their time with it rather than zipping through.
On opening night, the selection of improv games included Four Squares, Conducted Story, and Freeze, along with standard short-form scenes spurred by an audience suggestion. The Conducted Story provided the best moment of the evening. Alex DiGiacinto, in the voice of a mail-order robotic male escort, explained that he is programmed to never hurt humans. Cate Freedman then took up the story without missing a beat, intoning: "I am not like most men."
The cast also uses their improvisational skills in a skit that involves the entire audience. Neal Dandade plays an orchestra conductor for a high school whose music program funding has been cut to where the only instrument left is a pair of cymbals. The rest of the cast persuades various sections of the audience to provide music with their hands, voices, and car keys in the absence of instruments. Though not overly funny, this serves as a great way to warm up the audience and might be more useful if slotted earlier in the revue.
Towards the end of the show, Alex DiGiacinto presents his Secret Santa (an audience member) with a poem that incorporates a lot of the unique improvisation and audience participation that took place up until that point. This is a nice touch that helps to justify the rough Secret Santa opening sketch.
Overall, The Second City's Nut-Cracking Holiday Revue exudes high-energy that is good for some laughs. It is different enough from other holiday shows and other comedy shows to merit a view. Note, however, that there is profanity used in both the sketches and the improv (a Second City taboo, I had thought), so this Revue may not be suitable for everyone.
Rating: ★★½
The Second City's Nut-Cracking Holiday Review continues through December 31st at UP Comedy Club, 230 W. North (map), with performances Wednesdays thru Sundays at various times.  Tickets are $25, and are available by phone (312-337-3992) or online through their website (check for half-price tickets at Goldstar.com). More information at SecondCity.com.  (Running time: 2 hours, includes an intermission)
---
artists
cast
Neal Dandade, Alex DiGiacinto, Chelsea Devantez, Cate Freedman, Eddie Mujica
behind the scenes
Ryan Bernier (director); Dawn Wilson (stage manager); Tara Trudel (music director)