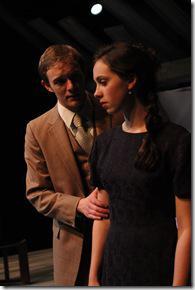 The Sea 
Written by Edward Bond 
Directed by Jonathan Berry 
at Theater Wit, 1229 W. Belmont (map)
thru April 15  |  tickets: $25   |  more info
  
Check for half-price tickets 
  
  
   Read entire review
  
---
'The Sea' hits some turbulent waters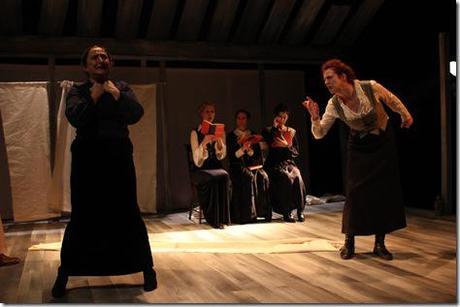 Theatre Mir presents
The Sea
Review by Lawrence Bommer
Theatre Mir takes the Russian word for "peace" as its name, but its latest offering is a busy mess. No question, despite some broad caricatures, Jonathan Berry's revival of Edward Bond's cautionary 1973 parable sheds some lingering light on American xenophobia, particularly our penchant for fear-mongering, panic-peddling and scare tactics as a means of enforcing conformity and discarding real freedom for bogus security. But it presents little to challenge our contemporary crises of confidence.
Set in East Anglia at the turn of the last century (symbolized by Michael Mroch's raked stage and underutilized cyclorama), The Sea is more a set of character turns than a fully-formed story. Its focus is on the contrast between two rivals who vie for the town's (lack of) conviction. There's Willy (ardent Brett Schneider), the 21-year-old survivor of an accident at sea that took the life of his best friend and in effect bequeaths him the guy's fiancée to comfort. Opposing this conflicted local lad is the mad draper Hatch (Max Lesser in full frenzy), a conspiracy-crazed Coast Guard volunteer who convinces several village thugs that Willy is working for extraterrestrials and that the storms that have hammered the English coast are not at all natural.
In between is the village dowager Mrs. Rafi (Rachel Slavich, recalling Hermione Gingold in imperious splendor), a lonely but fully engaged patrician who opposes Hatch's mischief more for aesthetic reasons than real ones. To her he's just too crude to be convincing; besides, his store stocks inferior goods. She's burlesqued in a too-long rehearsal of the town's annual drama, this year a tedious amateurish Orpheus and Eurydice.  Another clumsily comic scene depicts the scattering of the drowned man's ashes—on a too-windy day. (You can imagine the silliness.)
There's a problem that Jonathan Berry's intrepid staging can't overcome: The Sea can't both mock its characters and scare its audiences at the same time. Symbolized by a seemingly out of control pair of scissors, hysterical Hatch's paranoia never amounts to a real threat to anyone but the nutso himself. Berry works too hard to burlesque the townsfolk's' airs and graces, quirks and quibbles, to make the final scene pay off. This is when Willy and Jason Lindner's seaman discuss life's limitations and the possibility, not of an afterlife but the extraterrestrial variety. Their conclusion, echoed in the growing friendship between Willy and Baize Buzan's radiant Rose, is to keep ourselves all the more human(e) so we'll know the difference when we need to. As Willy says, "You should never turn away [from life]."
But this not-altogether world-shaking conclusion hardly seems earned by all the inconsequential happenings that precede it.
Rating: ★★
The Sea continues through April 15th at Theater Wit, 1229 W. Belmont (map), with performances Thursdays-Saturdays at 7:30pm, Saturdays and Sundays at 3:30pm.  Tickets are $25, and are available by phone (773-975-8150) or online at TheaterWit.org (check for half-price tickets at Goldstar.com). More information at TheatreMir.com.  (Running time: 2 hours with intermission)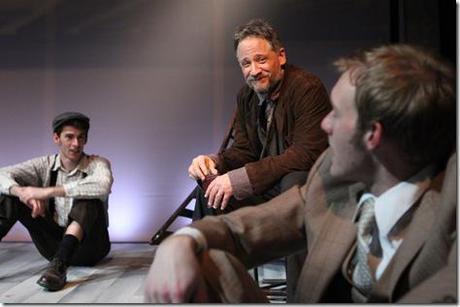 ---
artists