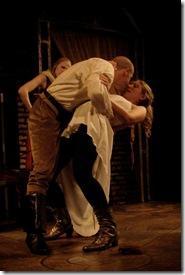 The Rover 
Written by Aphra Behn
Directed by Jessie Mutz
at Rivendell Theatre, 5779 N. Ridge (map)
thru Nov 18  |  tickets: $15-$20  |  more info
  
Check for half-price tickets 
  
  
   Read entire review 
  
---
Ribaldry, lust, and rogues gone wild!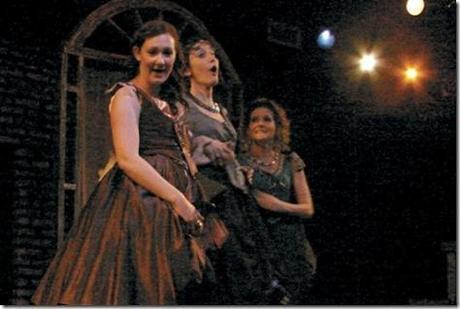 20% Theatre Company presents
The Rover
Review by K.D. Hopkins
Those lusty Restoration folks are at it again over at the Rivendell Theatre. 20% Theatre Company does a fine presentation of Aphra Behn's17th-century play The Rover, replete with whooshing taffeta, brocade and the Toni perm gone nova man wigs. Behn's story of aristocratic virgins and dueling foppery is a timeless story with maybe a hairstyle change. (remember the Jheri Curl?). The Rover is a very frank story about class and sex. Behn writes openly about the inequality of women's roles in Restoration society but gives an equal time to all sides.
The story centers around two lovely and still virtuous sisters Hellena (Deanne McDonald) and Florinda (Meg Harkins) who are under the watch of their brother Don Antonio (Nelson Rodriguez) while their father the archduke is away. McDonald plays Hellena's saucy repartee and randiness with a light touch and she is a great match for Peter Eli Johnson' Captain Willmore.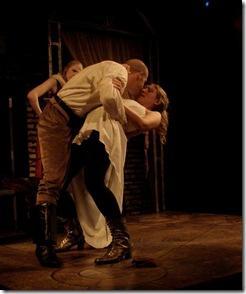 A man born to a lower class would enter the mercenary trades of piracy or marauding on behalf of the aristocracy to earn enough crowns for a good time with one of the courtesans. Behn's portrayal of the courtesans Angelica (
Megan Skord Campbell
) and Lucetta (
Alexis Steele
) is remarkable in that they are not written as lowly whores. In the Restoration, it was expected that the wealthier men would employ the charms of a courtesan and perhaps keep one or two as mistresses as in the example set by Charles II. Campbell sparkles as Angelica who gets duped out of her charms and her hard earned money by falling in love with Willmore.
Peter Eli Johnson is quite sexy and roguish as Willmore. He struts about the stage and there is smoldering when he pulls Angelica or Hellena to him for a kiss or to rove their bodies. Willmore is a man who has been around, and Johnson plays the role knowing his way around a woman as well. It is easy to believe that Angelica would be driven to pull a gun on Willmore under the spell of love.
The romance between Florinda (Harkins) and Belville (Michael Medford) is a harder sell because of the relative innocence of the characters, which is ironic. Florinda is considered marriage material by her brother – but for a considerably older and wealthier man Don Pedro (Aaron Rustebakke). Fiery Hellena has spent years in the convent in the hopes of hedging the family bets on having a daughter given to God boding well for the afterlife. Harkins plays Florinda with a genuine sweetness and youthful breathless quality. She is very appealing and lovely as a proper young lady of Restoration society, and the buzz between her and Medford is muted. They don't have the comic lines of McDonald and Johnson or the tingly lust. It's more in line with Romeo and Juliet but they live. It's equal parts Behn's writing and tepid chemistry between the actors but the other denizens of Behn's comedy make this show worth the ticket.
Pat Parks as the crafty governess Callis is delightful and sly fun to watch. Nick Stockwell as fellow pirate Frederick is delightfully puckish and charming. The battle of the fops is hysterical between Rodriguez and Rustebakke. It becomes a game of how low can you bow, keep your wig on and your pinky stylishly upright. Rustebakke is side splitting as the older man who has his sights set on the delicious peach that is Florinda. He employs a tinny voice and sneer to amplify the farcical theme of The Rover.
The standout role of the show is Ned Blunt (Ross Patrick Frawley). Blunt is a hapless and inexperienced swain who falls for the charms of Lucetta, a prostitute and thief who leaves him literally broke and in his underpants with no goodies having been dispensed. Frawley is wonderfully graceful as he lumbers about after Steele. Also worth mentioning is Kamron Palmer as Sancho/Officer and Jackelyn Normand as Valeria. Palmer is the jester, guitar player, and cohort of hussy Lucetta. Normand is a lovely sprite flitting about the stage with a lilting laugh and mischievous scamper.
Playwright Behn is the contemporary of Susanna Centlivre, who wrote another female themed farce called The Wonder-A Woman Keeps a Secret.  20% does a stellar job of farce with a ¾ thrust stage versus the multiple doors. The entrances and exits are done at lightning speed. A sheer curtain cleverly sits in for a balcony from which Angelica plies her wares.
The costumes, by kClare Kemock, are fun, looking as if they weigh a lot but the cast carries them off beautifully. Jessie Mutz's direction is crisp, and – with the exception of the lag with the characters of Florinda and Belleville – quite well done. The sword play, designed by Zack Meyer, is breathtaking and very realistic. Kudos to the production team.
The Rover is a delightful production, replete with ribaldry, lust, and rogues gone wild! I recommend that you order up some of this tasty dish.
Rating: ★★★
The Rover continues through November 18th at Rivendell Theatre, 5779 N. Ridge (map), with performances Thursdays through Saturdays at 8:00pm and Sundays at 2:00pm.  Tickets are $15-$20, and are available online at BrownPaperTickets.com (check for half-price tickets at Goldstar.com). More information at TwentyPercentChicago.com.  (Running time: 2 hours 15 minutes, includes an intermission)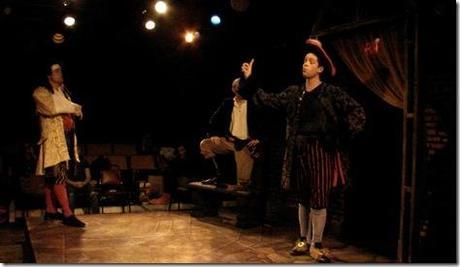 ---
artists
cast
Deanne McDonald (Hellena), Meg Harkins (Florinda), Megan Skord Campbell (Angelica), Jackelyn Normand (Valeria), Pat Parks (Callis), Alexis Steele (Lucetta, Moretta), Peter Eli Johnson (Willmore), Michael Medford (Belville), Nick Stockwell (Frederick), Ross Patrick Farley (Ned Blunt), Nelson Rodriguez (Don Pedro), Aaron Rustebakke (Don Antonio), Kamron Palmer (Sancho, Officer)
behind the scenes
Jessie Mutz (director), Lindsay A. Bartlett (producer), Jamie West (stage manager), Ashley Ann Woods (set designer), Erin Masters (asst. to set designer), kClare Kemock  (costumes), Liz Cooper (lighting), Angela M. Campos (props designer), Melissa Schlesinger (sound designer), Zack Meyer (violence designer), Jason Peck (dramaturgy)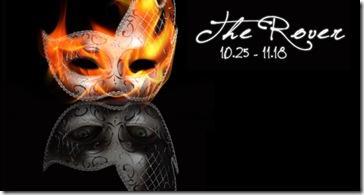 12-1075