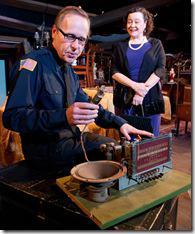 The Price 
Written by Arthur Miller  
Directed by Michael Menendian  
at Raven Theatre, 6157 N. Clark (map)
thru April 14  |  tickets: $30   |  more info
  
Check for half-price tickets 
  
  
   Read entire review
  
---
'The Price' is right at Raven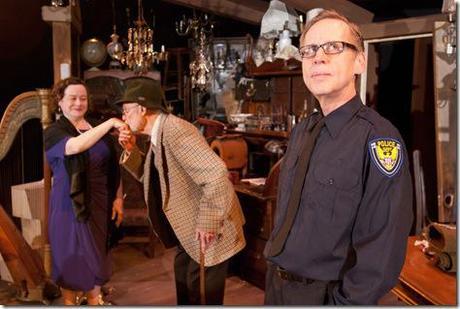 Raven Theatre presents
The Price
Review by Katy Walsh 
Family ties bind.  Being tethered to something substantial with a past and a future can be comforting.  Sometimes, the rope can threaten to choke the life out of you.  Other times, the connection can be so frayed and worn that one good yank could sever it forever. 
Raven Theatre presents The Price.  Victor has always made sacrifices.  He became a caretaker and protector for his father, his wife and the community.  He's a good cop living on measly wages.  The building storing his childhood memories is being torn down.  Victor has solicited Mr. Solomon to assess the value of decades of  accumulation.  Victor's wife Esther is pushing him to get a good price.  Esther wants Victor to get what *they* deserve.  Just as Victor is finalizing on the deal, Victor's brother Walter arrives.  Walter is a successful doctor and the prodigal son.  Despite mega efforts to contact Walter, Victor hasn't heard from him in sixteen years.  What is the value on brotherhood?  And how much is enough?  The Price is a negotiation of childhood resentment, sibling rivalry and family envy.  
Playwright Arthur Miller penned a timeless ode to siblings.  In one family encounter, Miller masterfully captures the past and future of these brothers.  From the heavy dialogue-based script, these men's characters are transparent as they sift through their family remains.  Under the direction of Michael Menendian, the show starts out slow and heats up.  It's like a campfire that people keep throwing stuff on and eventually that bonfire ignites the forest. 
At first, Chuck Spencer (Victor) pokes around the clutter with nostalgic amusement.  His demeanor is reserved and thoughtful.  A pushy, frazzled JoAnn Montemurro (Esther) arrives to announce *their* plan.  Montemurro skillfully is both forceful and vulnerable.  The relationship between Spencer and Montemurro engages with a romantic realism.  She henpecks.  He patronizes.  Every time Spencer calls Montemurro 'kid' (the 60's equivalent to 'dude'), I smile.  It just works for them. Jon Steinhagen (Walter) arrives to stir the pot.  Steinhagen breezes in the room with entitlement and aloofness.  The sparring between Spencer and Steinhagen is every sibling's dream.  They both unload a whole lot of baggage in the perfect blend of words and emotion.  Their bantering is exceptional.  Rounding out the show and stealing many scenes is Leonard Kraft (Solomon).  Kraft is hysterical!  His negotiation style is like an Abbott-Costello rendition of 'who's on first?'  Priceless!  
The writing, directing and acting make Raven's The Price is right! 
Rating: ★★★½
The Price continues through April 14th at Raven Theatre, 6157 N. Clark (map), with performances Thursdays-Saturdays at 8pm, Sundays at 3pm.  Tickets are $30, and are available by phone (773-338-2177) or online at ticketturtle.com (check for half-price tickets at Goldstar.com). More information at RavenTheatre.com.  (Running time: 2 hours, which includes an intermission)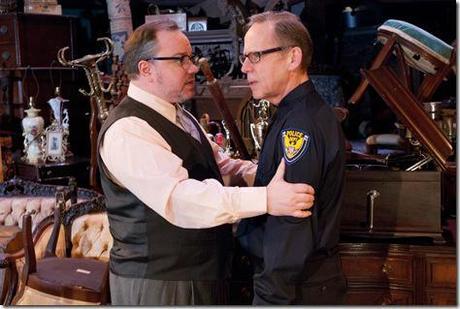 All photos by Dean LaPrairie 
---