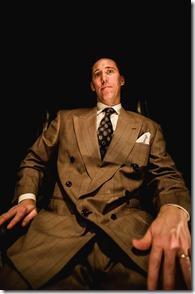 The President
Written by Ferenc Molnár 
Adapted by Morwyn Brebner
Directed by Max Truax
at Oracle Theatre, 3809 N. Broadway (map)
thru May 31  |  tickets: $FREE   |  more info 
  
  
  
   Read review 
---
Depression-era satire squanders prescient message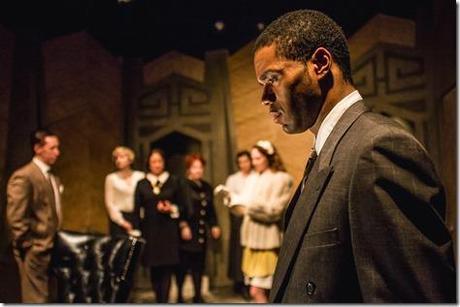 Oracle Theatre presents
The President
Review by Patrick Dyer
Doing a satire about vulture capitalists is certainly alluring in this day and age, especially when income inequality in the U.S. is at its highest level in recent recorded history. But is simply doing a satire all you need? Or does it require more thought and specificity, like any other form of storytelling? That's what I asked myself when watching Oracle Theatre's performance of Ferenc Molnár's The President.
Set inside the headquarters of a major American corporation just before the 1929 crash, The President is about Mr. Norrison (John Arthur Lewis), the head of this corporation, who for the last few months, has been looking after Lydia (Michelle M. Oliver), the daughter of a possible business investor.  However, trouble hits when, just an hour before her parents are to return to pick her up, Lydia reveals that she secretly married a Communist taxi driver, Tony Foot (Travis Delgado),  Terrified of losing an incredible business opportunity, Mr. Norrison takes advantage of this one hour to turn Travis from a barely-getting-by Communist to a wealthy, conformist capitalist with the help of his secretary, Bartleby (Joan McGrath), and his entire staff. Can he accomplish such a feat or will time run out before then?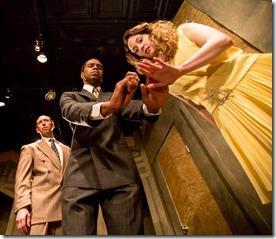 The President is a clever satire against the staunch capitalist mindset right before the Great Depression as seen through the protagonist, Mr. Norrison, who is quick-on-his-feet when it comes to his company and decision-making, but falls apart whenever he's reminded of his past mistress. Molnár's play is witty with some inspired comedic lines, and translator Morwyn Brebner's adaptation is clear and precise. My personal favorites are when Lydia is explaining her love for Travis to Mr. Norrison ("I'm not thinking about the future! I'm in love!"), and Mr. Norrison prepping Travis as a member of his company ("Nobody cares what you say as long as you say it with authority!"). Admittedly, though, the script's payoff isn't as strong as its setup. We never see Lydia's parents meeting her and her new husband, and there seems to be a lot of comedic possibilities with a Communist pretending to be a capitalist for his rich in-laws. But then again, it's Mr. Norrison's story and pointing out his flaws is probably more important to the play.
This being said, Oracle Theatre's production falls a bit flat under Max Truax's direction. Now, Truax does allow his actors a good bit of freedom to explore their comedic potential and keeps the focus on Mr. Norrison, but where he doesn't succeed is his staging. For some reason, he doesn't allow for much use of props, instead having the actors pantomime their props while having sound effects play whenever they actively use them. There's also not much of a set outside of an empty office space with only a swivel chair for Mr. Norrison. (All other parts of the set are pantomimed as well.) This could have been an interesting aesthetic but it just becomes confusing, with awkward lighting schemes that takes us out of the action and classical music playing over the tense moments too many times. The production also has a bit of a passive feel to it – the actors at times look more concerned with hitting their marks and making their timing work instead of living in the world of this play.
Despite those issues, the cast is competent enough, but only the leads stand out above the rest. Lewis is appropriately both neurotic and overly confident as Mr. Norrison. Oliver captures Lydia's naivety while giving her a slight, almost psychotic edge. McGrath has fantastic stage presence and uses that to the best of her comic timing. Delgado captures Travis's sympathetic side while maintaining his vulnerability and regret when his character has to switch beliefs in no more than an hour.
Like any great satire, The President has the potential to be both funny and insightful, and the main players work with as much as they can. However, Truax's direction takes away from both his cast and the script's potential by trying to be too "artsy." A clearer vision and more active tone would strengthen this piece and make it more relevant to this time of inequality in the world outside the theater.
Rating: ★★½
The President continues through May 31st at Oracle Theatre, 3809 N. Broadway (map), with performances Fridays and Saturdays at 8pm, Sundays 7pm, Mondays 8pm.  Tickets are FREE, but reservations are highly recommended, which can be made through their website.  More information at PublicAccessTheatre.org.  (Running time: 90 minutes, no intermission)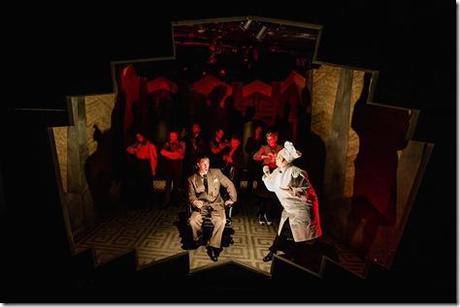 Photos by Joe Mazza 
---
artists
cast
John Arthur Lewis (Mr. Norrison), Eli Branson (Count Von Schottenburg, Tailor, Mr. Colleon), Brian Hurst (Mr. Wolf, Mr. Christian), DeChantel Kosmatka (Miss Kuno), Sabrina Conti (Miss Petrovich), Joan McGrath (Bartleby), Michelle M. Oliver (Lydia), Steven Ratcliff (Mr. Pinsky, Miss Hoyngabow), Susan Wingerter (Miss Perley, Miss Ferdinand), Travis Delgado (Tony Foot), Spenser Davis (Mr. Osso, Mr. Felix), Alex Levin (Menswear Salesman, Dr. Faber), Joseph Ramski (understudy)
behind the scenes
Morwyn Brebner (translator), Max Truax (director), Deirdre Connelly (stage manager), Harold Jaffe (assistant stage manager), Justin Snyder (technical director), Eric Van Tassell (lighting), Joanna Iwanicka (set), Joan Pritchard (costumes) Steve Labedz (sound design), Michal Janicki (video), Evelyn DeHais (graphics), Joe Mazza (photos)
14-0423