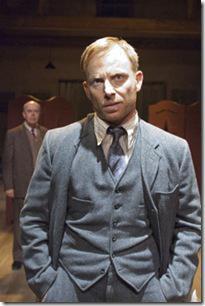 Pitmen Painters
Written by Lee Hall
Inspired by a book by William Feaver
Directed by BJ Jones  
TimeLine Theatre, 615 W. Wellington (map)
thru Dec 4   |  tickets: $34-$44  |  more info
Check for half-price tickets
  
  
   Read entire review
---
The power of art to ignite the bleakest of souls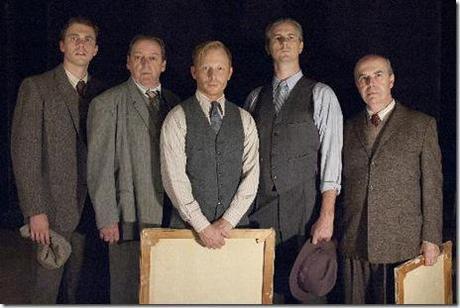 TimeLine Theatre presents
Pitmen Painters
Review by Katy Walsh 
'Art is a place you can understand your whole life from.'
TimeLine Theatre presents the Chicago premiere of The Pitmen Painters.  In a northern mining town in England, a group of men strive for self-improvement.  They hire a professor to teach them art appreciation.  As the teacher showcases famous paintings, the guys lose themselves in the art. They are REALLY lost. They don't get it! Because they've never experienced art, they can't appreciate it.  To help them find meaning in art, the teacher has them create their own. Collectively and individually, they paint their way out of a cave. But are they ready to be appreciated as artists?  The Pitmen Painters is the creative expression of what happens when the paint dries.
Playwright Lee Hall tells an inspirational story of transformation. The dialogue is witty. The blue collar workers remove pretention from the art. Their awakening is not 'art imitating life or life imitating art.' Their art is their life. Their life is their art. Under the skillful direction of BJ Jones, the poignant experiences are clearly visible. As the guys face the audience to see art, the paintings are projected, by Mike Tutaj, behind them. The talented ensemble captivates. The first scene is HYSTERICAL. The coal miners want to simply 'look at a painting and know what it means, man.' Leading the pitmen and the laughter, William Dick (George) is the abrupt authority. Dick's no-nonsense approach to learning is hilarious. Using his accent to accentuate the humor, Dan Waller (Oliver) starts out simple and ends complex. Waller endears with a gut punching 'I could have had a different life.' Watching Waller's alteration is like observing a portrait go from pencil sketch to frame-able. All the miners are major to this tight ensemble work. Their repartee binds with sharp jabs and unspoken devotion. Andrew Carter (Professor) adds to the comedy and drama as the outsider. Carter starts out complex and ends simple. The Carter and Waller exchanges are potent.
After giving the world Billy Elliot, Hall pulls more innovation out of a coal mining town. Based on William Feaver's book "Pitmen Painters: The Ashington Group 1934-1984," Hall paints the real story of coalminers releasing their inner artists. The first act clips with humor and hope. It concludes with the miners sharing their artistic impressions in well-versed panel banter. It almost could BE the happily-ever-after conclusion. The second act comes back with the aftermath of discovery. The guys grapple with identity, individually and collectively. The reflective contemplation is strong. Pitmen Painters is a soul-searching quest for anyone to uncover the talent within and then deal with it.
Rating: ★★★½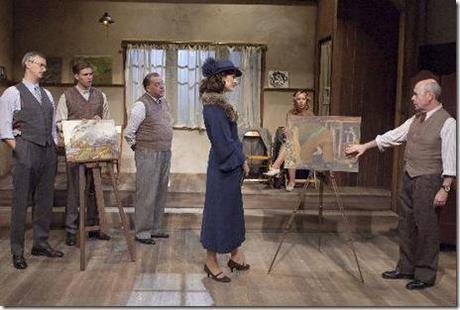 The Pitmen Painters continues through December 4th at TimeLine Theatre, 615 W. Wellington (map), with performances Wednesdays and Thursdays at 7:30pm, Fridays at 8pm, Saturdays at 4pm and 8pm, and Sundays at 2pm. Tickets are $32-$44, and can be purchased by phone (773-281-8463 x6) or online at TimeLineTheatre.com. (Running time: Two hours and ten minutes, which includes an intermission)
---
artists
cast
Jordan Brown, Andrew Carter, William Dick, James Houghton, Steven Pringle, Loretta Rezos, Amanda Schaar, Dan Waller
behind the scenes
BJ Jones (director); Timothy Mann (sets); Jacqueline Firkins (costumes); Charles Cooper (lighting); Joshua Horvath (sound); Mike Tutaj (projections); Julia Eberhardt (props); Dina Spoerl (lobby design); Maren Robinson (dramaturg); Tanera Marshall (dialects); Ana Espinosa (stage manager); John Kearns (production manager)
3 words: A collector of art, Michael describes it with 'well-paced, powerful, funny.'