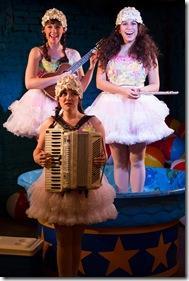 The Pirates of Penzance 
Written by Gilbert and Sullivan  
Adapted by Sean Graney and Kevin O'Donnell 
Directed by Sean Graney  
at Chopin Theatre, 1543 W. Division (map)
thru Jan 13  |  tickets: $28   |  more info
  
Check for half-price tickets 
  
  
   Read entire review
  
---
Original adaptation is a brilliant, fast-paced night of pure fun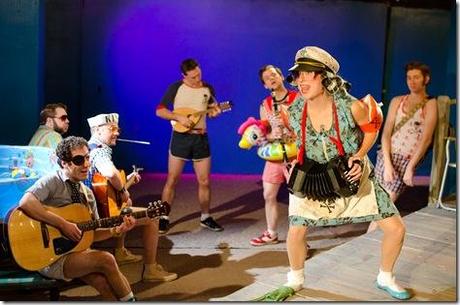 The Hypocrites Theater presents
The Pirates of Penzance
Review by Joy Campbell
Frederic has turned 21, which means he's now released from his mistaken apprenticeship to pirates who, because of their tenderheartedness, are the least ruthless and successful criminals ever. Frederic falls in love with Mabel, the daughter of Major Stanley, but his former piratical companions decide to forcibly marry her three sisters. Claiming to be an orphan (a surefire way to win the sympathy of the all-orphan pirate crew), Major Stanley secures his daughters' freedom, until his lie is discovered. Meanwhile the discovery of Frederic's leap-year birthday throws a wrench into his release from the pirates, and the plot thickens.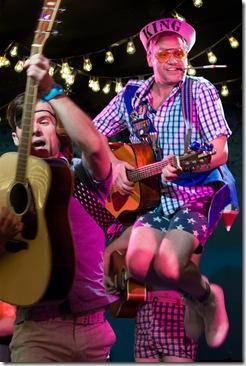 Gilbert and Sullivan's
The Pirates of Penzance
is full of Python-esque humor and witty social satire (Pirate King: "Off to the cheating world go you/where pirates all are well to do." 99% anyone?). Originally an operetta, its infectious music has been rearranged as a straight musical for the masses, and in this scaled-back but wholly authentic reinvention, The Hypocrites perform it with all the gleeful abandon of neighborhood kids putting on a backyard show.
Stepping into the performance space feels like entering a high-school prom (theme: Beach Party!) The low-ceilinged basement space is painted bright blue; a boardwalk dominates the center. Picnic tables hold empty kiddie pools, the entire ceiling is festooned with Victorian-style light bulbs, and a beach-style bar stands in the corner serving your best rum-based beverages. The pre-set is more of a pre-party, the cast playing instruments and belting out modern songs as guests mill about throwing beach balls and singing along.
Aside from a few rows of beach chairs on the boardwalk, there is no formal seating. Guests are invited to sit wherever they like, be it on the floor, at the picnic tables, on the ledges along the walls, or on the benches and boardwalk set pieces themselves. This reinforces the casual relationship between actors and audience established before the show. As the action commences, the cast, by means of pointing and tapping, is able to quickly convey the need for attendees to move from a soon-to-be-performance area. (For those who prefer to avoid the thick of things, there are plenty of places to quietly park for the duration of the show.) Likewise, audience members are free to walk around the room and move as they wish in order to change their view of a particular piece of action, and are at times conscripted to help with minor side action. While it may sound like an awkward proposition, in practice it works really well, creating a dynamic interaction between the actors and audience members that draws us playfully into the show. Most of the action is played while standing on tables or benches or the boardwalk, so actors are easily seen throughout the performance. This is no haphazard arrangement; while it may look casual, there is clearly some sharp staging going on here by director Sean Graney.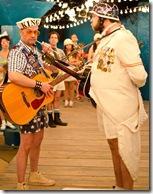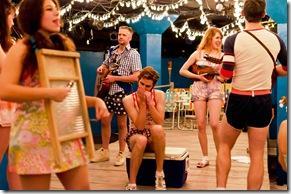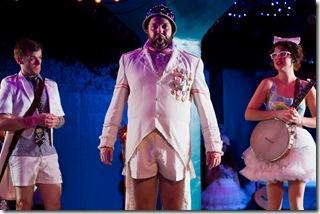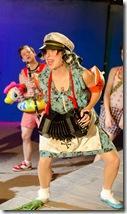 Providing their own musical accompaniment with instruments ranging from guitar to clarinet to banjo to saw to squeezebox and more, the cast members play, perform, sing, and gambol about the space in a dizzying, enthusiasm-charged display of virtuosity wrapped in pure fun.
Christine Stulik plays both Ruth and Mabel, and she delineates each so well that I didn't realize she was both until the end. As Mabel, the nerdy girl who steals Frederic's heart, Stulik makes an over-the-top operatic entrance that is as breathtaking in its show of singing skill as it is comedic in its exaggerated delivery. Doug Pawlik is the wonderfully hyper-responsible Frederic, the duty-bound young man with an unfortunate birthday conundrum that keeps him from his love. In a rare serious jewel of a scene, Mabel and Frederic share a poignant farewell song that is achingly beautiful and superbly done.
As Mabel's daffy sisters, Emily Casey, Dana Omar, and Becky Poole are a synchronized trio of priceless expressions and comic timing, along with harmonies so tight they squeak.
Matt Kahler plays a minor role as pirate Samuel, and a major role as – well, Major Stanley. Impressive physically as well as vocally, Kahler's singular lines as Samuel has the audience in stitches, and as the Major General he holds our attention with his physicality and booming singing voice.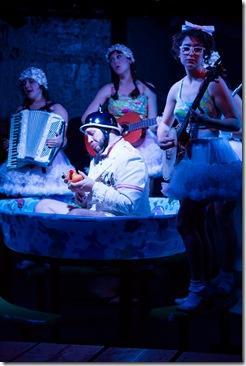 The entire ensemble exhibits an almost telepathic chemistry — from broad audience-wide movements to numbers calling for perfectly timed nuanced blocking — that is joyously fun to watch, and
Maureen Janson
's inventive choreography is never predictable.
Alison Siple's costume design eschews the stiff garb of the Victorian era for a style more in keeping with the free-spiritedness of the show. The result is what you might get if you told a kindergarten class to go home and dress up with whatever they could find. The pirates sport short swimming trunks, tank tops and short-sleeved shirts in loud prints, and all manner of footwear; the Pirate King is a cross between Hunter S. Thompson and M*A*S*H's Col. Henry Blake. The sisters sashay about in 50s-style bathing suits with tutus and petaled swim caps; Ruth sports a single swimming fin and sunglasses missing a lens. Frederic and Mabel are nerds in love; he with sweat socks and dress shoes complementing his shorts, and she with horn-rimmed glasses on her delicate face. Siple raises the term "motley" to new heights.
Not that the show is in any way shoddy or amateur. The genius of the costuming, the staging, the lighting, the entire feel of the show is that Graney and Co. have clearly devoted much time and consideration to every detail to deliberately achieve this ostensibly accidental, whimsical quality. The result is a very satisfying, cohesive theme. It takes real talent to make something this brilliant and entertaining look this effortless. Bravo to The Hypocrites for an outstandingly original, riotously exhilarating show.
Rating: ★★★★
Pirates of Penzance continues through January 13th at Chopin Theatre, 1543 W. Division (map), and runs in repertory with The Mikado – see website for dates and times.  Tickets are $28, and are available online through Tix.com (check for half-price tickets at Goldstar.com). More information at The-Hypocrites.com.  (Running time: 90 minutes, no intermission)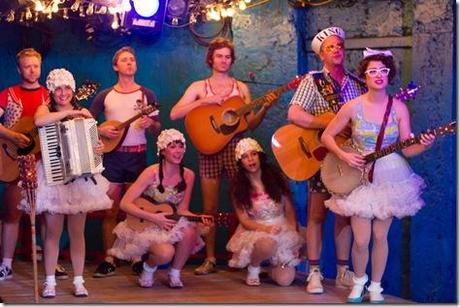 Photos by Matthew Gregory Hollis 
---
artists
cast
Robert McLean (Pirate King, Sergeant); Matt Kahler (Major General, Samuel); Doug Pawlik (Frederic); Christine Stulik (Ruth, Mabel); Ryan Bourque, Emily Casey, Dana Omar, Shawn Pfautsch, Becky Poole, Erik Schroeder (ensemble)
behind the scenes
Sean Graney (director); Miranda Anderson (stage manager, production manager); Michael Smallwood (technical director); Andra Velis Simon (vocal director); Tom Burch  (scenic design); Alison Siple (costume design); Mikhail Fiksel (sound design); Jared Moore (lighting design); Maria DeFabo (properties design); Maureen Janson(choreography); Thrisa Hodits (assistant director); Justine Palmisano (assistant stage manager); Matthew Gregory Hollis (photos)
12-1205