The studio famous for the comedic duo Wallace and Gromit are back with another feature-length adventure. While Aardman's, The Pirates! Band of Misfits, doesn't include the famous pair, it does have oodles of their signature touches. Pirates! is marketed as a children's film, but adults may find more fun in this swashbuckling adventure.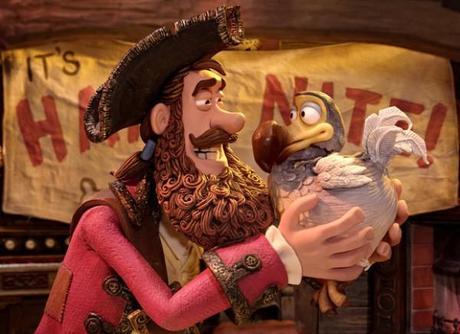 Pirate Captain (Hugh Grant) has always had a goal. Like most pirates he dreams of being respected for his ability to siege and plunder. The only problem is that he isn't very good at it. His crew loves him more than respects him. His greatest accomplishment might be weekly ham night and his pet, Polly, is not a parrot. He decides to enter the contest for Pirate of the Year anyways to prove his abilities to the naysayers.
He soon discovers that it's kind of hard to be a pirate. After multiple failed attempts to capture other vessels, he's just about had it. Luckily, his trusted number 2 (pirate with a scarf, Martin Freeman) suggests he gives it one more go. They end up raiding the boat belonging to Charles Darwin (David Tennant), he was an English naturalist.He established that all species of life have descended over time from common ancestors. The pirates just assume to toss him overboard until he makes the discovery of the century. Polly is not an ordinary bird, she's a very rare bird indeed.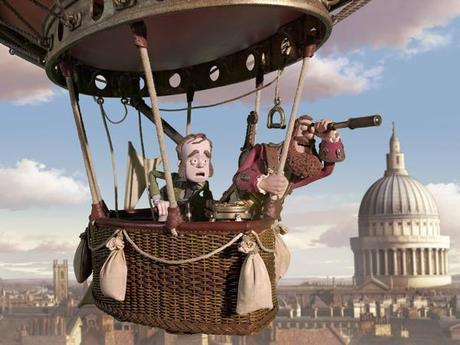 As is the case with any movie aimed at children, the animals are the main draw to this film. Every time Polly shows up on-screen, there's an incredible sense of wanting to take her home. She's like one of those helpless animals you can't help but want for your own. Then there is the manpanzee, Mr. Bobo. Darwin was experimenting with his monkey and he soon discovered that dressing him like a man, made him act like one. Mr.Bobo can't speck, but he is excellent at creating flash cards to describe how he feels.
If there's one problem with Pirates! it's that it tried to do too much. Near the end of the film there's no less than four-story lines that need to be tied up and they keep accelerating until the last moment. It might have worked better if some of the plots were tied up earlier or if the Pirate of the Year race was dropped from the plot entirely. The battle with Queen Victoria was strong enough material to carry the film.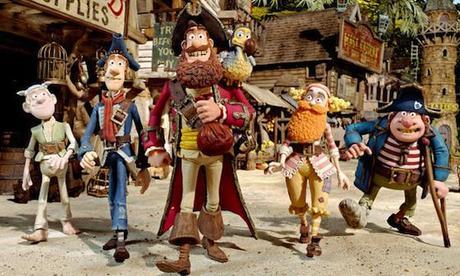 Pirates! has the trademark wit and quirks of the best Aardman studio's films. The fun soundtrack features songs from Flight of the Conchords and The Clash. It has a stellar cast and fun, if not a little bloated adventure. Adults and children are sure to have a lot of fun with Pirates! Band Of Misfits. Just make sure to stay for the end credits to see some of the sight gags Aardman threw into the picture.
B- / 80%