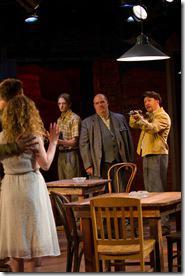 The Petrified Forest 
Written by Robert E. Sherwood 
Directed by Shade Murray
at Strawdog Theatre, 3829 N. Broadway (map)
thru March 31  |  tickets: $28   |  more info
  
Check for half-price tickets  
  
  
   Read entire review
  
---
Travel back in time with Strawdog's depression-era drama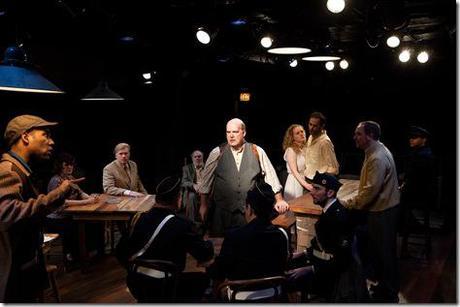 Strawdog Theatre presents
The Petrified Forest
Review by J.H. Palmer
Among the signs hung on the set of The Petrified Forest is one that reads: "tipping is un-American, keep your change." This signals another era onto the stage; Aly Greaves Amidei's costume design and Nic Dimond's set evoke the lonesome, windblown feel of a Dorothea Lange photograph. This is not a play about a contemporary roadside diner; we've gone back in time to the depression era west.
As Gabby, Caroline Neff is fickle and dreamy, her attentions swaying between Boze (Shane Kenyon) the former football star who pumps gas at the filling station attached to the diner, and Alan Squire (Paul Fagen), the mysterious British traveler who wanders into her life. Gabby has artistic aspirations, and an idealized vision of her French mother, who abandoned her years earlier. While Shane is easily accessible and within Gabby's comfort zone, she is drawn to Alan's foreign-ness, and the adventurous ideals he represents.
This play is credited with launching Humphrey Bogart's career, with all the gun-toting drama and star-crossed romance that implies. While the principals get the most stage time, some of the juiciest roles are secondary: as the gangster Duke, Jamie Vann is as captivating as he is menacing, with moments of humor that make his character three dimensional. Walter Brody's characterization of Gramp is endearing and funny, and his easy way with strangers – outlaws or not, keeps the story from stagnating. As the relatively minor character Ruby, Adam Shalzi brings a creepy focus to his role that has an edge, reminding me of a young Steve Buscemi, and Janice O'Neill uses the WASPyness of Mrs. Chisolm to great effect, getting some of the biggest laughs of the evening.
Act I introduces the characters: Boze carries a newspaper clipping from his football playing days in his back pocket at all times, Gabby secretly reads poetry and dreams of a life elsewhere, and Alan orders food that he can't pay for. Boze witnesses a romantic moment between Alan and Gabby, creating jealous conflict. The drama is heightened in Act II, when a carful of gangsters descend on the diner and take hostages, and Alan makes some bold choices about the best way to express his feelings for Gabby.
Though not as memorable as Old Times, Strawdog's stellar fall 2011 production, The Petrified Forest, with its endearing story arc and fine acting, is a solid recommend.
Rating: ★★★
The Petrified Forest continues through March 31st at Strawdog Theatre, 3829 N. Broadway (map), with performances Thursdays-Saturdays at 8pm, Sundays at 4pm.  Tickets are $28, and are available by phone (866-811-4111) or online at ovationtix.com (check for half-price tickets at Goldstar.com). More information at Strawdog.org. (Running time: 2 hours, which includes a 15-minute intermission)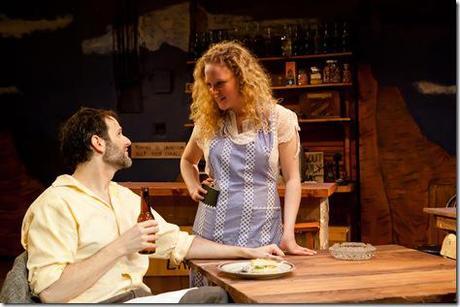 All photos by Leigh Loftus
---
artists