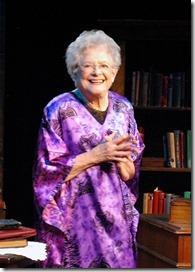 The Passions
   of Emma Goldman
Written by Roslyn Alexander
Directed by Dennis Zacek  
Skokie Theatre, 7924 N. Lincoln, Skokie (map)
thru June 22  |  tickets: $18-$28   |  more info
  
Check for half-price tickets  
  
  
   Read review
  
---
Powerfully acted passion play explores revolutionary figure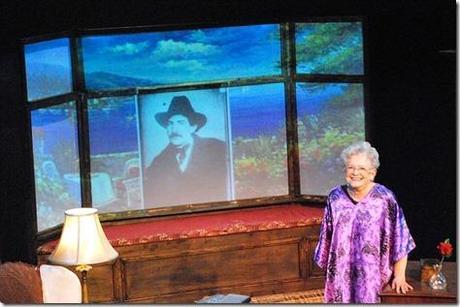 ShPIeL Performing Identity presents
The Passions of Emma Goldman
Review by Clint May 
Cajoled in absentia by a pestering friend, an aging anarchist in exile begins to reminisce on a life lived in opposition to the powers that be. A life of stoic resolve and uncommon bravery, many philosophies ahead of their time, and most of all, an uncommon empathy with the working class. Chicago's own grand dame of theatre, Roslyn Alexander, wrote and stars in this one woman homage that breaks through the hagiography of one of America's most fascinating cultural icons. It's a masterpiece of a performance. No matter what can be said of the accuracy of the choices Alexander and Director Dennis Zacek make, they've created a fully realized persona that reflects not just on a single person but the nature—and the sacrifice—inherent to rebellion. If life is a dance for which there is no rehearsal, what would the digressions be of a woman who would only support revolutions that had dancing?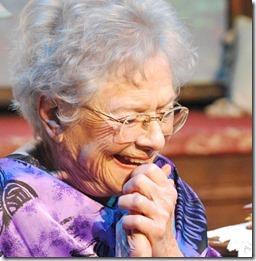 Would that I could have time to read the massive autobiography "
Living My Life
" before writing this review, but at the very least I can say I am wholly inspired by this work. Alexander doesn't go for an encyclopedia-style recitation of Goldman's life. As the title suggests, she focuses on her complex tides of passion both intimate and universal. Ostensibly, we are witnessing the impetus to the aforementioned autobiography as Emma pulls cards from a box of inspirational inquiries and addresses us directly with the answers. From her youth in a sweatshop comes a first rise of anger following the
Haymarket Affair
, to meeting her lifelong love
Alexander "Sasha" Berkman
. In and out of prison, her indomitable spirit would seem to be the sum of 100 Occupy Wall Streeters today.
Only in her personal life does her desire for absolute personal liberty appear to falter as she tries with limited success to accept such ideas as polyamory. Frequently, Zacek reduces Goldman to a schoolgirl in the face of various men, perhaps trying to replace her oft referenced father whose violence inspired parts of her humanitarianism. This choice of characterization may irk some who want to see Emma as a wholly uncompromising figure, not a woman who would frequently swoon. An open-ended, bittersweet denouement similarly undercuts a lifetime of choices and feels more like a choice made for dramatic interest than historical accuracy.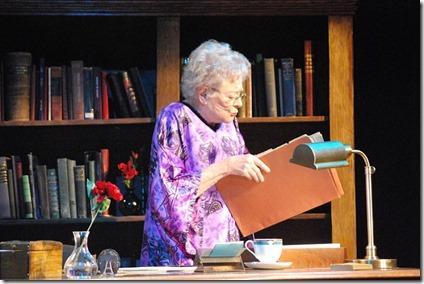 The model of Emma Goldman is an object lesson for an increasingly disgruntled world that appears in desperate need of a radical readjustment. Increasingly relativist in our pluralistic age, she represents a fiercely firm stance. Her uncompromising devotion seems an anachronism in an era where earnestness has been replaced by ironic detachment. In what research I could do in the time allotted, I quickly grew to admire this unique voice advocating a release from superstition, an embrace of beauty as an ideal and a very progressive advocacy of gays and lesbians.
At 90 minutes, a one-person show strains the patience when there's only one character on display, delivering what is essentially an extended monolog. Alexander's performance deserves many superlatives, but a need for tighter focus keeps this a niche offering.
Rating: ★★½
The Passions of Emma Goldman continues through June 22nd at Skokie Theatre, 7924 N. Lincoln (map), with performances Wednesdays and Thursdays at 7:30pm, Saturdays 8pm, Sundays 3pm.  Tickets are $18-$28, and are available by phone (847-677-7761) or online through OvationTix.com (check for half-price tickets at Goldstar.com). More information at SpielTheatre.com.  (Running time: 90 minutes, no intermission)
Photos by Ashleigh Bowers
---
artists
cast
Roslyn Alexander (Emma Goldman)
behind the scenes
Dennis Zacek (director), Amber Johnson (stage manager, Stage 773), Rachael Claxon (scenic design), Rachel Silvert (stage manager, The Skokie Theatre), Ashleigh Bowers (sound design, production manager), Ellie Humphrys (lighting design), Scott Pillsbury (projections design), Zach Wziontka (technical director, carpenter), Hannah Kopen (group sales), Noah Hayman (carpenter), Ashleigh Bowers (photos)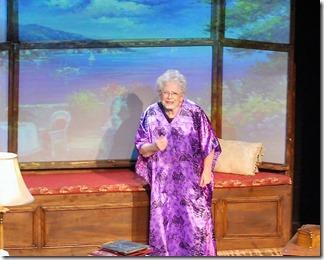 14-0536