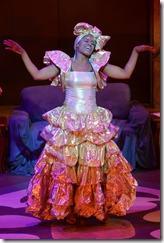 Every moment of BET's holiday classic is supremely entertaining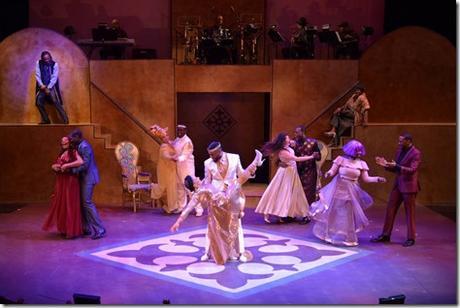 Review by Lauren Whalen
Through January, Black Ensemble Theater continues its 40th Anniversary Season (also known as The Season of Greatest Hits) with its holiday favorite I'm a sucker for a good Cinderella story: even without a handsome prince, who doesn't like to dream about going from rags to riches via a fairy godmother and the ultimate pair of shoes. In 1997, ABC and Disney staged a television production of Rodgers and Hammerstein's Cinderella with a multiracial cast, including pop star Brandy in the title role and the legendary Whitney Houston as her Fairy Godmother. BET takes their Cinderella story one step further, with an original book and songs, an all-black cast (with one notable exception), and a rollicking, family-friendly entrance into the holiday theater season.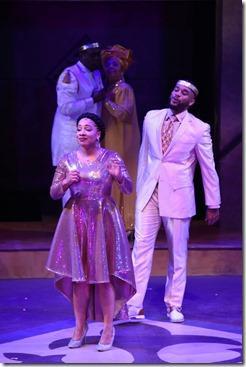 In this Cinderella, written and co-directed by Black Ensemble Theater Founder and CEO
Jackie Taylor
, our heroine (
Jessica Seals
) was born in the projects and abandoned by her father at an early age. Forced to drop out of high school, Cinderella now spends her days cooking and cleaning for her Stepmama (
Rhonda Preston
), who toils away at the post office. Her loud and obnoxious stepsisters (
Melanie McCullough
and
Miciah Long
) spend their days shopping at Forever 21 and Akira, and have never worked a day in their lives. But this Cinderella is sassy, spirited and determined to break out on her own. Meanwhile, Prince Charles (
Mark J.P. Hood
) is a disappointment to his father the King (
Dwight Neal
): instead of looking for a wife, the Prince prefers daydreaming and hanging out with his gay best friend. When the King and Queen (
Shari Addison
) decide to throw a ball, Cinderella is eager to go - but it will take a little magic and a lot of spirit to get her there.
There's no moment of The Other Cinderella that isn't supremely entertaining. The play begins when an exuberant and streetwise young man (Kyle Smith) wins the job of the Royal Page, much to the horror of the King's buttoned-up attendant (Trequon Tate). Each character has their own song, and music styles from the Fairy Godmama's ( Kylah Frye) spirited dance tune to the Queen's inspiring gospel-style entreaty to her son. There's even Dorothy from Kansas (Paige Hauer), a white girl desperate to be a part of the beautiful Kingdom of Others. At one point, audience members are invited on stage to take part in the royal ball's first dance (which is much funkier than a traditional waltz).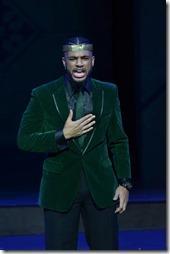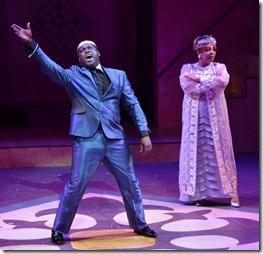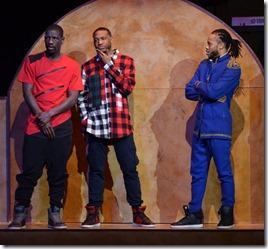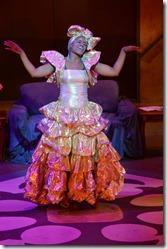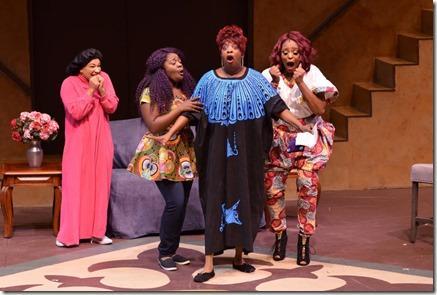 The Other Cinderella is chock full of bright colors, thanks to the gorgeous and vibrant work of set designer CoCo Ree Lemery, lighting designer Denise Karczewski, and co-director Rueben Echoles, who also designed costumes and wigs. The onstage band is gifted and lively, perfectly executing the varied score co-written by Taylor, Michael Ward and Herman Wheatley. And the cast is simply spectacular: Addison's Queen brings the house down with her second-act solo, and Smith nearly steals the show as the enthusiastic new Page with killer moves. As the Prince, Ward showcases the stellar set of pipes that made him a finalist on NBC's The Voice, and Frye is a passionate and wry Fairy Godmama. Seals' Cinderella is scrappy and empathetic, and her transformation from housemaid to princess is stunning.
A holiday tradition that's pure fun, The Other Cinderella is family-friendly and incredibly enjoyable. The cast's concentrated oomph fills the vast stage of the Black Ensemble Theater, and the story has plenty of humor and heart (as well as an enviable pair of very glittery shoes). The Other Cinderella is an unmissable treat, and a wonderful happy-ever-after story for everyone.
The Other Cinderella continues through January 8th at Black Ensemble Theater, 4450 N. Clark (map), with performances Thursdays at 7pm, Fridays 8pm, Saturdays 3pm & 8pm, Sundays 3pm. Tickets are $55-$65, and are available by phone (773-769-4451) or online through their website(check for half-price tickets at Goldstar.com ). More at BlackEnsembleTheater.org. (Running time: 2 hours 30 minutes, includes an intermission)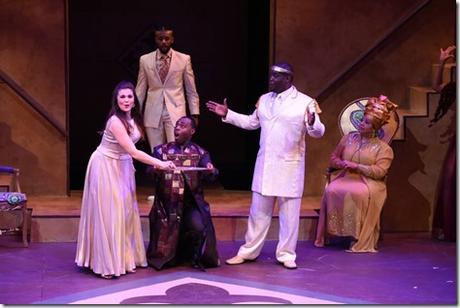 Photos by Michael Courier
Jessica Seals (Cinderella), Rhonda Preston (Stepmother), Melanie McCullough (Stepsister Geneva), Miciah Long (Stepsister Margarite), Kylah Frye (Fairygodmama), Dwight Neal (King), Shari Addison (Queen), Mark J.P. Hood (Prince), Kyle Smith (Page), Brandon Lavell (Groundhog), Henri Slater (Peanut Butter), Trequon Tate (Attendant), Paige Hauer (Dorothy)
Robert Reddrick (drums, music director), Danny O'Connor (bass), Herbert Walker (guitar), Dolpha Fowley Jr. (piano)
behind the scenes
Jackie Taylor (co-director, creator), Rueben Echoles (co-director, costumes and wigs), Robert Reddrick (musical director), Denise Karczewski (lighting design), Aaron Quick (sound design), CoCo Ree Lemery (set design), Daryl Brooks (production manager), Caswell James (technical director), Michael Courier (photos)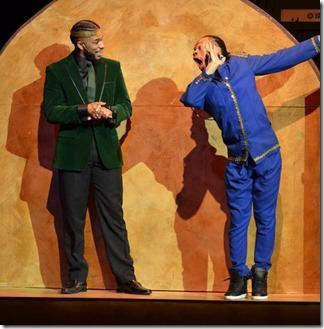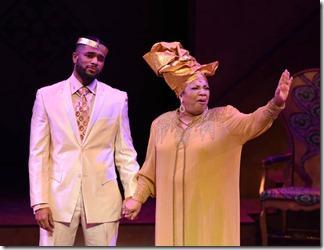 Tags: 16-1216, Aaron Quick, Black Ensemble Theater, Brandon Lavell, Caswell James, Chicago Theater, Coco Ree Lemery, Danny O'Connor, Daryl Brooks, Denise Karczewski, Dolpha Fowley Jr., Henri Slater, Herbert Walker, Herman Wheatley, holiday show, Jessica Seals, Kylah Frye. Dwight Neal, Kyle Smith, Lauren Whalen, Mark J.P. Hood, Melanie McCullough, Michael Courier, Michael Ward, Miciah Long, Paige Hauer, post, Rhonda Preston, Robert Reddrick, Rueben Echoles, Shari Addison, Trequon Tate
Category: 2016 Reviews, Black Ensemble Theatre, Holiday Show, Lauren Whalen, Musical