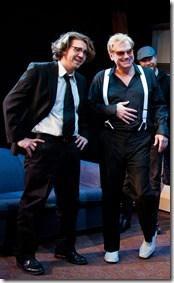 The Orchestra
Written by Okko Leo
at Rivendell Theatre, 5779 N. Ridge (map)
thru Jan 10  |  tix: $15-$20  |  more info
  
Check for half-price tickets  
  
---
Oddball rock stars squabble then band together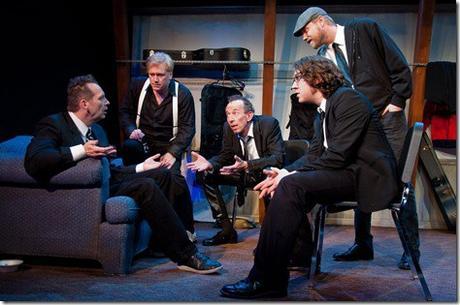 Akvavit Theatre presents
The Orchestra
Review by Keith Glab
For about five years, Akvavit Theatre has bridged the cultural gap between Scandinavia and the United States by digesting odd Nordic plays for a Chicago audience. Okko Leo's The Orchestra presents a daunting challenge, as it certainly ranks among the strangest plays that even Akvavit has tackled.
A four (or is it five)? member band called Everlast appears to be on its last legs and prepares for a wedding performance in their green room. Jase (Jim Poole), their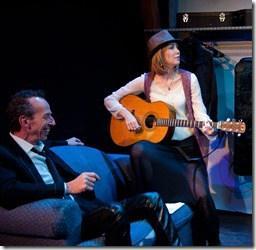 manipulative and melodramatic ringleader, schemes to avoid paying their newest and youngest member Timi (
Josiah Kumpost
). An impossibly frugal mental midget named Halla (
Tony St. Clair
) obsesses over cell phone minutes, a bride's behavior from a previous gig, and obtaining snacks. Rane (
Steve Herson
) appears to be the voice of reason in this mess, but carries sizeable baggage of his own. Then there's Hannu (
Ryan David Heywood
), the saxophonist who doesn't speak and rarely even gets acknowledged by the other band members.
Jase also schemes to get Halla's famous sister Simone (Bergen Anderson) to perform with the band and inject some life into their fading careers, and indeed the vibrant Simone's arrival at intermission injects some life into a stagnant plot. Dissent over this maneuver and ancillary petty arguments form the central problem of Leo's story for its first 90 minutes or so. Suddenly and bafflingly, some missing Karelian hot pot from the venue morphs this into a police situation. A story that lacked stakes and narrative drive now has it, but the already tenuous cause-and-effect logic of the piece dissolves into chaos.
Although the cast – particularly the triumvirate of Poole, St. Clair, and Herson – carve out some interesting characters, they don't manage to elucidate their often inexplicable behavior. It's hard to remain invested in the action when characters suddenly behave inconsistently and the plot becomes senseless. The performance I attended also included several awkward line gaffes.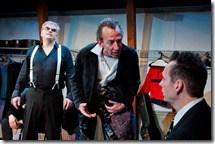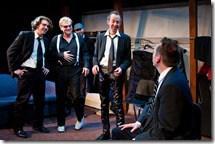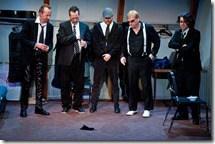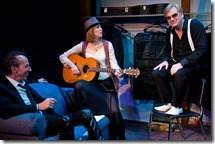 As the play is subtitled "A Study in Solidarity," it's possible to see the themes of dissent and selfishness versus collaboration and shared experience. This proves particularly evident with Hannu's yearning to get noticed and become a part of the group. I'm not sure how powerfully the message plays given the lack of grounding in believable action, however.
Despite the faults with this loony Finnish script, director Brad Akin keeps his production interesting throughout. Neither the band's initial squabbles nor their eventual senseless behavior become too annoying to watch. If you like oddball stories, The Orchestra should play to that fancy, but it doesn't represent Akvavit's most successful effort in disseminating Nordic culture.
Rating: ★★½
The Orchestra continues through January 10th at Rivendell Theatre, 5779 N. Ridge (map), with performances Thursdays-Saturdays at 8pm, Sundays 3pm.  Tickets are $15-$20, and are available by phone (800-838-3006) or online through BrownPaperTickets.com (check for half-price tickets at Goldstar.com). More information at AkvavitTheatre.org.  (Running time: 2 hours 5 minutes, includes an intermission)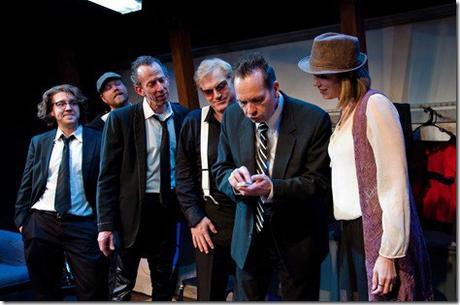 Photos by Sooz Main 
---
artists
cast
Bergen Anderson (Simone), Emily Demko (Bride), Steve Herson (Rane), Ryan David Heywood (Hannu), Josiah Kumpost (Timi), Jim Poole (Jase), Tony St. Clair (Halla)
behind the scenes
Brad Akin (director), Kristian London (translation), Joe Schermoly (set design), Izumi Inaba (costume design), Maggie Fullilove-Nugent (lighting design), Matt Chapman (sound design and composer), Archer Curry (props design), Christina Gorman (fight choreography), Andrew Peters (asst. director), Krista Mickelson (production manager), Lauren Lassus (stage manager), Sooz Main (photos)
15-1227