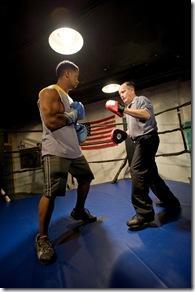 The Opponent 
Written by Brett Neveu  
Directed by Karen Kessler
A Red Orchid Theatre, 1531 N. Wells (map)
thru Dec 2  |  tickets: $25-$30   |  more info
  
Check for half-price tickets 
  
  
  
  
---
Knock-out script a two-act triumph of ready realism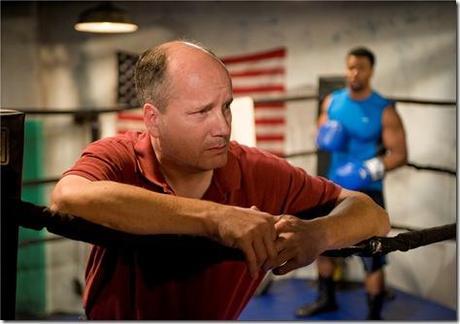 A Red Orchid Theatre presents
The Opponent
Review by Lawrence Bommer
With The Opponent, Chicago playwright Brett Neveu delivers a knock-out script–a two-character, two-act triumph of ready realism, so authentic in look and talk that you think the actors are making this up. (Usually, that's not a compliment.)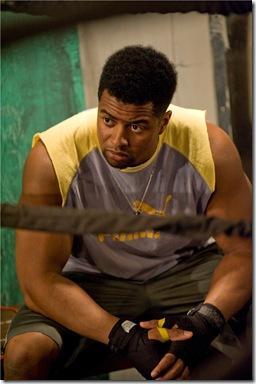 A look at losing (a subject most Americans avoid like the flu), this 100-minute tour de style and force is set in the small-time, small-town Rock and Anvil Boxing Gym in Lafayette, Louisiana. In this seedy joint an ambitious young African-American pugilist and a white gym owner and trainer endure a rugged work-out. As Tremont "Tre" Billiford (
Guy Van Swearingen
) instructs hopeful Donell Fuseles (
Kamal Angelo Bolden
) in the right jabs, hooks, and pivots, this very driven fighter expresses his all-American dream for the right house, car and career—"up, up and more up."
Cautious because he's seen it all before, Tre instructs him in how to psych out the opponent he faces in New Orleans that night, how to avoid being a "road dog" or failure, when to thrust and parry and how to concentrate on the fight, not his fantasies about the future. Whatever follows, this boxing lesson is up for grabs, just like the rest of life.
In the second act, set five years later in the same locale, it is the future and, well, Donell is a different if not defeated person, hoping for help from Tre, who has almost completely forgotten him. Having left his new wife and daughter for the rut of the road, he's gained weight, is in constant pain, and holds some resentment at Tre for not seeing him after his successful New Orleans match. Their second "round" does not end well but, contrary to everything we've seen, Tre continues to offer Donell bromides about pluck and success crowning his dogged efforts. Some clichés keep justifying themselves, if only because they just won't die.
Much of this byplay recalls the mental and physical sparring between Sylvester Stallone and Burgess Meredith in the "Rocky" saga. But, if anything, Neveu's utterly unpretentious dialog feels even more natural. Van Swearingen's passive, resigned Tre holds in so much that anything he finally lets out hits us like revelation itself. Bolden, so right for the role no one else should ever play it, makes Donell every driven dreamer playing any angle and using every strategy to make up for bad luck and no connections.
Not much happens here. Much of what does is hardly new. But there's nothing wrong with a strong play reinforcing life's hard-won discoveries, especially when every minute rings as true as a fight bell.
Rating: ★★★
The Opponent continues through December 2nd at A Red Orchid Theatre 1531 N. Wells (map), with performances Thursdays-Saturdays at 8pm, Sundays 3pm.  Tickets are $25-$30, and are available by phone (312-943-8722) or online through OvationTix.com. More information at ARedOrchidTheatre.org.  (Running time: 100 minutes, includes an intermission)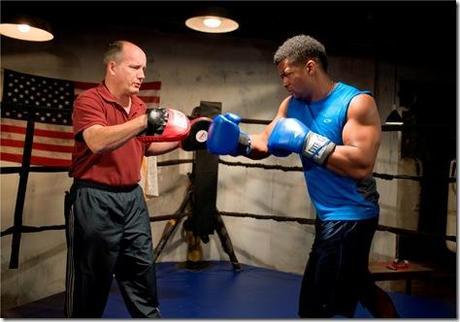 Photos by Michael Brosilow 
---
artists
cast
Guy Van Swearingen (Tremont "Tre" Billiford), Kamal Angelo Bolden (Donell Fuseles)
behind the scenes
Karen Kessler (director); Joey Wade (Set Designer), Myron Elliott (Costume Designer), Mike Durst  (Lighting Designer), Joe Court (Sound Designer), Toni Kendrick (Prop Designer), John Tovar (Fight Director), Al Ortiz (Boxing Trainer), Kate DeVore (Dialect Coach), Christa Van Baale (Stage Manager), Chelsea Mead Jackson (Assistant Director), Rick Julien (Technical Director), Michael Brosilow (photos)