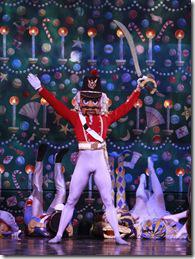 The Nutcracker 
Music by Peter Ilyich Tchaikovsky
Conceived and Directed by Robert Joffrey
Music performed by Chicago Sinfonietta 
Auditorium Theatre, 50 E. Congress (map)
thru Dec 27  |  tickets: $15-$140   |  more info
  
  
---
Joffrey's Nutcracker is Chicago's holiday gift to share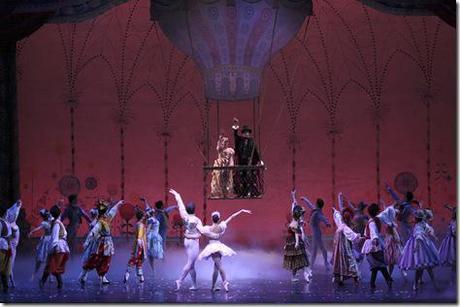 Joffrey Ballet presents
The Nutcracker
Review by Katy Walsh 
I've seen The Nutcracker multiple times.  In the 70's, my family saw a version at the Arie Crown Theatre.  Because my birthday is so close to Christmas, my parents were always trying to make it special.  So, we traveled from Indiana to Chicago to see Ruth Page's Chicago Opera Ballet perform The Nutcracker. Even though the actual performance is hazy sugar plum memories, I still recall the magical feeling that pirouetted me into a lifetime ballerina fascination.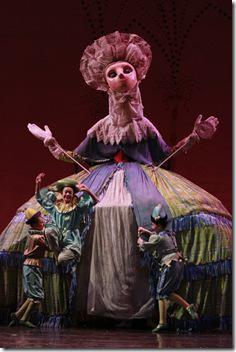 The Joffrey Ballet presents
The Nutcracker
.  It's Christmastime.  The annual festivities are in full-house merriment.  Dr. Drosselmeyer arrives with a mysterious gift for his goddaughter Clara.  It's a nutcracker in the form of a soldier.  Clara instantly loves it.  Her brother instantly breaks it.  To ease Clara's heartache, Drosselmeyer takes her on a magical journey.  She's sees the Nutcracker Prince, along with her toys and candies, as life-size, breathing people.  And they can dance! Oh yes, they can dance!!!! The Joffrey's
The Nutcracker
is THE gift to share this season.  As a date night, family time, or solo treat, this present is one-size-fits-all perfection!  
How many people does it take to make a gorgeous holiday spectacle?  118!  The Joffrey Ballet has 118 performers in this production.  Of course, it takes more than the performers to make an extravaganza of this stunning magnitude.  The late Robert Joffrey conceived, directed and debuted this show in 1987.  Going into its silver anniversary celebration, Joffrey achieved timelessness.  The music and movement are classically familiar but collectively and individually the company creates an exciting visual pageantry.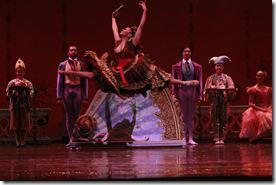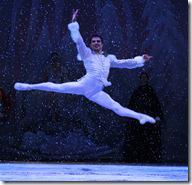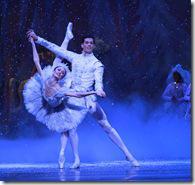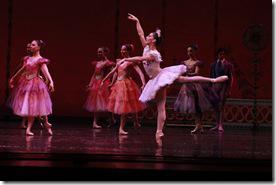 I sat next to a ballet enthusiast.  Her spontaneous comments made me feel like I was on the judges' panel for "Dances with the Stars."  Her commentary with 'nice jumps,' 'beautiful, Yumelia,' 'she's too thin' amused me.  She led the audience in 'Bravo' and clapping.  I agreed with all her assessments.  We both loved Yumelia Garcia (sugarplum fairy) in her showstopper performance.  Her natural fluidity blended with athletic control was eye-poppingly sensational.  Garcia pivots on her tippy-toe for a supernatural length of time.  Gasp-worthy! Then she perfectly pirouettes 13 times (counted out by my neighbor) with an exquisite flourish. Her dance parter, Ogulcan Borova (Nutcracker Prince) commands the stage with his own agile mobility.  With or without Garcia, Borova powerfully glides across the stage. The other couple to watch was Victoria Jaiani and Dylan Gutierrez as the Snow Queen and King and then as the Arabian couple.  Jaiani and Gutierrez go from majestic to exotic.  As royalty, they dance with a formal dignity.  At one point, Jaiani runs and jumps into Gutierrez's arms.  It surprises for its effortless movement and also the connectivity of the reserved couple.  Later, as the Arabians, the pair intertwine with a sensual union.  Cold or hot, this pair is fabulous!  Although all the dancers are the standard Joffrey spectacular, I have to also acknowledge Derrick Agnoletti (Tea from China) for his jumps. He soars with amazing height. Wow!  
The cape twirling Drosselmeyer sprinkles his glittery magic and this production cracks open elegant entertainment.  The Joffrey Ballet's The Nutcracker is the-must-have gift this season.  
Rating: ★★★★
The Nutcracker continues through December 27th at the Auditorium Theatre of Roosevelt University, 50 E. Congress Parkway (map).  Tickets are $15-$140, and are available by phone (312-386-8905) or online at joffrey.org (check for half-price tickets at Goldstar.com). More info at joffrey.org/nut.  (Running time: Two hours 15 minutes, which includes one intermission)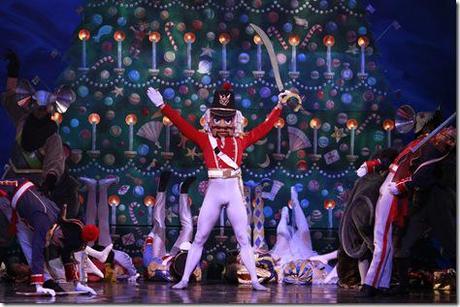 All photos by Bob Nick
---
artists
performers
Matthew Adamczyk, Willy Shives, Michael Smith, Jack Thorpe-Baker (Dr. Drosselmeyer); Ogulcan Borova, John Mark Giragosian, Dylan Gutierrez, Temur Suluashvili, Mauro Villaneuva (Nephew); Abigail Simon, Anastacia Holden, Caitlin Meighan, Katherine Minor (Clara); Derrick Agnoletti, John Mark Giragosian, Aaron Rogers, Ricardo Santos (Fritz); Matthew Adamczyk, Fabrice Calmels, Dylan Gutierrez, Rory Hohenstein, Lucas Segovia (Mayor Stahlbaum); April Daly, Erica Lynette Edwards, Victoria Jaian, Joanna Wozniak, Kara Zimmerman (Mrs. Stahlbaum); Elizabeth Hansen, Joanna Wozniak, Mahallia Ward (Grandmother); Derrick Agnoletti, Brian Campbell, Francis Kane, Willy Shives (Grandfather); Yumelia Garcia, Jaime Hickey, Jacqueline Moscicke, Abigail Simon, Jenny Winton (Maiden Aunts); Alexis Polito, Valerie Robin, Kara Zimmerman (Governess); Katherine Bruno, Raul Casasola, Erica Lynette Edwards, Fabio Lo Giudice, Dylan Gutierrez, Elizabeth Hansen, Meredith Harrill*, Jaime Hickey, Rory Hohenstein, Dara Holmes, Tuesday Mayhew*, Caitlin Meighan, Jeraldine Mendoza, Jacqueline Moscicke, Amber Neumann, Alexis Polito, Lauren Pschirrer*, Christine Rocas, Michael Sayre*, Lucas Segovia, Michael Smith, Jack Thorpe-Baker, Shane Urton, Alberto Velazquez, Mauro Villanueva, Mahallia Ward, Matthew Wenckowski*, Jenny Winton (Guests); Eloise Atzeff, Quinn Bohan, Caitlin Connaughton, Boris Fedorov, Elise Girardot, Lucas Gomez-Doyle, Bahda Hoang, Sophia Jablonski, Rylan Joenk, Emma Jones, Emily Kerekes, Quinn Kirchner, Jung Kuczura, Hayley Lampariello, Isabel Langas, Zoe Laris-Djokovic, Monica Joy Maxey, Marguerite Miller, Djuna Moore, Christine Moravek, Rachel Newton, Sasha Olevsky, Liv Rivich, Audrey Grace Senne, Antony Simonoff, Nina Siwik, Austin Maclvor Smith, Kayla Taylor, Alex Villasenor, Gavi Weibel (Guests' children); Derrick Agnoletti, Raul Casasola, Graham Maverick, Aaron Rogers, Ricardo Santos, Shane Urton (Servants); Katherine Bruno, Dara Holmes, Caitlin Meighan, Jacqueline Moscicke, Amber Neumann (Maids); Yumelia Garcia, Caitlin Meighan, Katherine Minor, Jacqueline Moscicke, Abigail Simon (Columbine); Ricardo Santos, Aaron Rogers, Lucas Segovia (Harlequin); Erica Lynette Edwards, Elizabeth Hansen, Anastacia Holden, Amber Neumann (Vivandiere); Derrick Agnoletti, John Mark Giragosian, Rory Hohenstein, Graham Maverick (Soldier); Graham Maverick, Aaron Rogers, Temur Suluashvili, Mauro Villaneuva (Nutcracker doll); Ogulcan Borova, Fabrice Calmels, John Mark Giragosian, Dylan Gutierrez, Mauro Villaneuva (Nutcracker Prince); Matthew Adamczyk, Michael Smith, Jack Thorpe-Baker (King of Mice); Jose Soares da Silva*, John Mark Giragosian, Fabio Lo Giudice, Aaron Rogers, Ricardo Santos, Shane Urton, Alberto Velazquez, Matthew Wenckowski* (First Battalion of Mice); Hunter Batterson, Kennedy Brown, Noa Dahan, Mallory Drake, Timmorie Freeman, Maeve Harvey-Camillone, Sophie Rose Karaba, Sofia Manglano, Katie McGee, Alexa Patrick, Brooke Robison-Sherman, Ally Shives, Sarah Stone, Maeve Swanberg, Isabel Tannenbaum, Olivia Van Horn (Second Battalion of Mice); Morgan Baer, Sabreen Ben-Salem, Marley Berk, Faith Carey, Rebecca Marie Gallas, Mikayla Gardner, Pearson Mae Love, Aimee Smidt (Cavalry Mice); Ogulcan Borova, Raul Casasola, Jose Soares da Silva*, John Mark Giragosian, Rory Hohenstein, Graham Maverick, Aaron Rogers, Michael Smith, Jack Thorpe-Baker, Shane Urton (Officers); Elena Bianchi, Martina Bianchi, Emma Grace Calkins, Posey Cohen, Madeline Falk, Marisa Gaita, Gabby Greer, Maura Haas, Mia Kellman, Amelia Kersh, Kali Konstantinopoulos, Amber Mehta, Gracy Jean O'Rahilly, Kaitlin Patterson, Sarah Piper, Lily Ryan, Claire Slivka, Nicole Stubenfoll, Cameron Grace Terry, Emma Uremovic, Krysta Wentland, Samone Nikole Williams, Taylor Woods, Jessica Autumn Ziegler (Soldiers); Ava Delariman, Ren Habiby (Spanish Doll); Chloe Solon, Kaitlyn Woods (Arabian Doll); Abbie Branda, Phoebe Fisher, Emma Morley, Kyla M'Adeline Strickler (Chinese Dolls); Riqui Hernandez, Shelby Marie Wilson (Russian Doll); Grace Boyd, Luise Christov (Pierrot Doll); Wilhemina Aboagye, Carolina Mohr (Punch); Riley Miske, Mia Rehwaldt (Gingerbread); April Daly, Erica Lynette Edwards, Victoria Jaiani, Joanna Wozniak, Kara Zimmerman (Snow Queen); Matthew Adamczyk, Fabrice Calmels, Dylan Gutierrez, Rory Hohenstein, Lucas Segovia (Snow King); Derrick Agnoletti, John Mark Giragosian, Aaron Rogers, Ricardo Santos (Snow Prince); Katherine Bruno, Erica Lynette Edwards, Elizabeth Hansen, Meredith Harrill*, Jaime Hickey, Anastacia Holden, Dara Holmes, Tuesday Mayhew*, Caitlin Meighan, Jeraldine Mendoza, Katherine Minor, Jacqueline Moscicke, Amber Neumann, Alexis Polito, Lauren Pschirrer*, Abigail Simon, Jenny Winton, Joanna Wozniak, Mahallia Ward, Jenny Winton, Joanna Wozniak, Kara Zimmerman (Snowflakes); Derrick Agnoletti, Raul Casasola, Jose Soares da Silva*, John Mark Giragosian, Fabio Lo Giudice, Rory Hohenstein, Graham Maverick, Aaron Rogers, Ricardo Santos, Michael Smith, Jack Thorpe-Baker, Shane Urton, Alberto Velazquez (Snow Winds); Julia Albores, Grace Aldrin, Marit Aurin, Maya Belcove, Josephine Bryar,Faith Costello, My'kiyah Dillard, Austeya Dunno, Isabella Ellis, Catherine Jacobs, Mia Klein, Rachel Metcalf, Jordan Miller, Kirsten Moyer, Ryan Norman, Nina Papakyriacou, Alena Marie Pedroza, Clara Radtke, Sabrina Santoro, Zoe Sattar, Jordan Scheble, Sloane Ward, Karina Marie Widman, Ursula Wolf (Snow Tree Angels); April Daly, Yumelia Garcia, Anastacia Holden, Victoria Jaini, Valerie Robin, Kara Zimmerman (Sugar Plum Fairy); April Daly, Erica Lynette Edwards, Elizabeth Hansen, Jacqueline Moscicke, Amber Neumann, Alexis Polito (Chocolate from Spain); Matthew Adamczyk, Fabrice Calmels, Dylan Gutierrez, Rory Hohenstein, Victoria Jaiani, Jeraldine Mendoza, Alexis Polito, Lucas Segovia, Joanna Wozniak, Kara Zimmerman (Coffee from Arabia); Derrick Agnoletti, John Mark Giragosian, Anastacia Holden, Caitlin Meighan, Katherine Minor, Aaron Rogers, Ricardo Santos, Abigail Simon (Tea from China); Derrick Agnoletti, Raul Casasola, Erica Lynette Edwards, John Mark Giragosian, Fabio Lo Giudice, Elizabeth Hansen, Anastacia Holden, Graham Maverick, Aaron Rogers, Ricardo Santos, Michael Smith, Shane Urton, Alberto Velazquez, Joanna Wozniak (Nougats from Russia); Yumelia Garcia, Elizabeth Hansen, Dara Holmes, Caitlin Meighan, Jeraldine Mendoza, Katherine Minor, Jacqueline Moscicke, Abigail Simon, Joanna Wozniak (Marzipan Shepherdesses); Francis Kane (Mother Ginger); Hunter Batterson, Kennedy Brown, Noa Dahan, Mallory Drake, Timmorie Freeman, Maeve Harvey-Camillone, Sophie Rose Karaba, Sofia Manglano, Katie McGee, Alexa Patrick, Brooke Robison-Sherman, Ally Shives, Sarah Stone, Maeve Swanberg, Isabel Tannenbaum, Olivia Van Horn (Polichinelles); April Daly, Jenny Winton, Joanna Wozniak, Kara Zimmerman (Pansy); Elizabeth Hansen, Jacqueline Moscicke, Amber Neumann (Rose); Erica Lynette Edwards, Jeraldine Mendoza, Alexis Polito (Dahlia); Caitlin Meighan, Amber Neumann, Joanna Wozniak (Carnation); Jaime Hickey, Jenny Winton (Iris); Katherine Bruno, Abigail Simon (Columbine); Lauren Pschirrer*, Mahallia Ward (Rhododendron); Katherine Bruno, Dara Holmes (Clematis); Matthew Adamczyk, Raul Casasola, Fabio Lo Giudice, Rory Hohenstein, Graham Maverick, Michael Smith, Temur Suluashvili, Jack Thorpe-Baker, Shane Urton, Alberto Velazquez, Mauro Villanueva (Cavaliers);