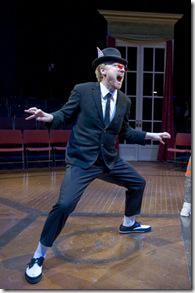 The Nutcracker 
Music/Lyrics by Kevin O'Donnell, Jake Minton
Book by Phillip C. Kapperich, Jake Minton
Directed by Tommy Rapley 
at Chopin Theatre, 1543 W. Division (map)
thru Dec 30  |  tickets: $25   |  more info
Check for half-price tickets 
  
  
   Read entire review
  
---
Pure emotional magic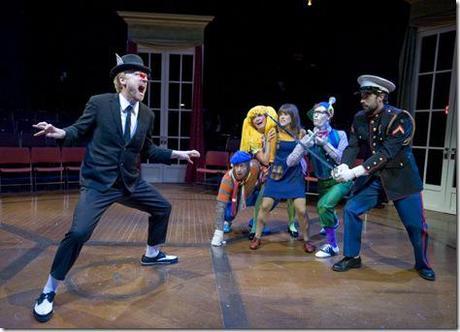 The House Theatre of Chicago presents
The Nutcracker
Review by Lauren Whalen 
The last thing I want to do with The Nutcracker is write a review of it. During a show, I normally scribble observations, phrases I want to remember, notes on this lighting cue or that line reading. During The House Theatre's innovative reimagining of E.T.A. Hoffmann's classic Christmas story, my pen stayed in my purse. I didn't watch this exquisitely crafted triumph of Chicago theater. I experienced it. And you should too.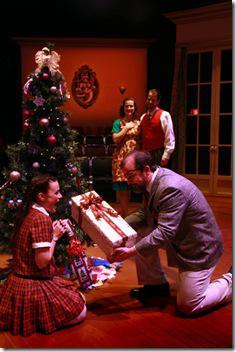 Phillip C. Kapperich
,
Jake Minton
and
Kevin O'Donnell
's book and music honor the original story's core values – family and courage – while incorporating whimsical elements that go to places light and dark.
The Nutcracker
's script seamlessly infuses fantastic elements into a very real world, where tragedy can strike at any moment and profoundly affect adults and children alike. Joyful magic and sinister forces collide in the spirit of a 1980's kids' movie as a brave little girl sets out with an army of life-size toys, including a very special nutcracker handmade by her favorite uncle, to battle the evil Rat King and bring Christmas back to her family, at a time when they need it most of all.
Director Tommy Rapley stages the show in the round – all the better to see children's delight and complete investment in the action. The opening Christmas party scene is festive and nonverbal, a nice homage to the Tchaikovsky ballet. Maria DeFabo's gorgeous props are almost characters in themselves, actively tossed around by the cast throughout the play. Lee Keenan and Sarah Hughley's warm and exciting lighting has the feel of a storybook, and Collette Pollard's set with its striped wallpaper and goofy family portraits conjures the spirit of a real home with heart-wrenching accuracy. From the shiny satins of party clothes to the proud striped trousers of the living nutcracker doll to the more subdued tones of the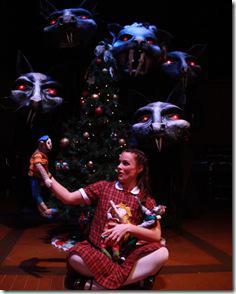 adult characters,
Debbie Baer
's costumes are perfect down to the last stitch.
Each player in The Nutcracker performs with the utmost care, infusing each word and phrase with heart. As Drosselmeyer, David Catlin is everyone's favorite uncle, the life of the party with the empathy of someone who's never forgotten what it's like to be small and powerless. Briana DiGiulio's Clara is a tiny and empowered heroine, open to otherwordly possibilities and determined to do right. Mary Hollis Inboden, Chris Mathews and Joey Steakley provide broad humor as Clara's trio of toys, Tyler Ravelson is a sympathetic and noble soldier and Marika Mashburn skillfully doubles as Clara's haunted mother and a gleefully evil rat. And in an ensemble of near-intimidating talent, Michael E. Smith captivates as Clara's father, whose love for his daughter shines through grief-stricken uncertainty.
Putting a new spin on a beloved story is never easy and always risky. When the story revolves around the holidays, challenges increase tenfold. But when a powerful script is flawlessly executed by a stellar production team and a gifted cast, that's when real magic happens. The House Theatre's production of The Nutcracker is daring, imaginative and makes a true artistic statement from beginning to end. This is what Chicago theater should always be.
Rating: ★★★★
The House Theatre's The Nutcracker continues through December 30th at Chopin Theatre Upstairs Theatre, 1543 W. Division (map), with performances Thursdays through Saturdays at 8 p.m., Sundays at 7 p.m. No shows Thanksgiving and Christmas Day. Tickets are $25, ($10 rush tickets for students/industry), and are available by phone (773-769-3832 ext1) or online at printtixusa.com. More information at thehousetheatre.com. (Running time: 1 hour 40 minutes with 10-minute intermission)
---
artists
cast
David Catlin (Drosselmeyer), Briana DiGiulio (Clara), Tyler Ravelson (Fritz), Michael E. Smith (David), Marika Mashburn (Martha), Joey Steakley (Hugo), Mary Hollis Inboden  (Phoebe), Chris Mathews (Monkey)