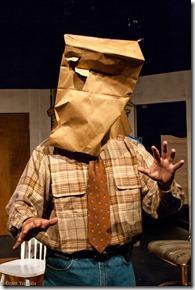 The Nerd 
Written by Larry Shue
Directed by Mary Reynard
Athenaeum Theatre, 2936 N. Southport (map)
thru Sept 1  |  tickets: $25   |  more info
  
Check for half-price tickets 
  
  
   Read entire review
  
---
New company still needs some work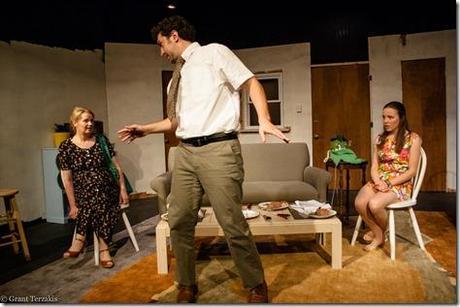 Black Fox Theatre presents
The Nerd
Review by Lauren Whalen 
During my first year working for an arts nonprofit, I heard three words more than any others: "butts in seats". I was tasked with group sales for the organization's film festival, and my boss was fond of muttering that phrase in the midst of my many phone calls. It's not a bad mantra, though, for the arts. As lovely as pursuing passions is, one must also consider (gasp!) whether the work will turn a profit. Maybe that's not ideal, but it's reality: butts in seats. Even if Black Fox Theatre's production of Larry Shue's hit 80's farce The Nerd weren't so mediocre, its dated script guarantees the lack of butts in seats.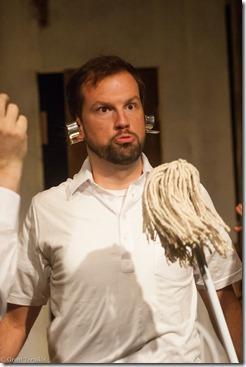 It's 1979, and sad sack ex-GI-turned-architect Willum Cubbert (
Jason Hammond
) is turning 34. His boorish drama-critic pal Axel (
Philip Aman
) and weathergirl love interest Tansy (
jasmine ryan
) gamely throw him a surprise party, but so far they're the only guests – until Willum receives an answering machine message from Rick Steadman (
Guy Wicke
), the man who saved his life in Vietnam, whom Willum has never actually seen. Rick is a cheerfully dumb chalk-factory supervisor from Wisconsin, but his lingering presence threatens to push Willum over the edge.
According to my press packet, The Nerd premiered at Milwaukee Repertory Theatre in 1981 (with playwright Shue as Willum) and went on to become a hit on Broadway and London's West End in the late 1980's. The community theater in the small Midwestern town where I was raised produced the play in 1991. Unfortunately, some scripts do not age as well as others. Barefoot in the Park, for example, is still a sweet and funny look at new marriage. Like Barefoot, The Nerd is a period piece but does not have that same timeless quality. Jokes that may have been hilarious 30 years ago now fall flat (including one involving pedophilia that rings particularly tasteless). There are copious "Three's Company"-style misunderstandings without the benefit of John Ritter's physical grace and impeccable comic timing. The entire premise and ridiculous behavior that follows had me asking, "why doesn't Willum just ask Rick to leave?" and growing increasingly unsatisfied with the pat answer "because then there wouldn't be a play".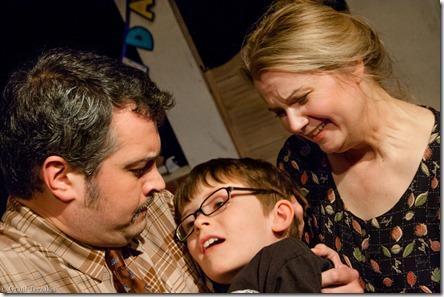 It doesn't help that the lead performances leave a lot to be desired. Hammond's Willum comes across as unsympathetic and unpleasant, not to mention whiny, while ryan engages in many bad actor habits (such as leaning forward). Aman largely squanders Axel's comic potential. The supporting cast fares a bit better: John Wilson and Shawna Tucker have some fun moments as Willum's blowhard boss and his china-smashing wife, respectively (though Jack Edwards, as their bratty son, is just plain screechy). I commend Wicke for fully committing to the role of Rick Steadman: his Northerner accent may have been over-the-top, but he clearly relishes every idiotic decision and mannerism, and his enthusiasm's contagious.
Though The Nerd's costumes are a mixed bag, its set is pure 70's: I recognized features such as the wet bar, fireplace gate, swinging doors and straw wall hanging from my early 80's childhood. (Kudos to set construction crew ryan, Megan Captaine and Martin Hughes for accuracy.) I only wish the rest of the play were as fun as its backdrop. Black Fox Theatre is a new company (The Nerd is only its second production) that according to its mission statement, aims to "speak to a wide range of experience and tastes" and "strives for simple excellence". These are noble goals I can support, but what I can't support is a stumbling production that won't put butts in seats.
Rating: ★★
The Nerd continues through September 1st at Athenaeum Theatre, 2936 N. Southport (map), with performances Thursdays-Saturdays at 8pm, Sundays 2pm.  Tickets are $25, and are available by phone (773-935-6875) or online through OvationTix.com (check for half-price tickets at Goldstar.com). More information at BlockFoxTheatre.com.  (Running time: 2 hours, includes an intermission)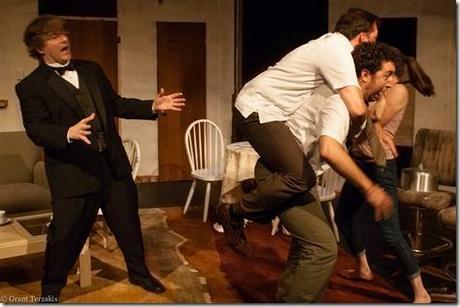 Photos by Grant Terzakis ,
---
artists
cast
Guy Wicke (Rick Steadman), Jason Hammond (Willum Cubbert), Philip Aman (Axel Hammond), jasmine ryan (Tansy McGinnis), John Wilson (Warnock "Ticky" Waldgrave), Shawna Tucker (Clelia Waldgrave), Jack Edwards (Thor Waldgrave)
behind the scenes
Mary Reynard (director), Jazmin Licea (stage manager), Dave Miller (lighting design), jasmine ryan (scenic construction, producer), Megan Captaine (scenic construction, marketing manager, prop master), Martin Hughes (scenic construction, production consultant), Grant Terzakis (photos)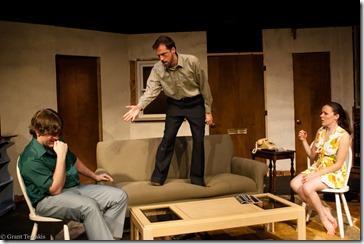 13-0813