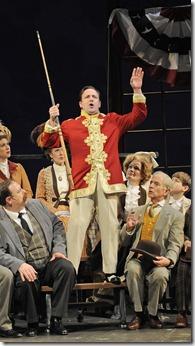 The Music Man
Book, music and lyrics by Meredith Willson
Story by Meredith Willson and Franklin Lacey
Directed by Rachel Rockwell
at Paramount Theatre, Aurora (map)
thru Feb 3  |  tickets: $35-$47   |  more info
  
Check for half-price tickets 
  
  
   Read entire review
  
---
Something special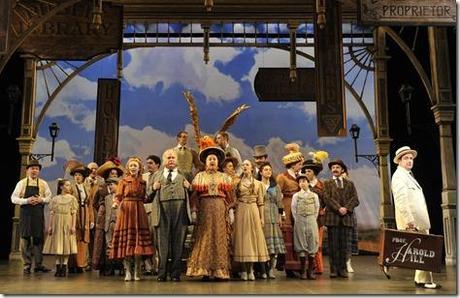 Paramount Theatre presents
The Music Man
Review by Leah Zeldes
Among America's most beloved musicals, The Music Man has it all: toe tapping, hummable, memorable music, ranging from vigorous marches to tender love songs; a humorous and heartwarming story; cute kids; a lovable rogue and a good girl gone just a little bit bad. The 1957 Broadway production won five Tony Awards, including Best Musical, and ran for 1,375 performances. Its cast album was number one on Billboard's charts for 245 weeks and won the first Grammy Award for Best Original Cast Album.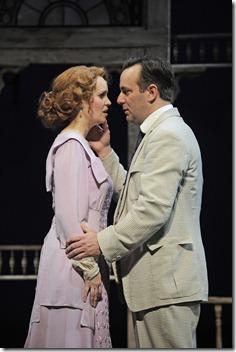 Even high-school productions of the musical are fun, but Paramount Theatre's production stands among the best you're ever likely to see. Do not let the distance to Aurora stop you from going to see it. The only thing I can find fault with is the audience. (Dear theater goers: The overture and entr'acte are part of the performance. Do not treat them like previews of coming attractions at the movies. When the music starts, zip it!)
From the very first jiggling, scintillating, syncopated number, "Rock Island," this show captures you. Mike Accardo; Roger Anderson, Rob Dorn, Sean Effinger-Dean and Jake Klinkhammer take you on a rollicking ride to River City. All the familiar songs of this musical sound fresh and engaging in this show.
The very lovely Emily Rohm, as Marian, captivates with both face and voice. "Goodnight My Someone," with 10-year-old Peyton Shaffer as Amaryllis and "My White Knight" highlight the first act, helped along by Melissa Torchia's gorgeous period costumes. Compared to the larger-than-life, charismatic con man originated by Robert Preston in the Broadway premiere and 1962 film, Stef Tovar's Harold Hill seems a bit earthier, sleazier, more real, making his ultimate reformation more believable.
The 12-year-old Johnny Rabe, a Broadway veteran who made his professional theater debut as Winthrop in The Music Man at Marriott Theatre a few years ago, reprises the role with an adorable lisp in an admirable "Gary, Indiana."
Anderson, Effinger-Dean, Dorn and Matthew R. Jones slide smoothly from city fathers into barbershop quartet. Michael Aaron Lindner, as Marcellus Washburn, does a bang-up "Shipoopi," one of the musical's most underrated numbers.
Don Forston makes a suitably blustery Mayor Shinn and Liz Pazik is wonderfully expressive as Eulalie Mackecknie Shinn. Pazik, Caron Buinis, Lauren Villegas, Elizabeth Dowling and Anna Hammonds bring off a hilarious "Pick-a-Little, Talk-a-Little," the female counterpart to "Rock Island." Rhett Guter and Laura Savage are sweet as the parent-defying Tommy and Zaneeta, and — ye gods! — can they dance. The whole ensemble is exceptional.
Director Rachel Rockwell's choreography excels throughout, but "Seventy Six Trombones" especially delights. Music Director Michael Mahler and his orchestra also deserve kudos.
The Music Man is definitely worth heading out to Aurora for.
Rating: ★★★★
The Music Man continues through February 3rd at Paramount Theatre, 23 E. Galena Blvd., Aurora (map), with performances Wednesdays 1:30 and 7:30pm, Thursdays 7:30pm, Fridays 8pm, Saturdays 4:00 and 8pm, Sundays 1pm and 5pm.  Tickets are $35-$47, and are available by phone (630-896-6666) or online through Vendini.com (check for half-price tickets at Goldstar.com). More information at ParamountAurora.com.  (Running time: 2 hours 45 minutes, includes an intermission)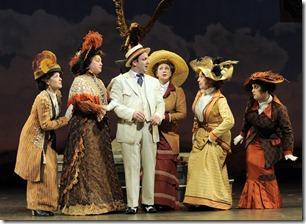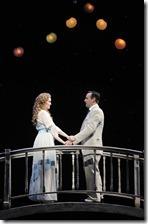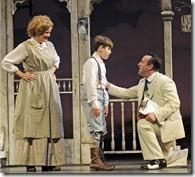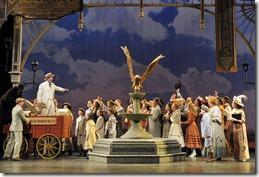 Photos by Liz Lauren
---
artists
cast
Mike Accardo (Charlie Cowell); Roger Anderson (Traveling Salesman, Olin Brit) Kelsey Andres (ensemble); Larry Baldacci (Constable Locke); Britt Banaszynski (ensemble); Caron Buinis (Alma Hix); Jaclyn Burch (ensemble); Andrea Collier (ensemble); Rob Dorn (Traveling Salesman, Jacey Squires); Elizabeth Dowling (Maude Dunlop); Brian M. Duncan (ensemble); Sean Effinger-Dean (Traveling Salesman, Ewart Dunlop); Mary Ernster (Mrs. Paroo); Don Forston (Mayor Shinn); Rhett Guter (Tommy Djilas); Kyle Halford (ensemble); Matthew R. Jones (Oliver Hix); Anna Hammonds (Mrs. Squires); Dan Keller (ensemble); Jake Klinkhammer (Traveling Salesman, ensemble); Elizabeth Lanza (ensemble); Emily Leahy (ensemble); Michael Aaron Lindner (Marcellus Washburn); Tommy Lucas (ensemble); Liz Pazik (Eulalie Mackecknie Shinn); Johnny Rabe (Winthrop Paroo); Olivia Renteria (Gracie Shinn); Todd Rhoades (ensemble); Emily Rohm (Marian Paroo); Laura Savage (Zaneeta Shinn); Peyton Shaffer (Amaryllis); Jared Titus (ensemble); Stef Tovar (Harold Hill); Lauren Villegas (Ethel Toffelmeier).
orchestra
Michael Mahler (conductor); Kevin Disch (piano); Daniel Anderson (bass); George Blanchet (percussion); Susan Saylor (flute, piccolo); Sean McNeely (clarinet, oboe, English horn); Matthew Wifler (clarinet, eb clarinet, soprano sax); Patrick Rehker (clarinet, bass clarinet, flute, piccolo); Peter Brusen (clarinet, bari sax, basson); Scot Bentall (trombone); Thomas Kordus (trombone); Arthur Linsner (bass trombone) Larry Bowen (trumpet); Doug Scharf (trumpet); Scott Hall (trumpet); Mark Agnor (violin); Katherine Hughes (violin); Andrea Tolzmann (violin); Margaret Daly (cello).
behind the scenes
Rachel Rockwell (director/choreographer); Michael Mahler (music director); Kevin Depinet (scenic designer); Melissa Torchia (costume designer); Jesse Klug (lighting designer); Jeff Dublinske (sound designer); Sarah E. Ross (properties designer); Rose Marie Packer (stage manager); Katie Cora Clark (child supervisor); Anna Hammonds (assistant director); Todd Rhoades (associate choreographer); Laura Savage (associate choreographer); Amanda Hermann (assistant properties designer); Beth Ellen Spencer (assistant stage manager); Stephanie Vera (stage management intern); Liz Lauren (photos).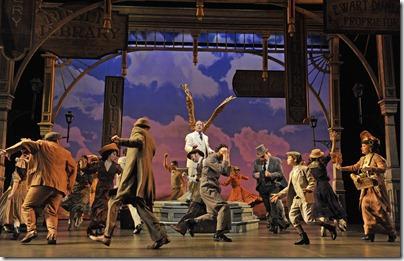 13-0138