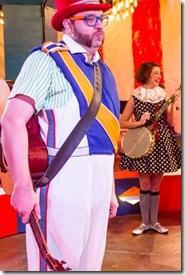 The Mikado 
Written by Gilbert and Sullivan
Adapted by Sean Graney and Kevin O'Donnell 
Directed by Sean Graney 
at Chopin Theatre, 1543 W. Division (map)
thru Jan 13  |  tickets: $28   |  more info
  
  
---
Some moments of charm in this muddled, indulgent 'Mikado'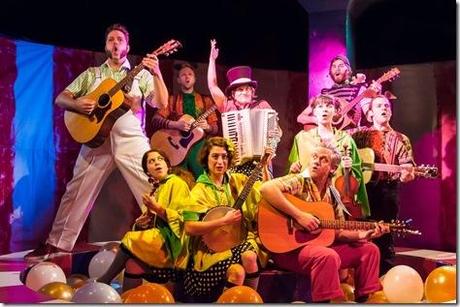 The Hypocrites presents
The Mikado
Review by Lauren Whalen 
All around me, people of all ages were enjoying The Mikado. Children batted balloons and adults giggled with glee as the chirpy cast ran around the theater wielding various instruments and props, the picture of wackiness. And yet, I wasn't buying it. I asked myself why: I relish silliness (I adored Drury Lane's Xanadu), I'm a big fan of Gilbert and Sullivan, and I've enjoyed The Hypocrites' past work (namely last May's Romeo Juliet). I love energetic performers and strong design elements. On the bus home, I finally answered my own question. I disliked Sean Graney's new adaptation of The Mikado for two reasons: it was sloppy, and it was smug.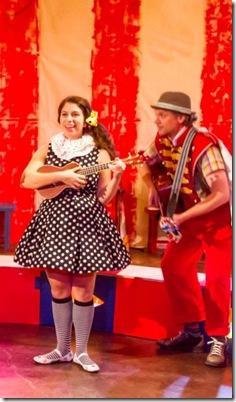 Graney's company is staging a Gilbert and Sullivan repertory through January. The other work, Graney's critically acclaimed adaptation of
The Pirates of Penzance
, has played in Chicago and Boston to thunderous acclaim. I've never seen it, but many of my friends (and
this site
) speak highly of the innovative take on an old favorite. Apparently Graney is expanding on a well-received and profitable idea, and I don't blame him. However, lightning doesn't always strike twice, at least the first time around.
First, The Mikado hasn't aged as well as Pirates. It's the lighthearted equivalent of Carousel: beautiful music, but a politically incorrect product of its time. In 2012, a satiric tale of British politics in the guise of a Japanese fable – complete with borderline-offensive character names – seems a little…inappropriate. (Hot Mikado, a 1986 musical comedy adaptation, isn't produced much either.) Even in an abbreviated adaptation, some of the songs are so dull and dated, even the best singers can't make them bright.
Second, Mikado is rough. The Hypocrites have had two years to perfect Pirates, and perhaps Mikado will receive the same refinement over time. Staging the show in a circus-like setting, with loud voices and colors, is a fun idea in theory but requires strong choices and attention to detail if it's to really work. The cast and crew of last spring's Romeo Juliet made clear choices – I didn't always agree with these choices, but I appreciated their existence.
Third, Mikado is smug. Christopher Plummer once likened working with Julie Andrews to being "beaten over the head with a Valentine's Day card" and I felt the exact same watching this production. The cast and crew are very pleased with themselves: every cartoonish aside, every ruffly costume piece and every banjo or mandolin chord screamed, "Look how great we are!" A good, solid show – whether it's heavy drama or glittery camp – will speak for itself rather than assault me with inflated self-esteem. And over-the-top cuteness is all well and good but it must have direction (see Victory Gardens' Failure: A Love Story for an example of twee elements that are funny and sweet, rather than cloying).
The Hypocrites have a strong talent pool, and Mikado displays several charming performances and production values. Emily Casey is delightful as ingénue Yum-Yum, and her rendition of "The Sun Whose Rays Are All Ablaze" is a show highlight. As guardian Ko-Ko, Robert McLean displays wonderful timing and genuine longing in the poignant solo "Tit-Willow". And Shawn Pfautch camps it up with delight in the dual role of bumbling romantic hero Nanki-Poo and bitter spinster Katisha. Michael Smallwood's big-top set perfectly recalls an old-timey circus with cheerful patterns and vivid primary colors, a stunning complement to Alison Siple's spirited cacophony of a costume plot.
A word of warning to theatergoers: the basement of the Chopin is quite stuffy, so dress and hydrate accordingly. Also, seating is extremely limited and performers use the entire space, so you will be asked to move more than once. And, if you and I are like-minded, you might exit The Mikado with several cavities and an overwhelming urge to start a fistfight to counteract 80 minutes of pure sugar shoved in your face.
Rating: ★★
The Mikado continues through January 13th at Chopin Theatre, 1543 W. Division (map). Presented in repertory with 'The Pirates of Penzance' –- full schedule here. Tickets are $28, and are available online through Tix.com (check for half-price tickets at Goldstar.com). More information at The-Hypocrites.com.  (Running time: 80 minutes, includes a brief pause)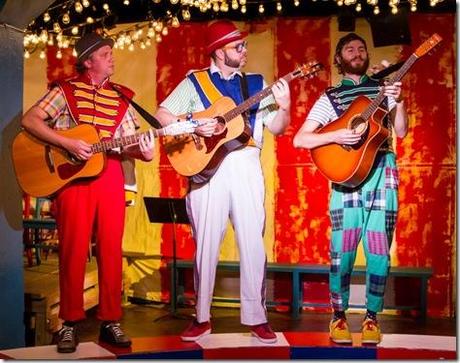 Photos by Matthew Gregory Hollis
---
artists
cast
Emily Casey (The Mikado, Yum-Yum); Shawn Pfautch (Nanki-Poo, Katisha); Robert McLean (Ko-Ko); Matt Kahler (Pooh-Bah); Ryan Bourque (Pish-Tush); Christine Stulik  (Pitti-Sing); Dana Omar (Peep-Bo); Doug Pawlik, Becky Poole, Erik Schroeder (ensemble)
behind the scenes
Sean Graney (director, co-adapter); Kevin O'Donnell (co-adapter); Miranda Anderson (stage manager); Michael Smallwood (scenic design); Alison Siple (costume design); Heather Gilbert (lighting design); Katie Spelman (choreography); Maria DeFabo  (props design); Andra Velis Simon (vocal director); Matthew Gregory Hollis (photos)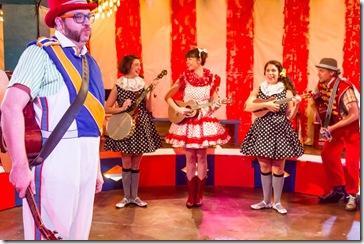 12-1163