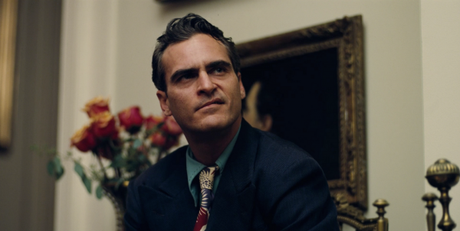 Director Paul Thomas Anderson has had a lot of homeruns when it comes to achievements in cinema. Everyone of his films (specifically Magnolia and There Will Be Blood) feature career best performances from his actors. In that particular case, The Master rises to the occasion. Where it fails is how disjointed the film feels. Paul Thomas Anderson has proven before that he's capable of a compelling narrative in conjunction with story, but The Master never merges the two successfully.
Freddie Quell (Joaquin Phoenix) has just returned from a stint of duty in World War II. Surviving the war has done a number on his psyche. Not only does it leave him with an insatiable thirst for sex, but there's never a moment when he isn't boozing. After drifting from one place to another, he randomly decides to sneak onto a boat.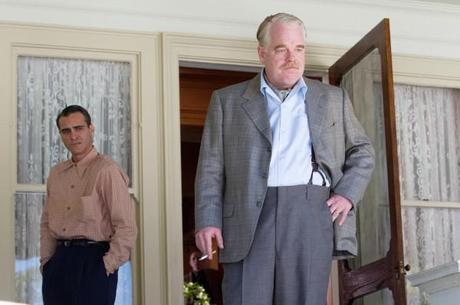 What Freddie doesn't know is that the boat is in the possession of Lancaster Dodd (Philip Seymour Hoffman) who describes himself as "many things," including a writer, doctor, a nuclear physicist, and a theoretical philosopher. Dodd is at the forefront of discovering a new form of spirituality, that has a seemingly cultish following. Freddie, being mentally disturbed on many levels, becomes the perfect guinea pig for Dodd to experiment upon. They both get what they need since Freddie feels compelled to follow a master.
The performances in this film are on another level as to be expected from a Paul Thomas Anderson picture. It's been a long time since Joaquin Phoenix has been in pictures, but this is wonderful return to the big screen. Like Daniel Day Lewis's character in There Will Be Blood, Freddie Quell feels larger than life at times, but can be adequately be described as a loose cannon. After his first outbreak, there's always a lingering fear that he might go off again. Phoenix keeps his same facial demeanor throughout the picture and exemplifies the mental illness plaguing Freddie. On the other side of the coin, Philip Seymour Hoffman holds his own as The Master, Lancaster Dodd. There's a blind ambition within his character, that even though he doesn't believe the words he's written he will convince others that they're scripture. Some of that ambition comes from his wife, Peggy Dodd (Amy Adams), but he is still a man true to his convictions. While Amy Adams does a fine job here, the movie really succeeds on the performances of Phoenix and Hoffman.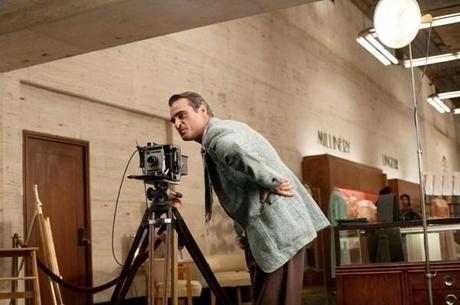 Some other familiar collaborators return from Paul Thomas Anderson movies, most notably, Johnny Greenwood (Radiohead). He comes equipped with another haunting soundtrack. While minimalist at some points, there are scenes where the music completely dictates the feeling of uneasiness. Also of note, Anderson decided to shoot The Master on 70mm. The film is only playing on 35mm in this area, but if it's playing in 70mm its worth checking out.
More so than any other of his films, Anderson's The Master relies solely on the characters to be the fuel for his story. While there are moments of unease and high tension, the story is more of a platform in which Hoffman and Phoenix show their talent. While there will be accolades for the performances, The Master fails to raise the bar from its superior predecessor.