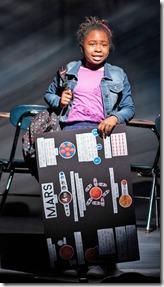 Well-intentioned, but clumsy, world premiere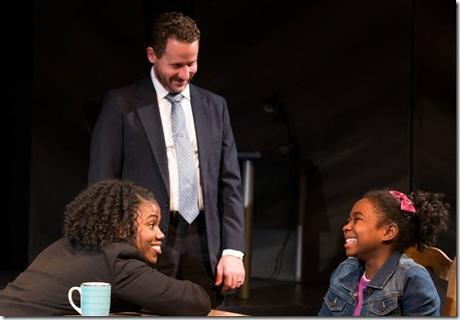 Review by Lauren Whalen
From its program notes to its final line of dialogue, The Mars Assignment is brimming with good intentions. Co-creators Elsa Hiltner and Ronan Marra(the latter also directs) express their intent to show people living with depression, as opposed to using mental illness as a plot point or sole character trait. Two of the characters living with depression in The Mars Assignment are people of color, and one of those is a child. The third channels her struggles in an interesting, creative way. The Mars Assignment succeeds in many ways but sputters in others, and the world's best intentions can't completely make up for a very clumsy script that would have been much more effective with at least one more draft.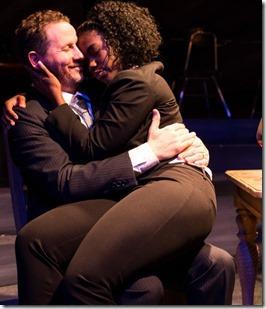 In a series of interlocked vignettes,
The Mars Assignment
chronicles a day in the life of three individuals with depression. Jeff (
Justin Wade Wilson
) is an ad executive who's trying to complete a vital work assignment. Diane (
Georgann Charuhas
) has lived with depression since childhood, and has recently quit her office job to pursue stand-up comedy full-time. And young Alison (
McKenzie Franklin
) must give a presentation to her class, after running out of class last time, sparking concern from her teacher (
Joseph Galizia
) and parents (
Kristin E. Ellis
and
Joe McCauley
). No one commits suicide. No one has one (and only one) groundbreaking session with a therapist. No one cries. Instead, Jeff, Diane and Alison simply exist, dealing with their mental health with results both triumphant and heartbreaking.
Simply put, I really was impressed with what The Mars Assignment was trying to do. If one believes pop culture, depression is not only a plot point or stereotype, but also a phenomenon that primarily affects rich adults (or to be even more specific: rich, white adults). Of course it doesn't work that way in real life: millions live with depression, and many don't fit in the above categories. And it's extremely rare that we see how depression affects children. By showing how depression affects a cubicle dweller, a starving artist and a 10-year-old - only one of whom is white - The Mars Assignment offers a glimpse into the universality of mental illness and is spot-on in terms of representation. Both Charuhas and Wilson's performances are realistic and compelling: virtual slices-of-life from those who have a harder time managing the day-to-day, but are out there trying. Ellis also has some strong moments as Alison's mother Amy, a multitasker and devoted parent doing her best to understand what is happening with her daughter.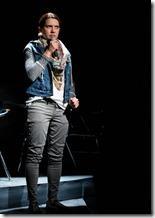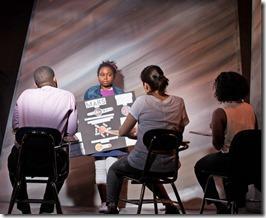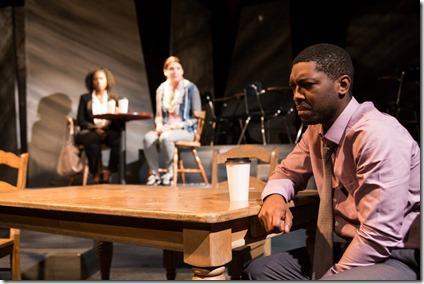 The Mars Assignment 's faults, however, almost overwhelm its successes. Though the play is only 70 minutes long, some of the transitions and blackouts drag, slowing the overall pace. The piece's throughline - Alison's class presentation on the planet Mars - comes off forced and heavy-handed. Alison's character, while appreciated, is clumsily written (granted, it's difficult to write child characters without sounding like an adult trying to write in the voice of a child). It doesn't help that Franklin, while adorable, plays the precocious card a bit too often and doesn't tap into Alison's complexity and vulnerability. In short, The Mars Assignment tries very hard with a difficult subject, but the script could have used rewrites before its public opening.
A note about the post-show talkbacks with NAMI (National Alliance on Mental Illness): The Mars Assignment team may want to allow a bit more time for audience members to gracefully exit before the discussion begins. While discussing mental illness is undoubtedly an excellent outlet for some, there may be spectators who aren't as comfortable. Others may have been triggered by the subject matter and need a quick escape to be alone with their thoughts. Just something for The Mars Assignment to keep in mind.
The Mars Assignment continues through November 20th at Flat Iron Arts Building, 3rd Floor, 1579 N. Milwaukee (map), with performances Thursdays-Saturdays at 7:30pm, Sundays 3pm. Tickets are $20-$30 (students, educators, industry: $10-$15), and are available by phone (312-226-9633) or online through Vendini.com (check for half-price tickets at Goldstar.com ). More information at Collaboraction.org. (Running time: 70 minutes, no intermission)
NOTE: NAMI ( National Alliance on Mental Illness) will participate in post-show talkbacks.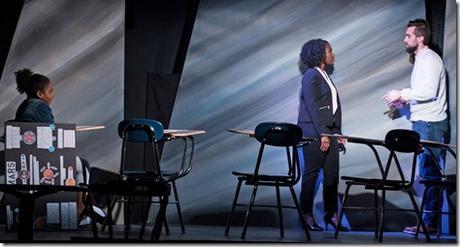 Photos by Joel Maisonet
Understudies: Zoe Lucas (Alison), Schoen Smith (Amy and Diane)
behind the scenes
Ronan Marra (playwright, director), Elsa Hiltner (co-creator, assistant director), Sarah Moeller (producer), Ashley Ann Woods (set design), Maya Michele Fein (lighting design), Anthony P. Ingram (sound design), Caitlin R. Dalton (costume design), Holly McCauley (props design), Michelle Roth (stage manager), Caitlin Body (asst. stage manager), Kelly Butler (production manager), Becca Venable (technical director), Domenic Laury (master electrician), Rae Shuman (graphic designer), Joel Maisonet (photographer)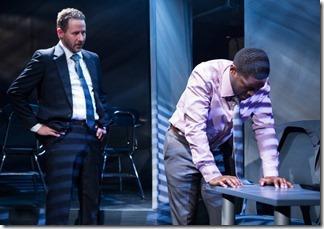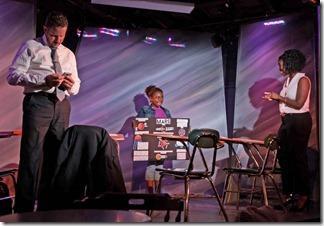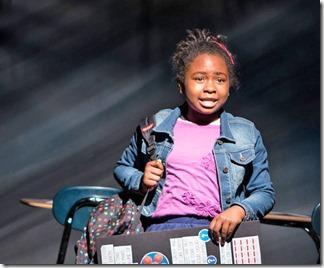 Tags: 16-1064, Anthony P. Ingram, Ashley Ann Woods, Becca Venable, Caitlin Body, Caitlin R. Dalton, Chicago Theater, Collaboraction, Domenic Laury, Elsa Hiltner, Erasing the Distance, Georgann Charuhas, Holly McCauley, Joe McCauley, Joel Maisonet, Joseph Galizia, Justin Wade Wilson, Kelly Butler, Kristin E. Ellis, Lauren Whalen, Maya Michele Fein, McKenzie Franklin, Michelle Roth, NAMI, National Alliance on Mental Illness, post, Rae Shuman, Ronan Marra, Sarah Moeller, Schoen Smith, Zoe Lucas
Category: 2016 Reviews, Collaboraction, Erasing the Distance, Flat Iron Arts Building, Lauren Whalen, New Work, World Premier