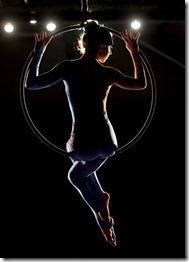 The Magical Exploding Boy
  and The Invisible Circus
Directed by Larry DiStasi  
at Noyes Cultural Arts Center, Evanston (map)
thru March 23  |  tickets: $15-$20   |  more info
  
Check for half-price tickets 
  
  
   Read review
  
---
Magical times and high-flying heroes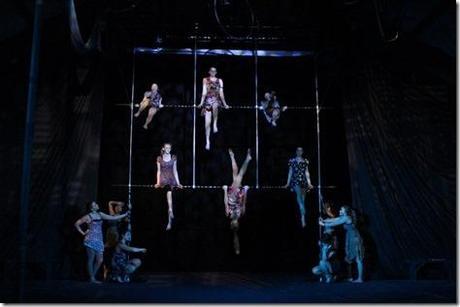 The Actors Gymnasium presents
The Magical Exploding Boy  
   and The Invisible Circus
Review by Kat Hey
The future of circus performing and training is right next-door to Chicago in Evanston. After seeing The Magical Exploding Boy and the Invisible Circus, I remembered what a chicken I was about somersaults and physical feats when I was a kid. It was also a kick in the pants to get to the gym every day. These actor/dancer/athletes are phenomenal, and there is a wonderful story about being unique and amazing in the midst of it all.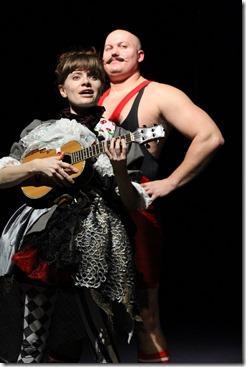 The hero's journey begins with the Magical Exploding Boy (
Dean Evans
) entertaining us with his flea circus. He is also the man behind the fabulous
Honeybuns
entity and a very engaging clown. Here, without the acerbic wit, Evans becomes quite magical and leads the audience into a world that is part L. Frank Baum and part Pink Floyd. The Boy is pushed out of his comfortable world and made to fend for himself in the corporate milieu. He is met by a surreal guide (
Lindsey Noel Whiting
), who encourages him with lilting song. Whiting brings a coterie of characters into The Boy's path. The circus strong man (
Will Howard
) and aerialist
Simone Lazar
join the adventure.
The rest of the ensemble intersects on the journey with astounding physical feats that made my feet tingle. They soar through the air and hold poses that seem impossible without two hands. Javen Ulambayar gives a graceful and hypnotic performance with one of the members of the teen troupe. It is a combination of athletics and dance that is thrilling to watch. The teens and young artists insert vignettes with The Boy, who discovers that he is not fit a modern work ethic that lacks beauty or whimsy.
)
The troupe does a drumming sequence with instruments constructed of a snare drum, accordion laundry exhaust ducts, computer screens and keyboards. They are the forces of homogenization all dressed in khaki trench coats beating with military (albeit very cool) precision. It all leads to The Boy being sucked into the inhumane machine and literally exploding.
The Magical Exploding Boy and The Invisible Circus is an ebullient and thrilling show with something for every imagination. The Actors Gymnasium stages the show beautifully with wonderful lighting, sound and special effects. I recommend this show for a perfect family outing. The imagination of youngsters will be fed and the sentimental warm feelings you get as adults will make you glad you attended.
Rating: ★★★
The Magical Exploding Boy… continues through March 23rd at Noyes Cultural Arts Center, 927 Noyes, Evanston (map), with performances Fridays at 7:30pm, Saturdays at 4:30pm and 7:30pm, Sundays 3pm.  Tickets are $15-$20, and are available online through Vendini.com (check for half-price tickets at Goldstar.com). More information at ActorsGymnasium.org.  (Running time: 90 minutes, no intermission. Note: there is no late seating for this show)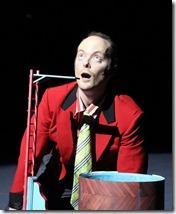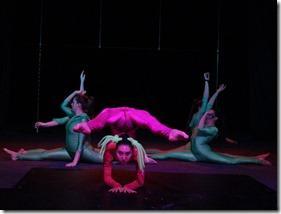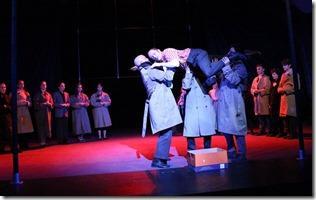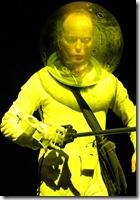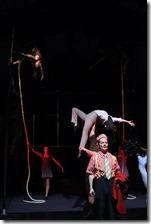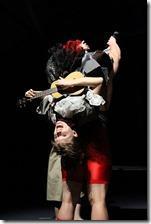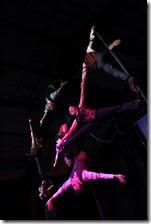 Photos by Kate Tabor
---
artists
professional artists
Dean Evans, Will Howard, Simone Lazar, Javen Ulambayar, Lindsey Noel Whiting
teen ensemble
Nuala Brennan, Madie Doppelt, Justin Durham, Tess Durham, Hannah Fishkin, Sophia Fishkin, Mary Loftus, Talia Neuhaus, Allie Perlman, Stephanie "Sissy" Pomplin, Brendan Sorensen, Alison Tye, Cole Vincent, Maya Wernikoff, Julia White
the young artists
Emerson F. Caitlin, Saylor J. Caitlin, Griffin DiStasi, Sadie Sims, Jude Sims, Asher White
behind the scenes
Larry DiStasi (director), Sylvia Hernandez-DiStasi (circus choreographer), Topeka Ellis (dance choreographer), Greg Hirte (band music composer), Charles Jolls (lighting design), Rick Kubes (percussion composition), Elizabeth Krzyyzanowski, Josephine Lee (choral directors), Connor Murray (sound technician), Rebecca L. Ruge (stage manager), Isaac Schoepp (master carpenter), Bec Willett (props design), Elizabeth Wislar (costume design), Kate Tabor (photos)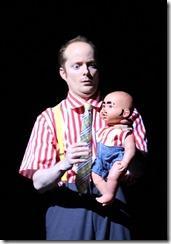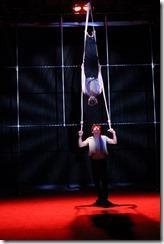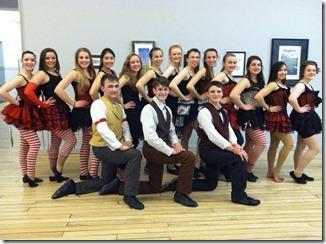 The Teen Ensemble
14-0233