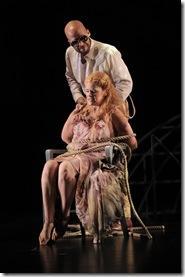 The Magic Flute 
Written by Wolfgang Amadeus Mozart 
Directed by Michael Gieleta
Conducted by Steuart Bedford
at Harris Theater, Millennium Park (map)
thru Sept 23  |  tickets: $45-$125   |  more info
  
Check for half-price tickets 
  
  
   Read entire review
  
---
Thoughtfully modern production keeps this classic engaging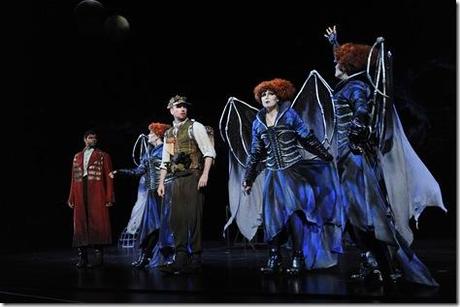 Chicago Opera Theater presents
The Magic Flute
Review by Jasleen Jaswal Vines
Chicago Opera Theater's The Magic Flute (in English with English subtitles) is the third time Mozart's final opera has been produced in Chicago in the last year – but believe me when I say this production is not to be missed. Gone are traditional, staid costumes and by-the-book staging, as seen earlier this year at the Lyric Opera. Instead, director Michael Gieleta, scenic designer James Macnamara, lighting designer Julian Pike, and costume designer Gregory Gale have chosen to challenge their audience with an innovative and interesting production populated by a diverse cast.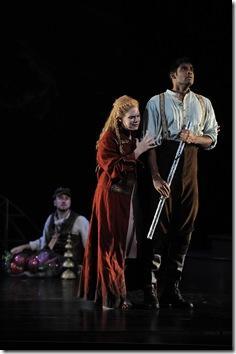 Costume influences range from steampunk to military to Hare Krishna, revealing each character's true nature. The set evokes a sense of being aloft in space, with planets hung from the ceiling and half-orbs pushing up from the ground. A creative use of lighting and screens allows scenes set offstage to play out for the audience.
The opera's direction is forward-thinking as well, choosing to frame its players in control of their destiny rather than along for the ride. Papageno (Markus Beam) can easily be portrayed as a dopey naïf. Instead, Gieleta and Beam give us a man focused on self-preservation – a minor but shrewd character choice, and one that makes for a more interesting bird catcher. Elizabeth Reiter's Pamina is no simp either, played with common sense and gumption rather than damsel in distress. Sean Panikkar's presence is commanding as Tamino, important for a main character that seems to receive less stage time than some peripheral players. The singing, of course, is spectacular, and nowhere is this more evident than when Emily Hindrichs is onstage as a resplendent Queen of the Night. Conductor Steuart Bedford leads a spry orchestra through Mozart's score, adding the final bit of whimsy to an already imaginative production. In all, Chicago Opera Theater succeeds in creating an experience that appeals to all operagoers, whether it's a newcomer learning how to keep up with the subtitles or a regular with their own pair of opera glasses.
Rating: ★★★½
The Magic Flute continues through September 23rd at Harris Theater, 205 E. Randolph (map).  Tickets are $45-$125, and are available by phone (312-334-7777) or online at HarrisTheaterChicago.org (check for half-price tickets at Goldstar.com). More info at ChicagoOperaTheater.org.  (Running time: 3 hours, includes an intermission.  Sung in English with English supertitles.)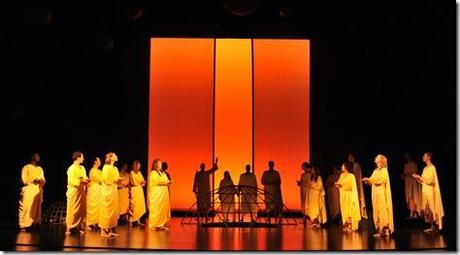 Photos by Liz Foreman
---
artists
cast
Markus Beam (Papageno); Leila Bowie (First Lady); Bruce Hall (Speaker); Julie Elise Hardin (Second Lady); Emily Hindrichs (Queen of the Night); Henry Lunn (First Boy); Andrew Peck (Second Boy); Duncan Johnson (Third Boy); Alex Mansoori (Monostatos); Sean Panikkar (Tamino); Elizabeth Reiter (Pamina); Girgory Soloviov (Sarastro); Matthew Newlin (First Priest); Adam Hendrickson (Second Priest); Drew Ladd (First Armored Man); Loren Battieste (Second Armored Man); Catherine Shuman, Catherine Spitzer, Megan Rose Williams (chorus sopranos); Louise Rogan, Corrie Stallings, Carolyn Jeanette Stein (chorus mezzos); Zeshan Bagewadi, Scott Brunscheen, Drew Duncan, William Dwyer, Drew Ladd, Matthew Newlin (chorus tenors); Loren Battieste, Matthan Ring Black, Neil Edwards, Adam Lance Hendrickson, Nikolas Wenzel (chorus basses)
behind the scenes
Steuart Bedford (conductor); Michael Gieleta (director); James Macnamara (set); Gregory Gale (costumes); Julian Pike (lighting); Stephen Hargreaves (asst. conductor, chorus master); Anya Plotkin (production stage manager); Donald E. Claxon, Jayme O'Hara (asst. stage managers); Kristen Barrett (asst. director); Rick Combs (tech director); David Lee Bradke (asst. lighting, lighting supervisor); Maria DeFabo (props supervisor); Janice Pytel (asst. costumes); Jay Sangster (wardrobe supervisor); Lana McKinnon (wigs, makeup); Dawn-Marie Hamilton, Staci Weigum (wardrobe run crew); Susanne Miller (wig and makeup staff); Liz Foreman (photos)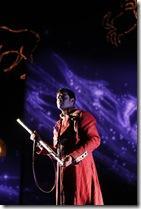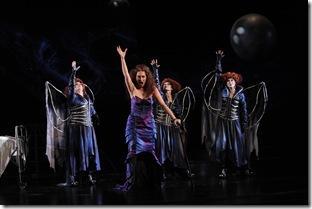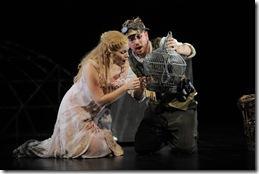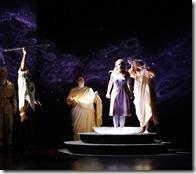 12-0934