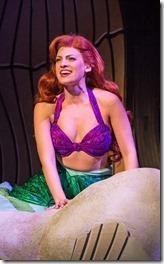 Spectacular sights and vocals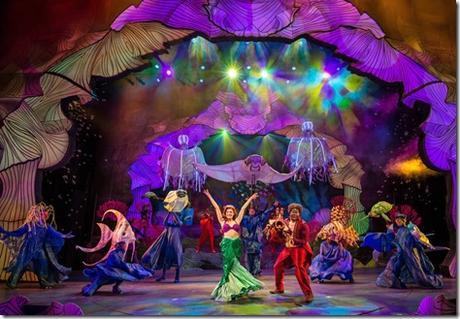 When Disney hired Alan Menken and Howard Ashman to write songs for the animated musical The Little Mermaid , a whole new chapter in Disney history and film history began. Those off-Broadway musical theater writers, who'd had a huge hit with Little Shop of Horrors, brought a disciplined, classic musical theater approach to Disney family musicals. Mermaid was their first for Disney and a decent-sized hit, but it was their second, Beauty and the Beast, that eventually took Menken to Broadway. (Ashman died two years before Beauty debuted on Broadway). The Lion King, written by Elton John and Tim Rice, is of course a legend and Menken and Ashman's Aladdin is well on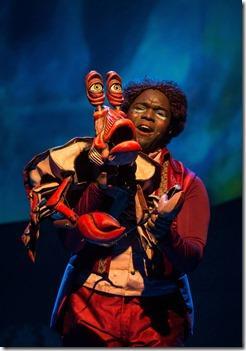 its way to that status, but the original Broadway run of
The Little Mermaid
lasted just under 20 months, a short run in comparison. According to reviews, that staging by
Francesca Zambello
was fairly free of spectacle and special effects - an odd choice for a story set mostly under the sea - and audiences largely took a pass. Disney later put together a European stage tour that was reportedly more spectacular, and right now there's a production by Seattle's
Fifth Avenue Theatre
that will go on tour. But we've never had a full Disney-style national touring company of
The Little Mermaid
, so far as I can tell. This Paramount Theatre production seems to be determined to fill that void for Chicago-area audiences with a grand-scale, effects-laden show, but performed by a cast that could probably win over audiences even without all that visual aids.
Though the cast is mostly local, it includes California's Kari Yancy, who brings a powerful yet girlish voice to the title character and easily sells numbers like her big ballad, "Part of Your World." Her Prince Eric is the big-voiced but boyish Devin DeSantis, who I hadn't seen onstage since he was one of the Altar Boyz at the old Drury Lane Water Tower Place. Yancy and DeSantis bring a lovable innocence to their characters that's entirely winning. Their main nemesis - the octopus Ursula who makes a devilish deal with mermaid Ariel to trade her voice for legs so Ariel can travel to the surface and woo Prince Eric - is Christina Hall, who earns a lot of laughs while belting out a storm. Evan Tyrone Martin is a golden-voiced King Triton and effectively made up to look age-appropriate as Ariel's father. Jonathan Butler-Duplessis could be funnier as the Ariel's crab chaperone Sebastian, but charms enough as well as selling the show's two big numbers: "Under the Sea," and "Kiss the Girl." There's solid supporting comic work from George Keatingin dual roles as Eric's guardian Grimsby and the palace Chef Louis, along with nice turns by Michael Ehlers as Ariel's seagull friend Scuttle and Adam Fane and John Adam Keating as the evil eels Flotsam and Jetsam. They're all supported musically by a full-sounding orchestra led by music director Tom Vendafreddo.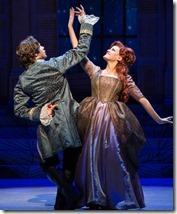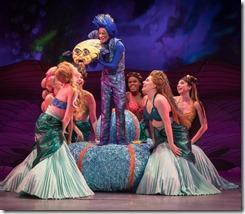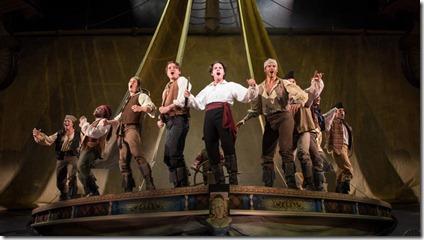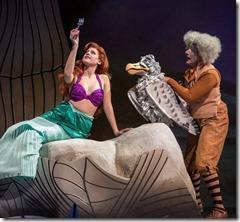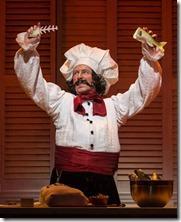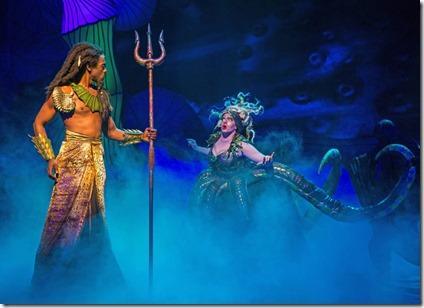 Director/choreographer has put together quite the visual feast as well. Her actors move along the stage by walking in a way that looks believably like movement through water. With the help of aerial wires, they can rise toward the water's surface. Most of the sea animals are hand puppets voiced and manipulated by the actors, a la The Lion King, and Mak's "Under the Sea" production number evokes favorable comparisons to The Lion King's "Circle of Life," even if it doesn't surpass it. Jellyfish float down from the flies, starfish on poles seemingly glide through the water and Jesse Mooney-Bullock's array of puppets constantly surprise, complemented by Theresa Ham's ingenious and colorful costumes on the actors operating them. The undersea world of Jeffrey D. Kmiec's set is framed by two proscenium arches suggesting seashell - and when on land Kmiec's design work uses handsomely painted backdrops aided by Mike Tutaj's projections. Jesse Klug's lighting design puts a magical glow on it all, especially in the show's other big number; "Kiss the Girl," as Ariel and Eric paddle on a lagoon.
It's not produced by Disney, but it's clearly a Disney-style production in the tradition of their big shows. The original film score has been greatly (and nicely) expanded by Menken and lyricist Glenn Slater, but the original big three songs - "Part of Your World," "Kiss the Girl" and "Under the Sea" remain the highlights of this score. As a dramatic piece, Doug Wright's book feels stretched (to give stage audiences the expected 2.5 hour show rather than the film's original hour and twenty-minute run time), and it's certainly nothing weighty. Menken and Ashman knew the musical theater art form from early on, though, and this musical that began as a children's animated film makes for a satisfying stage experience as presented here.
The Little Mermaid continues through January 8 January 15th at Paramount Theatre, 23 E. Galena, Aurora (map), with performances Wednesdays at 1:30pm & 7pm, Thursdays 7pm, Fridays 8pm, Saturdays 3pm & 8pm, Sundays 1pm & 5:30pm. Check website for extension days and times. Tickets are $44-$59, and are available by phone (847-896-6666) or online through their website (check for half-price tickets at Goldstar.com ). More information at ParamountAurora.com. (Running time: 2 hours 30 minutes, includes 15-minute intermission)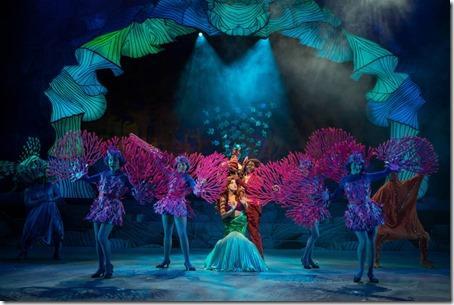 Photos by Liz Lauren
(Ariel), Devin DeSantis (Prince Eric), Murphy Byrne and Ricky Falbo (alternating as Flounder), Evan Tyrone Martin (King Triton), Christina Hall (Ursula), Jonathan Butler-Duplessis (Sebastian), (Flotsam), John Adam Keating (Jetsam), George Keating (Grimsby, Chef Louis), Michael Ehlers (Scuttle), Aaron Patrick Craven , Ciera Dawn, Gilbert Domally, Megan E. Farley, Allyson Graves, Madison Kauffman, Kayla Kennedy, Eric A. Lewis, Mallory Maedke, Jake Morrissy, Zoe Nadal, Maurice Randle Jr., Rob Riddle, Haley Jane Schafer, , Anthony Sullivan Jr., Charlie Ward, J Tyler Whitmer (ensemble).
behind the scenes
(director, choreographer), Tom Vendafreddo (music director), Jeffrey D. Kmiec (scenic design), (lighting design), Adam Rosenthal (sound design), Theresa Ham (costume design), (projection design), Katie Cordts (wig, hair and make-up design), Trent Stork (associate director), Megan E. Farley (associate choreographer), Kory Danielson (assistant music director, associate conductor), Jesse Mooney-Bullock (puppet designer), Amanda Relaford (properties director), Susan Gosdick (dialect coach), Jinni Pike (stage manager), Jonathan D. Allsup (assistant stage manager), Liz Lauren (photos)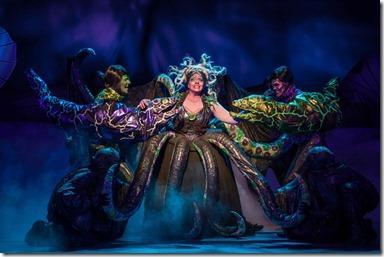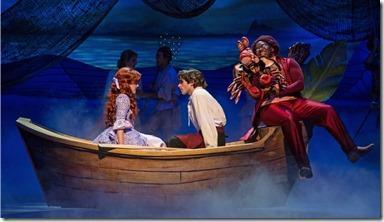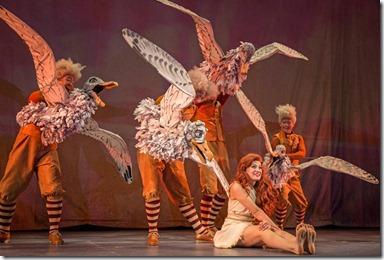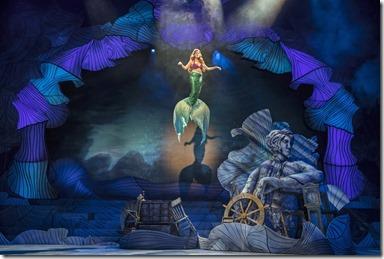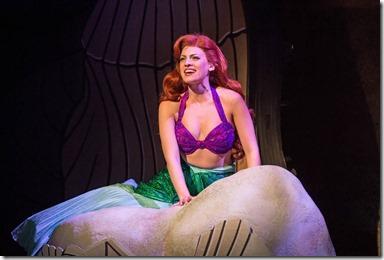 Tags: 16-1163, Aaron Patrick Craven, Adam Fane, Adam Rosenthal, Alan Menken, Allyson Graves, Amanda Relaford, Amber Mak, Anthony Sullivan Jr., Charlie Ward, Chicago Theater, Christina Hall, Ciera Dawn, Devin DeSantis, Doug Wright, Eric A. Lewis, Evan Tyrone Martin, Fifth Avenue Theatre, Francesca Zambello, George Keating, Gilbert Domally, Glenn Slater, Haley Jane Schafer, Howard Ashman, J. Tyler Whitmer, Jake Morrissy, Jeffrey D. Kmiec, Jesse Klug, Jesse Mooney-Bullock, Jinni Pike, John Adam Keating, John Olson, Jonathan Butler-Duplessis, Jonathan D. Allsup, Kari Yancy, Katie Cordts, Kayla Kennedy, Kory Danielson, Liz Lauren, Madison Kauffman, Mallory Maedke, Maurice Randle Jr., Megan E. Farley, Michael Ehlers, Mike Tutaj, Murphy Byrne, Paramount Theatre, post, Ricky Falbo, Rob Riddle, Susan Gosdick, Theresa Ham, Tom Vendafreddo, Trent Stork, Will Skrip, Zoe Nadal