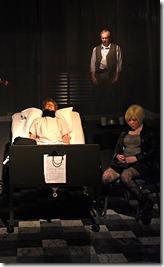 The Little Flower
of East Orange
Excellent end to fantastic season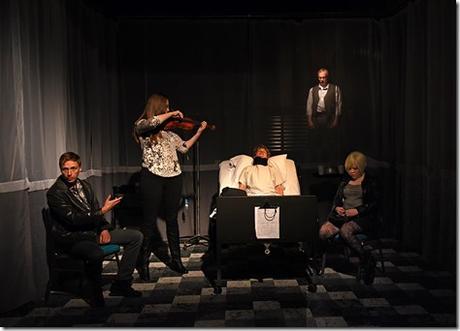 Review by Lauren Whalen
Since 1997, Eclipse Theatre Company has had the unique mission of "one playwright, one season." I first reviewed them in 2012 for Eugene O'Neill's Ah, Wilderness! (featuring then up-and-comer Alex Weisman), and have since seen or reviewed one Eclipse production per season (Alan Ayckbourn's Woman in Mind, Lynn Nottage's Ruined and Terrence McNally's The Lisbon Traviata). This past year, I've had the pleasure of reviewing all three productions of Eclipse's Stephen Adly Guirgis season, which may be their finest and richest yet. As my viewing companion observed, no one is better than Guirgis at penning an authentic conversation, and this skill can often successfully overwhelm any imperfections on the part of writer, actor or director. The Little Flower of East Orange isn't perfect, but as a modern-day homage to The Glass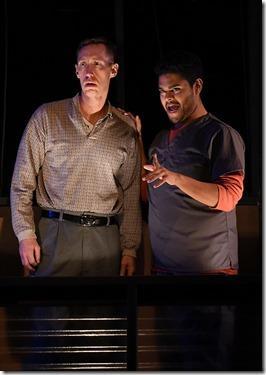 Menagerie, a fable of generational Catholic guilt and a testament to complex family relationships, it's damn near perfect.
Little Flower 's narrator, Danny (John Henry Roberts), is a talented writer whose success is compromised with a nasty drug habit and a borderline unhealthy relationship with his mother, Therese (Jeannie Affelder). Danny is now in prison undergoing mandatory counseling, and he narrates his mother's final days, beginning in a hospital where no one knows her name. Drifting in and out of consciousness, Therese bonds with her lively aides (and Donovan Diaz), locks horns with her physician (Omer Abbas Salem) and flashes back to her childhood with a father ( Michael Stark) who self-medicates his hearing loss with alcohol. Self-sacrificing to the end, Therese (named for the ultimate self-sacrificing Catholic saint) struggles to make her own choices, while failing to see the issues she's bequeathed to her own children.
Guirgis' script gets off to a slow start but packs an emotional wallop, deftly incorporating the collision of past and present, the positive and negative ramifications of faith and the tragedy of abuse. Never does he descend into "grief porn" or lionize a mother who's made her fair share of long-lasting errors with her offspring. Both Danny and his sister Justina (Jess Maynard) are intelligent and artistically gifted, but broken in different ways: Danny depends on substances to get through the day, and Justina is weary and bitter. And Guirgis is careful to show the tender side of Therese's father, giving the audience empathy for Therese and the compromises she made to preserve her family. Little Flower 's second act confrontation between Danny and Therese is one of the most powerful scenes I've seen in Chicago theater all year. Guirgis' genius dialogue is in full force, and there's no clear protagonist or antagonist. Just like in real life and real family, all lines are blurred, the areas completely gray.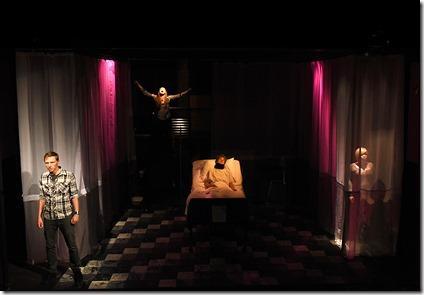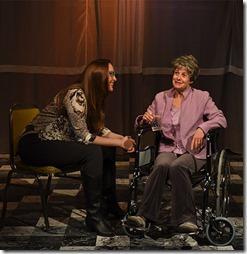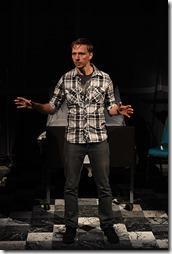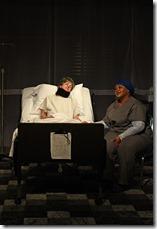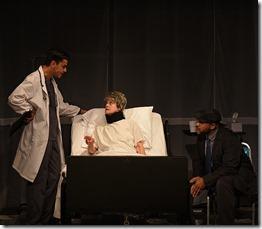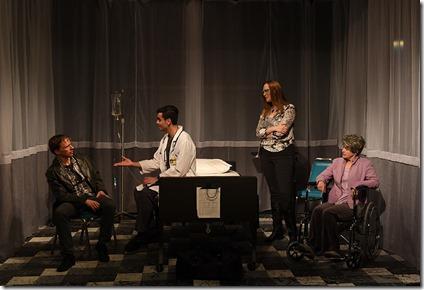 Only a few inconsistent performances keep the production from perfection. Affelder is a mostly effective Therese, but sometimes forces emotion. Maynard is perhaps the weak link of the cast ('weak' being relative), often playing the multifaceted Justina as a one-note spoiled brat until it's too late to convince the audience otherwise. Thankfully, the rest of the players make up for it: as the hospital staff, Salem, Joy and Diaz are sharp and funny, and Stark (who gave a beautiful performance in last season's R+J: The Vineyard at Red Theatre) deserves utmost kudos for his thoughtful portrayal of a very complicated man. And Roberts is always a treat to watch: he incorporates messy, beautiful, confusing life into the most minor of characters. His Danny is an admittedly unreliable narrator, sorting through his own terrible decisions and fighting his conflicted feelings every step of the way.
Eclipse has a challenge on their hands: topping this fascinating 2016 season. Guirgis is the ideal playwright for the company's mission: openly embracing the brutality and beauty of the human existence. The Little Flower of East Orange is both tragic and strangely optimistic, leaving the audience hopeful that all of the characters will get exactly what they are seeking. Even if that's just better-quality crack.
The Little Flower of East Orange continues through December 18th at Athenaeum Theatre, 2936 N. Southport (map), with performances Thrusdays-Saturdays at 7:30pm, Sundays 2pm. Tickets are $30 (seniors/students: $20), and are available by phone (773-935-6875) or online through OvationTix.com (check for half-price tickets at Goldstar.com ). More info at EclipseTheatre.com. (Running time: 2 hours 20 minutes, includes an intermission)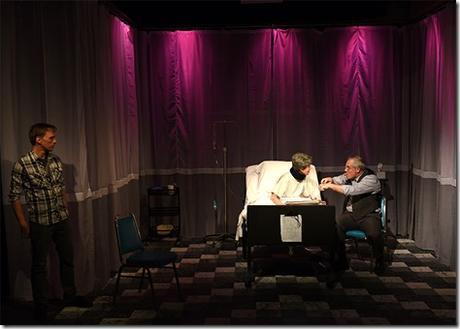 Jeannie Affelder (Therese Marie), Jess Maynard (Justina, Aunt Margaret), (Magnolia, Pope John XXIII), Marc Rogers (Detective Baker, Jimmy Stewart, Father Lander), Ashley Hicks (Nadine, Cathleen), Omer Abbas Salem (Dr. Shankar), Michael Stark (Francis James), John Henry Roberts (Danny), John Arthur Lewis (David Halzig, Bobby Kennedy, Uncle Barney), Donovan Diaz (Espinosa), Jean Marie Koon (u/s Therese Marie), Emilie Modaff (u/s Justina, Nadine), Felisha McNeil (u/s Magnolia)
behind the scenes
Steve Scott (director), Kevin Hagan (scenic design, lighting design), Zack Berinstein (composition, sound design), Rachel Lambert (costume design), Vanessa Thomas (properties design), Katie Vandehey (dramaturgy), Emily Antoff (assistant director), Jennifer Gregory (stage manager), Emma Horvath (asst. stage manager), Kathy Logelin (dialect coach), Kristin Schmitz (production sign language interpreter), Ashley Bowman, Kathleen Dickinson (production managers), JP Pierson (casting director), Kevin Scott (managing director), Nat Swift (artistic director), (photographer)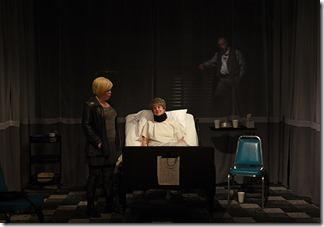 Tags: 16-1116, Ashley Bowman, Ashley Hicks, Athenaeum Theatre, Chicago Theater, Donovan Diaz, Ebony Joy, Eclipse Theatre, Emilie Modaff, Emily Antoff, Emma Horvath, Felisha McNeil, Jean Marie Koon, Jeannie Affelder, Jennifer Gregory, Jess Maynard, John Arthur Lewis, John Henry Roberts, JP Pierson, Kathleen Dickinson, Kathy Logelin, Katie Vandehey, Kevin Hagan, Kevin Scott, Kristin Schmitz, Lauren Whalen, Marc Rogers, Michael Stark, Nat Swift, Omer Abbas Salem, post, Rachel Lambert, Scott Dray, Stephen Adly Guirgis, Steve Scott, Vanessa Thomas, Zack Berinstein
Category: 2016 Reviews, Athenauem, Eclipse Theatre Company, Lauren Whalen, Stephen Adly Guirgis