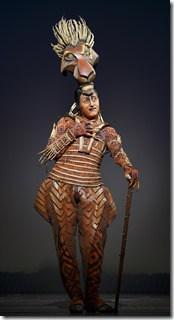 The Lion King  
Music/Lyrics by Elton John & Tim Rice
Book by Roger Allers and Irene Mecchi
Cadillac Palace, 151 W. Randolph (map)
thru Jan 17 |  tix: $35-$180  | more info
  
Check for half-price tickets 
---
Put this cat on your bucket list!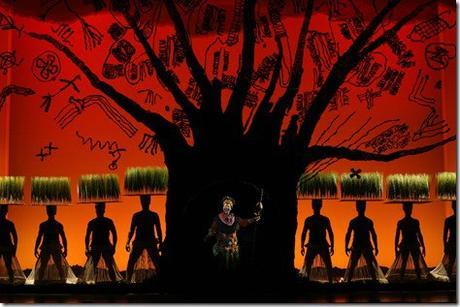 Broadway in Chicago presents
The Lion King
Review by John Olson
The first time one sees this show, it's generally the opening number – "The Circle of Life" – with the parade of animals coming to honor the birth of the new prince cub – that people notice and remember. Even on repeated viewings, and this is my third, the life-sized puppets – especially the elephants – continue to amaze. I've seen real elephants in the wild in Africa. They're amazing, but Julie Taymor's puppet elephants are no less so. But what awes me the most, reflecting on this third visit to The Lion King, is how it defies all the "rules." Huge popular hits – and this is one of the hugest – aren't expected to be high art. Shows with nine credited writers (eleven if you count the writers of the screenplay on which the musical is based) more often end up a creative muddle rather than a unified whole. Somehow this enterprise defies the odds and successfully combines world music with Brit pop and ballet with fart jokes and makes it all work.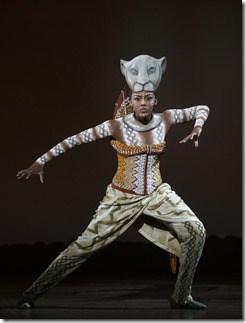 As a big corporate property – for years it was Disney's highest grossing animated film – one would fear that top management would stick their fingers in and mess it up. Somehow, and that somehow has to be director and costume/puppet designer Taymor – a singular vision was achieved and the result is popular art that succeeds both as popular and as art. It's now the third longest-running show in Broadway history, having passed
Cats
(appropriately enough) sometime last month. In spite of its huge team of writers – suggesting creation by committee – it all works. The score seamlessly combines
Elton John
and
Tim Rice
's hit songs including "Can You Feel the Love Tonight?" and "Hakuna Matata" with authentic-sounding African music by South African-born
Lebo M
, American
Mark Mancina
and German-born
Hans Zimmer
. And while the book has a good deal of comedy – including the aforementioned fart jokes courtesy of the warthog character, Pumbaa – there's a grace and majesty to it. It takes its Shakespearean roots (
Hamlet
) as well as its message of ecology (when the lions over-hunt their pride lands) quite seriously. The all-animal cast of characters includes its comic figures, but the majority are depicted with respect.
When The Lion King won the Tony Award for Best Musical over the critically regarded Ragtime in 1998, there were comments that Ragtime was superior in a literary sense – that The Lion King won for its production values. Maybe so – it was a competitive year – but the visual design of The Lion King – with its distinctive point of view on how the animals should look and move was unprecedented and has yet to be surpassed. If the show can't (or shouldn't) be done in scaled-down productions by regional or community theaters, the good news is that Disney has kept the original production alive and vibrant on Broadway for 18 years and on tour for nearly that long – never letting the quality or freshness of the performances sag or allowing costumes or puppets to become visibly frayed. So, any review of The Lion King is going to be a check-in of sorts to make sure everything is still ok.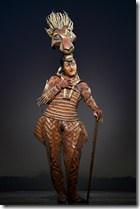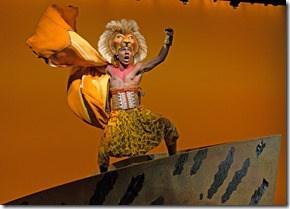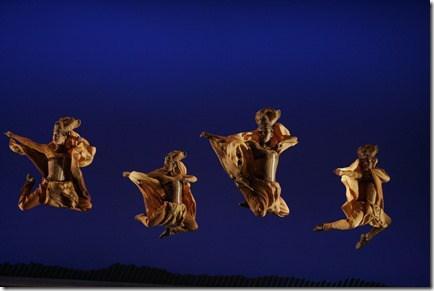 And yes, with this touring company that opened up shop at the Cadillac Palace on December 2 and will stay through mid-January, the production is still in good shape and good hands. For the opening week, and through December 9, Simba is played by Blaine Alden Krauss, a 2014 graduate of Cincinnati College-Conservatory who has unusual intensity as the troubled prince. Patrick R. Brown has just the right mixture of George Sanders and Jeremy Irons to be a charming but villainous Scar, while Gerald Ramsey combines a parental firmness with compassion and bravery as his brother Mufasa – the Lion King Scar kills in order to take the throne for himself. Nick Cordileone, Drew Hershfield and Ben Lipitz deliver the laughs in the comic characters Timon the meerkat, Zazu the hornbill and Pumbaa the warthog. South African singer Mukelisiwe Goba as the mandrill Rafiki stunningly belts out the chanting of "The Circle of Life" and other numbers. Nia Holloway as Nala and Tryphena Wade as Queen Sarabi are strong lionesses who keep things together after Mufasa is killed and Simba is banished by Scar. On opening night, Tré Jones and Mikari Tarpley were thoroughly professional and endearing as Young Simba and Young Nala. They share their roles with BJ Covington and Savanna Fleisher, respectively.
Looking at the continued appeal of the piece and the unexpected way it was visualized by Ms. Taymor, it's not hard to see why producers and investors trusted her with $65 million for the musical Spiderman: Turn Off the Dark. That notorious musical didn't turn out so well, but we can respect Taymor for trying to create something totally different. She may do it again someday, but she'll always be remembered for bringing these beautiful animals to the stage – and in so doing, bringing many new young audiences into the theater.
Rating: ★★★★
The Lion King continues through January 17th at Cadillac Palace Theatre, 151 W. Randolph (map).  Tickets are $35-$180, and are available by phone (800-775-2000) or online through Ticketmaster.com (check for half-price tickets at Goldstar.com). More info and a complete performance schedule at BroadwayInChicago.com or LionKing.com.  (Running time: 2 hours 30 minutes, includes an intermission)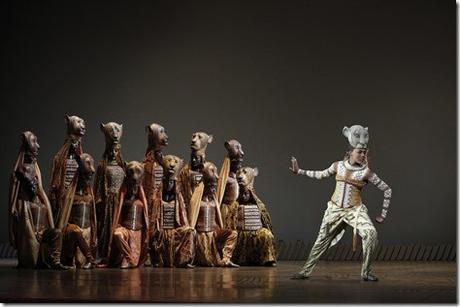 Photos by Joan Marcus
---
artists
cast
Patrick R. Brown (Scar), Gerald Ramsey (Mufasa), Mukelisiwe Goba (Rafiki), Nick Cordileone (Timon), Drew Hirshfield (Zazu), Ben Lipitz (Pumbaa), Blaine Alden Krauss (Simba), Nia Holloway (Nala), Keith Bennett (Banzai), Tiffany Denise Hobbs (Shenzi), Robbie Swift (Ed/understudy Pumbaa, Timon and Zazu), BJ Covington, Tré Jones (alternating as Young Simba), Mikari Tarpley, Savanna Fleisher (alternating as Young Nala), Taprena Michelle Augustine, Kyle R. Banks, Raymond Baynard, Russell Joel Brown, Amyia Burrell, Darilyn Castillo, Thembelihle Cele, Leroy Church, Erynn Marie Dickerson, J. E. Johnson, Roderick Lawrence, Amber Mayberry, Tonoccus McClain, Aisha Mitchell, Matthew S. Morgan, Selena Moshell, Sihle Ngema, Lilli-Anne Parks, Rob Parks, Kevin Petite, Yael Pineda-Hall, Mpume Sikakane, Vusi Sondiyazi, Thandazile A. Soni, Derrick Spear, Tryphena Wade (ensemble); Andrew Arrington, Mykal Ashlee, Kalilah Black, Izell O. Blunt, Deidra Halley, Kendra Moore, Phylicia Pearl, Frank Wright II (swings, understudies); Tony Freeman (standby for Scar, Zazu, Timon and Pumbaa), Michael Hollick (standby Scar and Pumbaa).
behind the scenes
Julie Taymor (director, costume designer), Garth Fagan (choreographer), Richard Hudson (scenic design), Donald Holder (lighting design), Julie Taymor and Michael Curry (mask and puppet design), Steve Canyon Kennedy (sound design), Michael Ward (hair and makeup design), Anne Quart (associate producer), Clement Ishmael (music supervisor), John Stefaniuk (associate director), Marey Griffith (associate choreographer), Thomas Schlenk (general manager), David Benken (technical director), M. William Shiner (production stage manager), Doc Zorthian (production supervisor), Rick Snyder (music direction), Robert Elhai (associate music producer), Michael Keller (music coordinator), Rick Sordelet (fight director), Mark Mancina (music produced for the stage and additional score), Lebo M (additional vocal score, vocal arrangements and choral director), Robert Elhai, David Metzger (orchestrations), Jay Rifkin, Julie Taymor, Hans Zimmer (additional music, lyrics), Binder Casting, Mark Brandon CSA (casting), Joan Marcus (photos)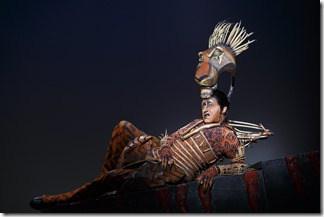 15-1212\