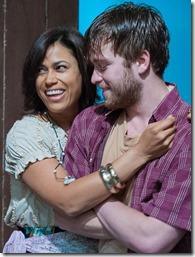 The Late Henry Moss
Written by Sam Shepard 
Directed by Kaiser Ahmed
at The Artistic Home, 1376 W. Grand (map)
thru Aug 3  |  tickets: $28-$32   |  more info
  
Check for half-price tickets 
  
  
   Read review
  
---
Midwest premiere nails a challenging script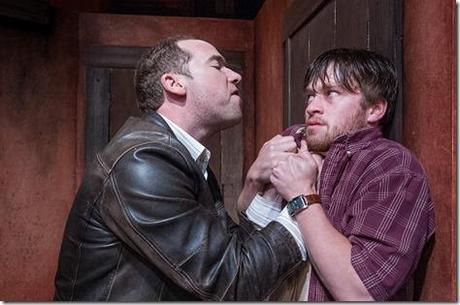 The Artistic Home presents
The Late Henry Moss
Review by Keith Glab
One of Sam Shepard's less-known plays, The Late Henry Moss nevertheless explores the prevalent Shepardian themes of a dysfunctional sibling rivalry and an abusive, alcoholic father. This particular piece dials up the surrealism and quirky characters Shepard favors, particularly as staged by Kaiser Ahmed.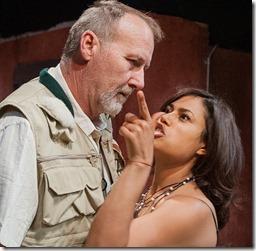 Earl Moss (
David Vogel
) has been living in his late father's house for three days with the corpse lying untouched in the bed. Earl winds up as the least unusual character in the piece, however. His estranged younger brother Ray (
Tim Musachio
) is volatile and perhaps even bipolar, switching from reasonable and calculating to violent and domineering at a moment's notice. He suspects that his older sibling knows more about their father's death than he lets on, and sets to unravel events involving a pragmatic yet dim-witted taxi driver (
Julian Hester
), an unnaturally friendly neighbor named Esteban (
Arvin Jalandoon
), and Henry's supernaturally seductive young girlfriend, Conchalla (
Yadira Correa
).
Two flashback sequences dominate the piece. During these, Frank Nall delivers a James Cromwelleqsue performance as the eccentric titular character. The enchanting Conchalla has convinced Henry Moss that he's dead, so he hires the unwitting cab driver primarily to somehow prove that he is not. These larger than life characters interact, sometimes making choices that are difficult to understand, but the action is nevertheless completely engrossing due to the skill of the actors. Shepard gives each character a lot to say and do, and The Artistic Home's production doesn't let the playwright down in their portrayals.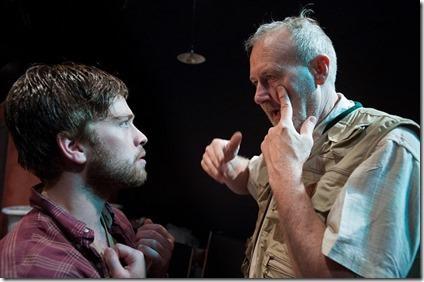 This kitchen sink drama in a desert setting also fits Shepard's niche, and Jacob Bray's filthy set with antiquated appliances stages the domestic disputes admirably. The lighting design wasn't available opening night, so it's a credit to everyone involved that Conchalla's unearthliness still came off as clear, though Correa herself deserves particular praise in this regard. One minor quibble is that the fight choreography lacks authenticity in spots.
Still, everyone onstage is fully committed to what is happening, a necessary element for an avant-garde production such as this. The exceptional performances alone make the show worthwhile, but the material itself has a lot going for it. Absurdist humor, vibrant characters, family drama, and sex appeal can be found throughout. Go see the superbly-executed Midwest premiere of The Late Henry Moss before it's too late.
Rating: ★★★½
The Late Henry Moss continues through August 3rd at The Artistic Home, 1376 W. Grand (map), with performances Thursdays at 7:30pm, Fridays and Saturdays 8pm, Sundays 5pm.  Tickets are $28-$32, and are available by phone (312-243-3963) or online through OvationTix.com (check for half-price tickets at Goldstar.com). More information at TheArtisticHome.org.  (Running time: 2 hours 10 minutes, includes an intermission)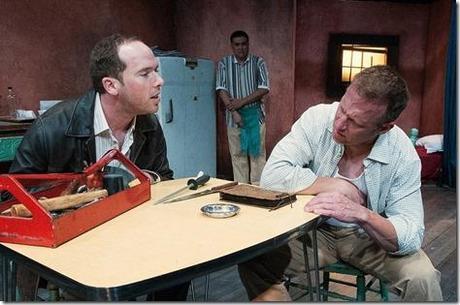 Photos by Tim Knight 
---
artists
cast
Frank Nall (Henry Moss), Yadira Correa (Conchalla), David Vogel (Earl Moss), Tim Musachio (Ray Moss), Arvin Jalandoon (Esteban), Julian Hester (Taxi Driver), Jae K. Renfrow, Dylan Jost (funeral attendants)
behind the scenes
Kaiser Zaki Ahmed (director), Kathy Scambiatterra (production stage manager), Roxie Kooi (stage manage), Jacob Bray (set design), Scott Pilsbury (lighting design), Delia Ridenour (costume design), Thomas Dixon (sound design), Gerry Fabbri, Mary McClenahan (props design), Dylan Jost (technical director), Jen Dorman (graphic design), Dylan Jost (technical director), Tim Knight (photos)
14-0640