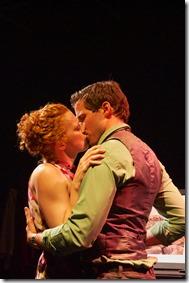 The Last Five Years
Written by Jason Robert Brown
Directed by John D. Glover
at Theater Wit, 1229 W. Belmont (map)
thru Aug 25  |  tickets: $32   |  more info
  
Check for half-price tickets 
  
  
   Read entire review
  
---
A beautiful heartbreaker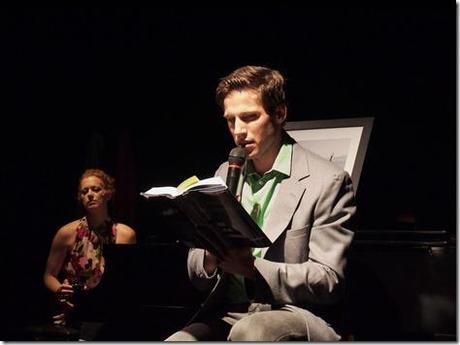 Kokandy Productions presents
The Last Five Years
Review by Lauren Whalen 
When done right, The Last Five Years is devastating. Jason Robert Brown's one-act musical chronicle of a doomed relationship is equal parts lovely and draining. It's at once very easy to produce (a two-person cast, a minuscule orchestra, a concert-style setting with almost no production values) and very hard (the two people must convey five years together in 90 minutes while belting intricate melodies and only interacting once). Additionally, The Last Five Years' gorgeous, intense score and utter relatability have led to the musical's cult following. As if all this pressure weren't enough, Kokandy Productions ups the stakes by having its two actors accompany each other on piano, effectively never leaving the stage. The result could have been disastrous. Instead, it's one of the best productions I've seen all year.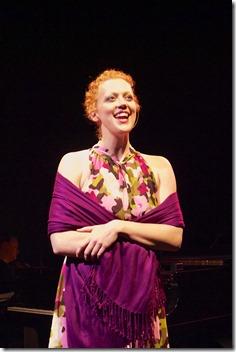 Based in part on Brown's own failed marriage,
The Last Five Years
follows two artistic souls on contrasting ends of the success spectrum. Novelist Jamie Wellerstein (
Jim DeSelm
) goes from Columbia student to overnight sensation, while actress Catherine Hiatt (
Allison Hendrix
) can't catch a break in New York, and is forced to tour Ohio every summer with former strippers and their pet snakes. None of this matters, because Jamie and Cathy are madly in love – until they aren't. The relationship's story unfolds in alternating solo songs (with the exception of a wedding duet), in opposite directions: Cathy begins by finding a "Dear John" letter and Jamie starts after the couple's first date.
Brown's music and lyrics, and the occasional bit of spoken dialogue, are rife with complexity: in the soaring notes, the full range of emotions (with a healthy dose of humor) and the characterization of the couple. Jamie and Cathy aren't caricatures of a brooding writer and a manic pixie dream girl, they're fully fledged humans with baggage. The heart of The Last Five Years is right there in the score: no bells and whistles necessary, just two dedicated and able actor-singers and a heck of a pianist (or two, in this case). Director John D. Glover displays the utmost understanding and appreciation of these needs. He doesn't get elaborate with lighting, costumes or props. Besides DeSelm and Hendrix on baby grands, there's Kimberly Lawson on violin and Lilianna Zofia Wosko on cello. Zachary Gipson's set is nothing more than an easy chair and a couple of coat racks with Robert S. Kuhn's costume pieces (the actors wear one basic outfit each and add or subtract accessories as necessary). Glover's staging is just as simple, letting Brown's words and music speak and sing. No frills needed.
Last year I reviewed, and enjoyed, DeSelm's lead performance in BoHo's Floyd Collins and Hendrix's music direction in Kokandy's The Great American Trailer Park Musical. I was cautiously optimistic about their potential in The Last Five Years. Though Hendrix is a stronger pianist and DeSelm is a stronger singer, they create a perfect balance and a relationship that's ill-fated from the beginning but had me rooting for them until the end. DeSelm's gregarious yet introspective Jamie is slightly more fleshed out than Hendrix's goofy, mellifluous Cathy, but it's easy to see what attracted each to the other, how ridiculously young and idealistic they are, and why the coupling really never stood a chance. Thanks to the actors' thoughtful music direction, every syllable and riff is packed with nuance, and even lighter moments like, Jamie's holiday fable "The Schmuel Song," left me fighting unexpected tears.
As sex columnist Dan Savage is fond of saying, all of your relationships will end until one doesn't. That said, by a certain time in everyone's life, we've all had the relationship we thought was "it"…that ended. Besides its wonderful music, I'd wager this is the reason that any production of The Last Five Years practically sells itself. Love is both epic and everyday, and Brown's small but mighty opus brings out the sweet highs, the dark lows and the lessons that keep us strong and forging ahead into the next entanglement. Thanks to Glover's heartfelt direction and the dynamic duo of Hendrix and DeSelm, Kokandy hits it out of the park. I'm not one to take money away from a small theater company, but just in case Scot Kokandy is reading this: may I see the show again?
Rating: ★★★★
The Last Five Years continues through August 25th at Theater Wit, 1229 W. Belmont (map), with performances Thursdays-Saturdays at 8pm, Sundays 3pm.  Tickets are $32, and are available by phone (773-975-8150) or online through TheaterWit.org (check for half-price tickets at Goldstar.com). More information at KokandyProductions.com.  (Running time: 90 minutes, NO intermission)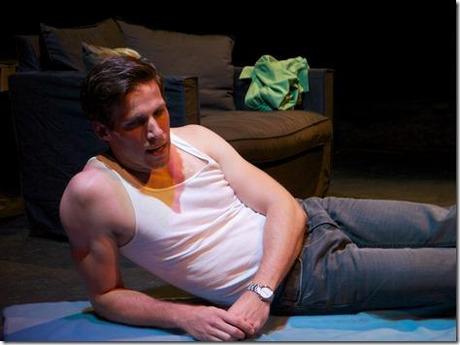 Photos courtesy of Kokandy Productions 
---
artists
cast
Jim DeSelm (Jamie), Allison Hendrix (Cathy), Samantha Galvin (Cathy u/s)
musicians
Jim DeSelm, Allison Hendrix (keyboards), Kimberly Lawson (violin), Lilianna Zofia Wosko (cello)
behind the scenes
John D. Glover (director), Jim DeSelm, Allison Hendrix (co-music directors), Zachary Gipson (scenic and props design, master carpenter), Mac Vaughey (lighting design), Robert S. Kuhn (costume design), Mikey Moran (sound design), Will Dean (master electrician), Caitlin Daley (stage manager), Hunter Bloom (assistant stage manager), Julian Gonzalez (sound engineer), Jonathan Goldthwaite (production coordinator), Benjamin T. Hinc (chief technology officer), Scot T. Kokandy (executive producer)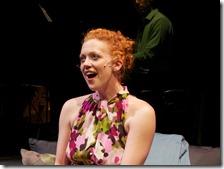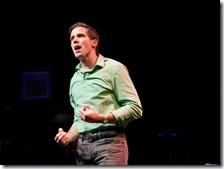 13-0802