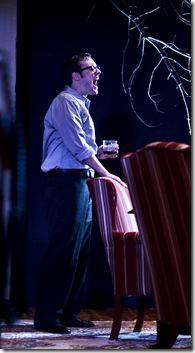 The Last Duck 
Written by Lucas Neff 
Directed by Marti Lyons
Viaduct Theatre, 3111 N. Western (map)
thru Apr 15  |  tickets: $15   |  more info
  
Check for half-price tickets 
  
  
   Read entire review
  
---
Dark tale of anxious misfits takes an alarming edge-of-your-seats turn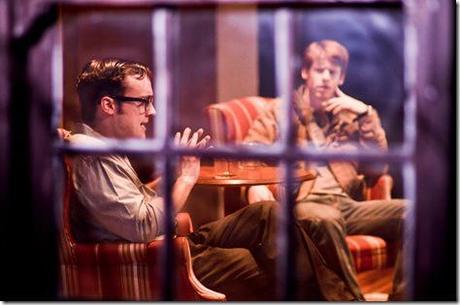 Jackalope Theatre presents
The Last Duck
Review by J.H. Palmer
The set of The Last Duck, Jackalope Theatre Company's latest production, sets the tone for what's to come: antique-looking six-pane windows hang, minus walls to contain them, on the left side of the set, with a view of spot lit, leafless tree branches. The interior of the set is made to look like the living room of a stuffy apartment: a heavy wood desk with a matching wood chair on rollers, antique phone, two overstuffed chairs, and books lining the back wall. When the set goes black it goes inky black, like the inside of an underground cave, and when the lights come up the audience is face-to-face with Royall, the apartment's sole inhabitant, who stands at center stage with a glass of scotch in his hand. "This is not a pipe," he says, and launches into a wordy,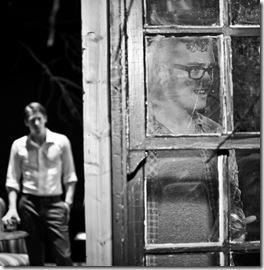 existential monologue: "not so long ago I was a small fat boy," he says, "life is a disappearing act," "trauma has a way of enduring, like a Twinkie or a cockroach," and "people care about everything, they gather in places just to tell you." Royall is agitated, he loses his shit every time the phone rings, and anxiously awaits a guest, who is running late.
His guest, Gerry, appears towards the end of Scene 1. He is looking for an apartment, and Royall is renting out a room. The two are complete strangers, and Royall offers Gerry a glass of scotch and discomfiting conversation, asking questions like: "Were you fat? I used to be fat too. I know exactly what it's like." Gerry answers Royall with equally sharp dialog. In an answer to a question about his personality he says: "Sometimes I feel like I'm just waiting for someone to apologize so I can forgive them."
Royall's apartment is at the end of the train line, and the last train leaves before Gerry can get to it. Gerry's phone battery has run out, and there are no trains until morning, so Royall offers to let him stay the night. What follows is the kind of character exploration that only happens when there are no other distractions: no TV, no bars to go to, just a bottle of scotch and two uneasy men. Gerry is an actor, and Royall is a writer, and both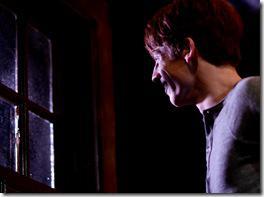 are equally disaffected. "Critics are motherfuckers," Gerry says, "how dare you not pay for your own fucking ticket?" "Critics are the shadows of art."
As the night progresses Gerry becomes drunk, then sick, and just when it seems this is going to be about friendships forged in the furnace of misfit boredom, things take an alarming turn. I won't give away the ending, but I will say it's a surprise, and keeps the audience at the edge of their seats. The roles of Royall and Gerry alternate – some nights Royall is played by Andrew Burden Swanson, some nights by Pat Whalen. At the performance I attended Whalen played Royal and Swanson played Gerry; they inhabited the roles so completely it's hard to imagine them playing the reverse.
Rating: ★★★
The Last Duck continues through April 15th at the Viaduct Theatre, 3111 N. Western (map), with performances Mondays and Wednesdays-Fridays at 7pm, Saturdays and Sundays at 3pm and 7pm (no Tuesday performances).  Tickets are $15, and are available by phone (773-296-6024) or online at ticketweb.com (check for half-price tickets at Goldstar.com). More information at JackalopeTheatre.org.  (Running time: 90 minutes, without an intermission)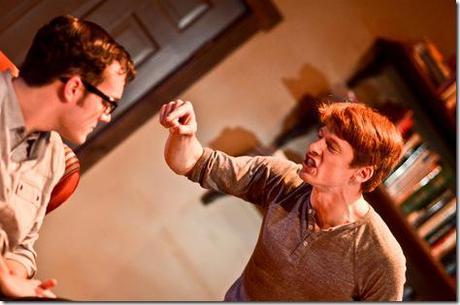 ---