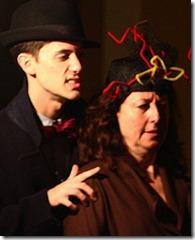 The Last Cyclist 
Written by Karel Švenk  
Adapted by Naomi Patz 
Directed by Elizabeth Margolius 
Preston Bradley Center, 941 W. Lawrence (map)
thru Sept 1  |  tickets: $10-$30   |  more info
  
Check for half-price tickets  
  
   Read entire review 
---
A work of heartbreaking inspiration from the most unlikely of places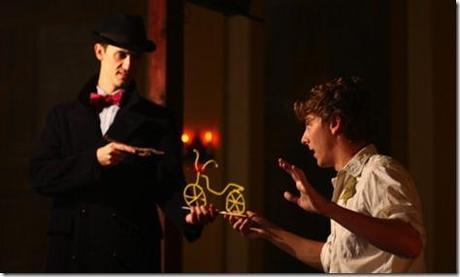 Genesis Theatrical Productions i/a/w National Pastime Theatre presents
The Last Cyclist
Review by Clint May 
"Everything can be taken from a man but one thing: the last of human freedoms—to choose one's attitude in any given set of circumstances, to choose one's own way."
   —Viktor E. Frankl, "Man's Search for Meaning"
In viewing a work such as this—ostensibly a simple yet trenchant satire—the very nature of the creative force that brought it into being generates a background hum of a question that persists throughout; namely, "How?" How did these prisoners of the Terezín concentration camp have anything left inside them to continue to create culture in the "anteroom to hell"? I don't need to list the litany of sins these people endured in their time there in this place (do read that link before seeing, however). As I viewed this remarkable survivor, pieced back together from the recollections of the sole survivor of the cast and adapted by scholar Naomi Patz, I found it helpful to recall the above quoted work by another survivor, Viktor E. Frankl. His seminal work on logotherapy was devised after his own experience in Auschwitz. Like many, I've found his descriptions of his time there in "Man's Search for Meaning"—and how people were able to survive in the closest approximation of a true hell yet devised by man—harrowing and inspiring. His proposition – that the ability to focus on a positive future goal gives meaning to each moment – is amply illustrated by the existence of The Last Cyclist.
Author Karel Švenk made no attempts to disguise the meaning of Cyclist. So little is disguised, in fact, that it was never actually produced, the Council of Elders in charge of internal affairs fearing retribution should it be witnessed. It is a scathing and darkly humorous metaphor of their world where the inmates of the asylum have escaped and used brute force to conquer the world. Not only are they insane, but their insanity has tainted and changed the seemingly sane around them (similar to Milgram's later work on the topic). Instead of Jews, the target of their ruthlessness is anyone who is even remotely related to cyclists. ("Why a cyclist? Why Jews?!").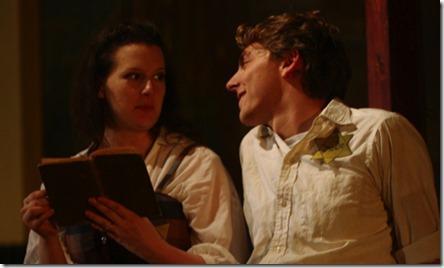 After a particularly psychopathic inmate Rat (Mike Hall) slays the head physician and cyclist (perhaps referencing the death of God, or at least, any authority who could have prevented the events to come), he rallies his fellow escapees. United under their absurdist slogan, "Death to cyclists!", they proceed to convince everyone around them that it is better to bow to their insanity than risk being sent to "Horror Island." Cyclists become scapegoats for all problems, then rounded up and sent off by the boatload.
This poses something of a problem for the young, somewhat inept suitor Bořivoj Abeles (Steve Greist, originally played by Karel Švenk himself). Though he owns his own shop, he must still impress the object of his desire, Manicka (Amy Gray), with some kind of transportation device to prove his worth. He promises her that at the very least he can get them a bicycle, and makes her his fiancé straightaway. As the fear and dread of owning or operating a bicycle spreads throughout the country under the auspices of Rat and The Dictator (Daria Harper), poor Bořivoj finds himself on the run while still trying to court the comely Manicka.
I hesitate to go into much more detail than that. Beyond the "how" of "how did they have the time/energy/will to create this?" is the other "how" of "how will they end it?" Will the world of their fantasy have a happier ending than the parallel one they awake to each day?
Patz has framed their production as a dress rehearsal to flesh out more of the reality of these people's lives. We encounter the actors before their respective characters as they meet in an attic after a long day of laboring. Though they lament their state, they believe in the necessity of their actions and are committed in their duty as performers. They even have a warm up song—one of triumph over adversity and hope for a better day that many were all too aware was most likely a pipe dream (scroll to the middle of this page to read in full).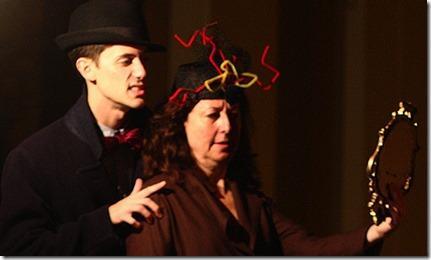 With such a large and well-directed cast doing double or triple duty, it's difficult to single anyone out. Daria Harper, recently seen in several roles in Spoon River Anthology, once again shines as an actress capable of remarkably rapid character changes. She is a haunted survivor, a terrified mother, and a chilling madwoman. Steve Greist as Švenk is immensely charismatic as a playwright and director who must rise above the awfulness around him and inspire his ragtag thespians. Andrea DeCamp endears with her gentleness as perhaps the most innocent (and hilariously least prepared) of her fellow cast members.
Performed in promenade style, the audience is allowed to sit amongst the production, with action taking place all about the vast National Pastime space. You may find actors performing right in front of you. It's a disarming choice for staging, and the production is all the more visceral for it. Walking out after a mere 80 minutes, I found myself somewhat emotionally shell-shocked. Feelings of anger, despair, and sadness all mingled as the profundity of what had been witness settled in. Then I realized that that is probably the last thing these people would have wanted of an audience. Yes, remember their sacrifice and suffering, but remember too that even in the depths of such insanity, there were those who resisted nihilism. The Last Cyclist is a testament to the human spirit—even in the face of evil, there were those who used the power of art as a weapon against the encroaching darkness.
Rating: ★★★★
The Last Cyclist continues through September 1st at National Pastime Theatre, Preston Bradley Center, 941 W. Lawrence (map), with performances Thursdays-Saturdays at 7:30pm, Sundays 2pm.  Tickets are $10-$30, and are available online through BrownPaperTickets.com (check for half-price tickets at Goldstar.com). More information at GenesisTheatricals.com.  (Running time: 80 minutes, NO intermission)
---
artists
cast
Amy Gray (Young Jana, Manicka), Steve Geist (Svenk, Abeles), Mike Hall (Rat), Daria Harper (Ma'am, Jana), Stefanie Johnsen (Lunatic, Ensemble), Charlie Rasmann (Pavel, Ensemble), Adrienne Smith (Mrs. Manikova, Lunatic), Andrea DeCamp, J. Keegan Sibken (Ensemble)
behind the scenes
Elizabeth Margolius (director), Daren Leonard (asst. director), Josh Raether (stage manager), Paul Martin (co-stage manager), Nick Quinn (scenic design), Stefanie Johnsen (costume design), Sarah Scanion (sound design), Julian Pike (lighting design), Naomi Patz (playwright, producer), Gerald H. Bailey (artistic director), Elayne LeTraunik (associate artistic director)
13-0822